Hill climb titles settled at Shelsley Walsh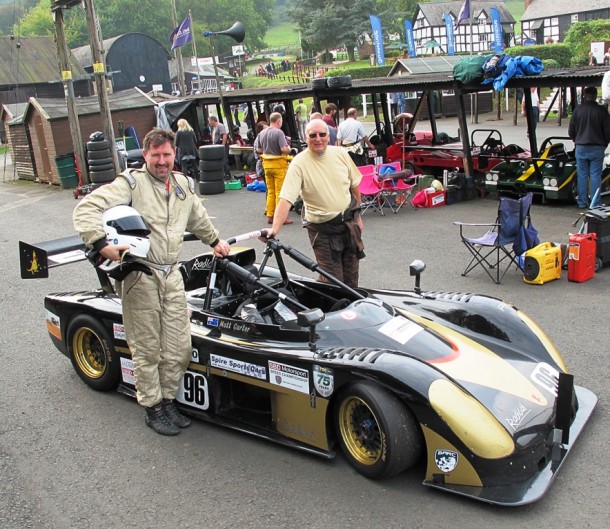 IT was an exciting weekend at the Shelsley Walsh Hill Climb as several championships were decided.
The meeting was the final one for the Midland Automobile Club but mixed weather on the Saturday provided a testing time for competitors with the track being very slippery.
However, Sunday"s sunshine allowed near perfect driving conditions as competitors fought for the podium places.
The Service Hydraulics Championship witnessed Matt Carter in his Radical PR6 take the overall title saying: "This is a fantastic competition with such a diverse range of cars taking part and I think I am somewhat lucky as several very close competitors had engine troubles over the season, but I am still really delighted to win."
Championship sponsor Dave West added: "The beauty of our championship is that any car can potentially win as it is on a handicap basis, there are many events to choose including Goodwood, Pembrey, Anglesey, MIRA, Aintree, Loton Park and Blyton so competitors have the opportunity to try circuits, sprints and hill climbs and that is why we have had a fantastic record number of entries this season."
Richard Prior, of Ardley, Oxfordshire, clinched the Pirelli Ferrari Championship for the 5th time with his F355, with runners up places for Shaun Smith and Mike Spicer being decided at the MAC"s Curborough Sprint in October. Championship co-ordinator Anne Swift said: "This has been an extremely good season, highly competitive as usual and competed for in true "gentlemen driver" spirit – even by the ladies!"
The Paul Matty Sports Cars Lotus Championship went to the wire with Stephen Hopkins to Wallingford taking the title in his Lotus Elise S1 and Stephen commented: "This really is a fantastic series which visits iconic locations, has fierce competition, great cars, superb people and a complete joy to take part in." Championship sponsor Paul Matty added: "As this is a handicap series we are delighted to see Stephen take the title on the very last run in his near standard Lotus Elise, which is the perfect culmination of true competition."
Saturday saw riders in the National Motor Cycle Hill Climb Championships competing, with class wins for Glyn Poole on a Honda, Tom Short on a Honda CRF and Paul Jeffery on KTM RC8.
Other classes were hosted for Reliant cars with a win for Craig Hughes from Shrewsbury in his Scimitar Sabre Turbo, while Steve Small in a Triumph TR7 V8 won the Revington TR Register class.
Single seater racing car driver Gary Thomas took Best Time of Day in the ex-Radnall Force PC on both Saturday and Sunday with times of 27.19 and 26.30 respectively.
The MSCC Techniques Speed Champion saw a class win for Morgan drivers Chris Bailey in his Plus 4, followed by Rob Stones and John Stephens.
Richard Mason took the class win with his Austin Healey 3000 followed by Murray Wakeham and Paul Baker, in the "Healeysport" class, while 20 cars took part in a class for TVR Speed Championship cars.