New online road safety teaching aids launched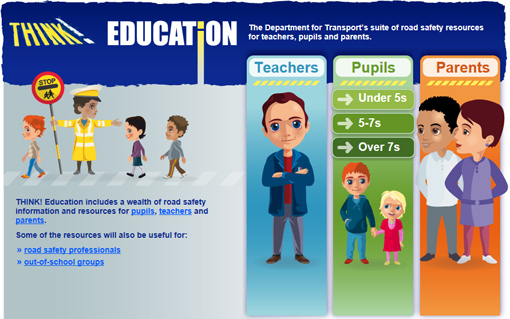 ALTHOUGH figures show that the number of children being hurt in road incidents is falling, there is no room for complacency.
And, apart from good examples by family members, the best place for road safety lessons to be taught is in schools — not just juniors and infants, but secondary schools, too. Distracted teenagers all too often fall victim to road collisions.
So, Road Safety Minister Stephen Hammond and his department has launched a new online resource to help schools plan better road safety lessons for their pupils,
The THINK! resource centre brings together a wide range of road safety materials for children and teenagers in one place. It will allow teachers, road safety officers and anyone teaching road safety to plan lessons easily and effectively.
Stephen Hammond said: "Road deaths are at a record low and child casualties have fallen considerably in recent years, but we know there is room for improvement and I am determined to reduce casualties even further.
"THINK! education resources are already highly regarded, but we wanted to make them much easier to use in road safety lessons. This new online resource will be used by teachers across the country to give children the skills and knowledge they need to stay safe on the roads."
The materials are organised into 25 easy-to-use themed lesson packs and aimed at all ages, from early years to Key Stage 4.
Each lesson pack is clearly labelled by Key Stage and includes a lesson plan and a range of teaching resources such as online games, posters, stories, films and ideas for activities both in and out of the classroom. The packs also include information and activities for parents and carers, to ensure children are taught consistently at school and at home.
Government figures show that road deaths are at a record low and child casualties (aged – 15) have fallen considerably (child fatalities in 2011 were 53 per cent below the 2005 to 2009 average; killed or seriously injured (KSI) down 21 per cent). Recent published figures also show that child KSIs fell by one per cent between the year ending September 2011 and 2012.  However, one death is one too many.
The resource centre can be used by teachers in personal, social, health and economics lessons and to provide examples for core curriculum subjects such as maths and science. The resource centre will also be useful for road safety officers and out of school groups (such as Rainbows, Beavers, Brownies, Cub Scouts).