Land Rover renews Race2Recovery backing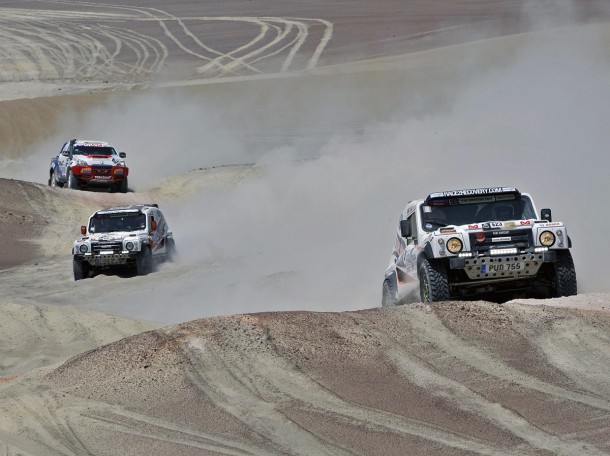 IT'S hard enough competing in the Dakar Rally… without having to worry about finding the money.
At least that's one less worry for the Race2Recovery team for the next Dakar event.
Land Rover has announced its continued support of the Race2Recovery team as lead sponsor of the injured servicemen. As the only disabled rally team in the world, Race2Recovery has secured two entries for the 2014 epic which is due to start on January 5, 2014 in Argentina and will once again put both man and machine to the ultimate test.
The injured servicemen will be driving Land Rover Defender-based Wildcat rally-raid vehicles both of which were entered in last year's race. The team will also run a T4 support truck which will follow the route providing support for both vehicles.
Race2Recovery continues with the aim of raising awareness for Tedworth House Personnel Recovery Centre and Help for Heroes providing a strong and exciting team environment for injured personnel following conflict.
Land Rover is providing the team with parts, logistics, vehicle and financial support throughout their 2014 campaign. This year's race will traverse three countries, Argentina, Bolivia and Chile and will be crossing the gruelling terrain of the Atacama desert and the Andes mountain range.
2014 will see Race2Recovery run a Land Rover-backed entry into the recently-announced Defender Challenge by Bowler providing the team with a training platform to bring new recruits up to a competition standard and prepare them for the rigours of the Dakar challenge.
Land Rover Global Brand Experience Director, Mark Cameron said: "We are delighted to continue our support and association with Race2Recovery. What the team achieved earlier this year was truly remarkable, and perfectly embodies Land Rover's core values of going above and beyond. We are also pleased to be supporting with a Race2Recovery entry into the Defender Challenge in 2014. The Challenge provides the perfect platform for the team to train new recruits in a competitive environment and build their training and expertise ready for the Dakar."
Tony Harris, Founder of Race2Recovery, commented: "I am absolutely thrilled with Land Rover's continued support enabling us to compete in next year's Dakar. We learnt an awful lot from this year's race and we will use that learning to continue providing a platform for ex-servicemen to achieve the extraordinary following injury."
In January 2013, Race2Recovery made history by being not only the first disabled entry in the Dakar which is often billed as the toughest race of them all, but it also became the first disabled team to finish the Dakar against all odds.
The finishing car piloted by Matt O'Hare and co-driven by Phillip "Barney" Gillespie, despite overheating issues over the 8570km, overcame all adversity to cross the finish line in Santiago, Chile. The 2013 campaign received global acclaim including a special congratulatory message from the Duke and Duchess of Cambridge.
The Race2Recovery team operates to the motto 'Beyond Injury, Achieving The Extraordinary', and set up its Dakar Rally challenge in order to inspire people who may be injured, ill or facing adversity.  Through its racing activity, Race2Recovery has been raising money for Tedworth House Personnel Recovery Centre, one of six Personnel Recovery Centres that have been established as part of the Defence Recovery Capability.
Defence Recovery Capability is a Ministry of Defence led initiative in partnership with Help for Heroes and The Royal British Legion alongside other service charities and agencies to provide wounded, injured and sick personnel with the recovery services and resources they need to help them either return to duty, or make a smooth transition into an appropriately skilled civilian life.
Donations to the Race2Recovery fundraising campaign can be made at www.race2recovery.com or to donate £5 via mobile text HERO to 70900. The team are also encouraging people to follow them on Google+ (Race2Recovery), Twitter
(@race2recovery) and Facebook.