Spyder turns in even more electrifying performance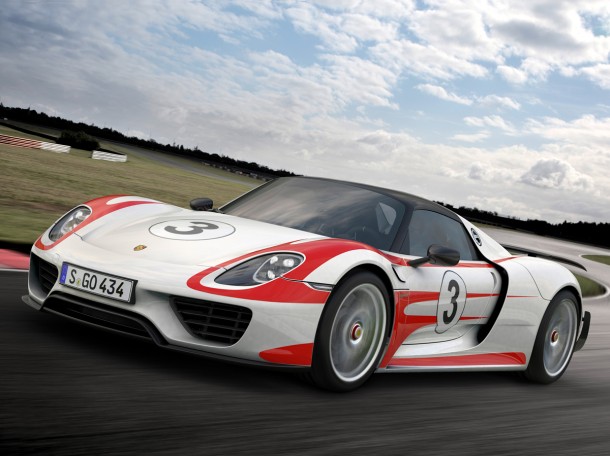 EARLY figures showed that the Porsche 918 Spyder was going to be fast.
But, apparently, that wasn't enough for the sports car giant.
It's not long now before the buyers take delivery of the first 918 Spyders and Porsche has announced that the car is beating its benchmark figures.
The final tuning has made the super sports car from Stuttgart the fastest ever road-going Porsche. With the weight-optimised 'Weissach' package fitted, the 918 Spyder accelerates from zero to 62 mph (100 km/h) in just 2.6 seconds (-0.2 seconds quicker than previously), from zero to 124 mph (200 km/h) in 7.2 seconds (-0.5 seconds), and passes the 186 mph (300 km/h) mark after 19.9 seconds (-2.1 seconds).
Dr Frank-Steffen Walliser, senior vice-president 918 Spyder programme, highlights the significance of these results: "We have now used all options available to electrify the 918 Spyder, working right up to the last minute to do so."
The enhancements also bring benefits in terms of the electrical performance delivered by the hybrid super sports car. The two electric motors on the front and rear axle allow the 918 Spyder to accelerate from zero to 62 mph (100 km/h) in
6.2 seconds, without producing any emissions.
Such a performance marks a reduction of seven tenths of a second versus the previous time. With the Weissach package fitted, this electric sprinting time is reduced to 6.1 seconds.
The 918 Spyder complete with Weissach package currently holds the lap record for road vehicles on the Nürburgring Nordschleife, with a time of 6:57 minutes. At the same time, as a vehicle delivering particularly low consumption and
emission figures, the model is certified to efficiency class A+.
With the Weissach package fitted, the total NEDC fuel consumption of the 918 Spyder amounts to 94 mpg (3.0 l/100 km) – 91 mpg (3.1 l/100 km) without the Weissach package. That equates to CO2 emissions of 70 g/km (72 g/km without the Weissach package). The level of energy consumption was determined to be 12.7 kWh/100 km during the approval cycle.
http://www.porsche.com/microsite/918/international.aspx?pc=918XX_OWN_GBR-HP