Noddy car goes under the hammer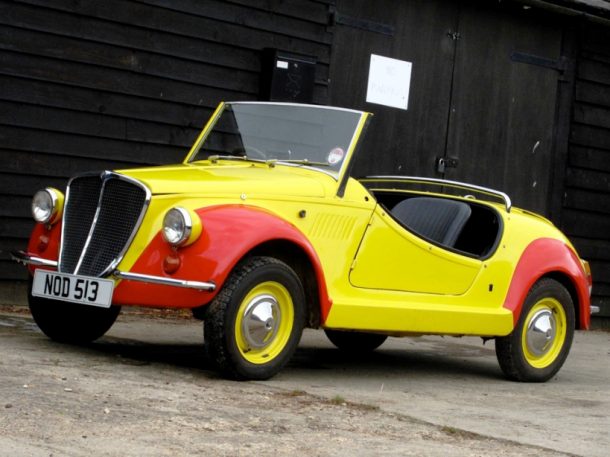 KEEP your eyes open for PC Plod, Noddy said to Big Ears! And you certainly won't be able to drive around discreetly if you buy this car at the Silverstone Auctions Classic Sale.
The unmistakable yellow and red colour scheme of the original Noddy Car could be yours to drive around Toytown, or anywhere else you please.
The car, which was once owned by Noddy author Enid Blyton's company, is estimated to reach £20,000 to £25,000 when it goes under the hammer.
The iconic little motor car which is almost an exact mirror of the one that has been made world famous in Enid Blyton's timeless classic of Noddy and his adventures in Toytown, takes place at the Silverstone Auctions hosted Classic Sale on Saturday, July 27 at Silverstone.
Will Smith, classic car specialist, Silverstone Auctions, said: "This amazing Noddy Car has got to be one of the most easily recognisable cars anywhere on the planet, and it doesn't get any closer to the one that Noddy actually drives with his friends in their adventures in Toytown.
"Our auction at the Silverstone Classic is a great opportunity to own a fascinating piece of automotive history, which can most accurately be described as 'the' Noddy Car having previously been owned by Enid Blyton's company."
The actual car is a 1969 Fiat Gamine Vignale, a small two seat roadster produced by Carozzeria Vignale from 1967 to 1971 and based on the Fiat 500 platform. The car is fitted with a larger capacity 594cc engine and syncro gearbox.
It has had four owners and only covered a believed 4,553 miles from new. Most recently it has been looked after by marque specialists Middle Barton Garage in Oxfordshire.
"We expect a huge amount of interest in this Noddy Car from Enid Blyton fans and Fiat collectors, and who can blame them for wanting to get their hands on a car that takes us back to our childhood.
"The number plate – NOD 513 – is the finishing touch which makes this unique car extra special and we can't wait to see how it does at our auction on Saturday 27th July."
For more information about the Noddy Car, or any of the other vehicles being offered at the Silverstone Classic Sale at the home of British motorsport, which includes classic cars, race cars, automobilia and a lifestyle collection, then visit www.silverstoneauctions.com.