Subaru unveils WRX concept rocket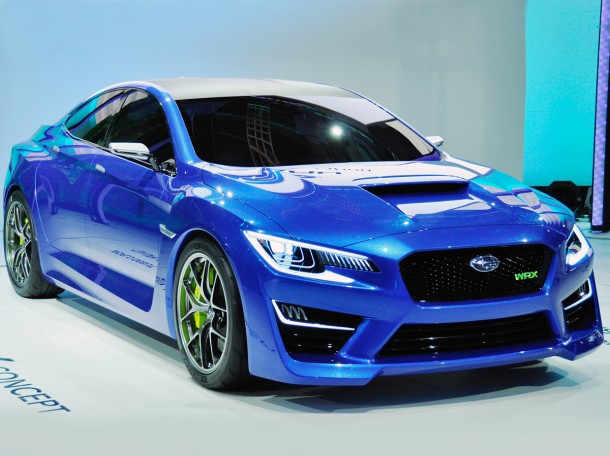 THEY used to say about the Yanks "overpaid, oversexed and over here". Now Subaru is following in their footsteps, so as to speak.
For the Japanese maker of affordable rockets, which unveiled its WRX concept vehicle at the New York International Auto Show, has revealed that the car will be making its European debut at the upcoming Frankfurt Motor Show.
This will be the 65th Frankfurt event and it starts on Tuesday, September 10. The WRX concept hints at the final look of the next-generation WRX, a bold and muscular design giving it a strong on-street presence.  Lower, wider and sleeker than previous models, the WRX Concept places an even greater focus on sharp handling, with a low centre of gravity and Subaru's famous All-Wheel Drive system.
Subaru trademark design cues including a pronounced bulge on the bonnet – accompanied by the classic WRX bonnet scoop – which provides clearance for a turbocharged engine and intercooler, while also aiding engine cooling.
The old model is now sold out and the decision was taken earlier this year not to import further volumes. The new-for-2014 Subaru WRX production car, while not confirmed for the UK market, is under consideration.  Changing market conditions has allowed Subaru UK to re-examine the feasibility of bringing the new car into Britain.
The WRX concept will be joined on the stand at Frankfurt by the Subaru VIZIV concept, representing Subaru's future design direction and vision for technological innovation.
Further information about Subaru's stand is available at www.subaru-global.com/2013frank.html.
To find out more about the Subaru model range and Subaru's Symmetrical All-Wheel Drive system, visit http://www.subaru.co.uk/.