McLaren's 12C now has added ooomph!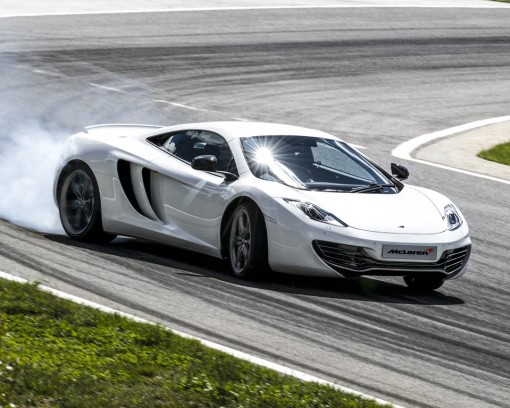 MANY, many drivers — and would-be owners — already drool over McLaren's 12C. But that's not enough for the sports car maker.
So, they have managed to improve its hot-shot car even more with a package of changes engineered to give it even more performance and improved handling, yet making it much easier to live with day-to-day.
To many, the most important change is the extra 25PS in power, boosting the output to 625PS, but that's not the full story. Yes, it will boost rates of acceleration but not at the expense of efficiency, but then again, if you own a 12C you probably won't worry about that!
Changes made by McLaren's engineers to the 12C's engine and SSG transmission have increased responsiveness and thereby driving enjoyment.
Ease of use, a phrase not often associated with cars of this type, is further improved through a host of detail changes while a wider variety of paint, leather and wheel options give customers yet more scope for personalisation.
The 12C's unique Intake Sound Generator (ISG) system, which controls the amount of engine intake sound heard in the cabin, is now programmable across three levels in all three Powertrain modes allowing the driver to select the amount of aural drama he or she wants to enjoy, whatever the road.
But one aspect that hasn't changed is the 12C's purposeful styling … apart from a subtle revision to the McLaren Speed Marque badge, that is. This latest iteration of the 12C, which at launch set a new benchmark among its competitors for power, efficiency and pioneering technology, is available to order now at a price that starts from £176,000 in the UK. Customers who have already taken delivery of a 12C are not being neglected, though.  Every 12C owner is being offered a package of upgrades, including the extra 25PS, at no cost, underlining McLaren's commitment to its customers ensuring they enjoy owning their 12C as much as they do driving it.
Antony Sheriff, McLaren Automotive managing director said: "Given our racing heritage, it is in our nature to continuously seek out improvements. The team at McLaren Automotive recognises that our existing and future customers deserve the very best product and service we can offer, and the launch of the enhanced 12C reaffirms its position as the most powerful luxury sports car among its competitor set.
"We designed and engineered the 12C from a clean sheet of paper, and I am delighted with the innovative technology package created for our first sports car. Our customers love driving a car with technologies and systems that have proved successful in Formula 1 and which create an incredible driving experience in a unique new high performance sports car. New and existing customers will now enjoy an even better experience thanks to the upgrades."
A focus on drivetrain development has given McLaren Automotive's engineers the opportunity to increase the 12C's 3.8-litre twin turbo V8 output from 600PS to 625PS. The redesigned engine mapping has not altered the remarkable efficiency of the M838T engine, with 12C CO2 emissions remaining at just 279 g/km, and fuel economy recorded at 24.2 mpg (combined).
Modification of the seven-Speed SSG transmission to which the 12C's high-powered engine is mated has resulted in crisper throttle response and improved clutch control for gear changes that are both faster and smoother.   The 12C features an innovative Intake Sound Generator (ISG). This system works by controlling engine intake noise within the cabin at differing levels, depending on the Powertrain mode selected for the car.  Moving up through Normal, Sport and Track Powertrain modes enhances the aural drama and driving experience of the 12C, with engine noise in the cabin changing when throttle power is applied and revs increase. With the 2013 specification 12C, the driver will be able to select the level of engine noise delivered in each mode through an electronic menu accessible via the instrument cluster.
A new door entry system is a feature of the new 12C. A small button mounted on each door replaces the 12C's touch sensor system.
An exclusive new 12C interior trim has been developed by McLaren Automotive for 2013 model year 12Cs, which is a higher quality and more naturally textured leather than that in the current 12C options list.  If selected, exclusive semi-aniline leather is applied to all major interior surfaces including doors, seats, dash and the centre console. The new interior option includes flat piping around the perimeter of the seat and along the edge of the door card insert. The piping finish will be in Carbon Black unless requested in McLaren Orange, Harissa Red or Stone Grey.