Mokka hopes to sweeten up compact SUV market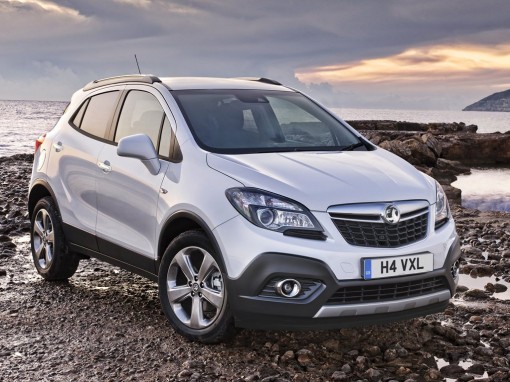 VAUXHALL is hoping the low entry-level price of £16,999 for its new Mokka SUV will lead to big UK sales figures.
The new model is a welcome addition to the Vauxhall range and you can order one from your dealer today, although you won't get it delivered until November.
The sub-compact SUV B-segment of the market is becoming increasingly competitive so it has a lot of rivals from the likes of Skoda and Nissan to take on. Even though it is only 4.28 metres long, there is plenty of room to fit five adults without them feeling like sardines in a can.
As with all Vauxhall motors these days, the Mokka comes with the company's Lifetime Warranty. It comes in three trims — S, Exclusiv and SE — with generous levels of standard equipment, including DMB (Digital Media Broadcast) radio, air conditioning, Descent Control System, cruise control, aux-in and a multi-function trip computer.
Three engines, ranging in power from 115 to 140PS, will be available from launch. The 1.6-litre petrol produces 115PS and 155Nm of torque, and with its standard Start/Stop system delivers a combined 43.5mpg. With 140PS, the 1.4-litre turbo is the Mokka's most powerful petrol engine and brings with it standard four-wheel drive and sub-150g CO2 emissions.
The Mokka has a choice of two diesel models, both of which use Vauxhall's 1.7 CDTi 130PS engine, with CO2 emissions as low as 124g/km. In front-wheel drive form, the 1.7 CDTi is available with a six-speed manual or six-speed automatic transmission, and with all-wheel drive the Mokka comes with the six-speed manual only. Like the petrol-powered cars, all manual models have Vauxhall's fuel-saving Start/Stop system as standard.
"The Mokka takes its design cues from larger SUVs and integrates them into a compact, yet modern form," said Duncan Aldred, Vauxhall's chairman and managing director. "We are now growing a compelling and diverse range of products that appeals both to retail and fleet customers, and the Mokka will complement this perfectly."
The Mokka has been designed to perform efficiently in urban environments, but with the ability to be driven off-road when the need arises. Both front-wheel drive and four-wheel drive models are available, with the AWD system being fully adaptive. When the vehicle's being driven on smooth, dry surfaces all drive is sent to the front wheels for maximum efficiency. But when the road surface is slippery, as much as 50 per cent of the drive automatically and seamlessly is diverted to the rear axle. The entire AWD system weighs just 65kgs, benefitting handling and fuel economy.
A variety of state-of-the-art driver-assistance systems will be available in the Mokka. The Vauxhall Front Camera — first seen in the latest Insignia, and also the new Zafira Tourer — gives drivers access to Lane Departure Warning, Traffic Sign Recognition, Forward Collision Alert, as well as a rear-view camera, which works with park-assist sensors front and rear.
Reinforcing its role as a recreational car for families, the Mokka also has the option of Vauxhall's latest generation FlexFix rear bicycle carrier. The carrier is fully integrated into the rear bumper, and slides out like a drawer to accept up to three bicycles at a time. The system even allows easy access to the tailgate/cargo area when the bikes are on the carrier.
Standard on all Mokkas is a comprehensive package of safety systems, including Electronic Stability Control, Traction Control, Hill Start Assist and Hill Descent Control, providing drivers with reassurance, no matter if they're on or off-road. HDC is an excellent ally when a driver is descending a steep hill, when it determines and limits the speed of the vehicle, meaning that the brakes need not be applied.
Adding further still to the Mokka's comprehensive safety armoury is Vauxhall's Advanced Adaptive Forward Lighting (AFL+). This technology automatically adapts the Mokka's lighting to suit its driving environment, whether it be motorway, country, urban, adverse weather, increased full beam, or cornering beam. The system is also equipped with High Beam Assist, which adjusts the high beams automatically so that oncoming traffic isn't dazzled.
The Mokka's stance is reinforced by its higher ground clearance as well as a 1540mm track and 18-inch wheels on most models.   Inside, the Mokka has 19 storage locations, 60:40 split rear seats, and an all-up load space of 1,372 litres with the rear seats folded down.
Gerry Baker, Vauxhall's manager of vehicle dynamics based at Millbrook, has been involved with Mokka chassis development from an early stage. "Early prototype cars were tested in the UK during 2011, to establish if bespoke damper settings were required for cars sold in Britain," said Gerry.   "We've also been evaluating a RHD steering tune for the car, which is important, given the unique road conditions British drivers have to deal with. Finally, a large part of the Mokka's durability testing has been carried out at Millbrook, here in the UK."
There's been great emphasis on the Mokka's dynamic performance, both on- and off-road, The front MacPherson suspension has been fitted with side-load compensation springs to improve damper reliability and consistency. At the rear, a U-section compound crank is mounted ahead of the rear wheels, angled to suit either FWD or AWD set-ups, and ensuring that both on- and off-road dynamics are not compromised.
Vauxhall has adopted a state-of-the-art Electric Power Steering (EPS) system for Mokka, which provides more speed sensitive assistance for drivers, no matter what model they opt for. The specific settings for the steering will be tuned to suit the UK market.