EfficientGrip tyre boosts fuel consumption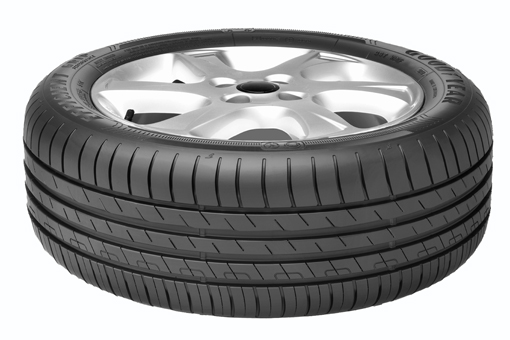 TYRE maker Goodyear Dunlop has launched its new super tyre — designed to help motorists save fuel and stop quicker.
The company, which has its UK factory in Birmingham, says the new EfficientGrip Performance tyre will reduce braking distances by five per cent and save drivers one litre of fuel for every 300 miles they cover.
Its production is in response to the new tyre labelling legislation introduced last November and with its BA rating — B for rolling resistance and A for wet grip — takes the company closer to the ultimate AA rating manufacturers aim to get into production as soon as possible.
Under the new system — which is displayed on a lable similar to an energy efficiency sticker on a fridge or dishwasher — tyre categories are now graded from A to G.
The new EfficientGrip Performance tyre has been developed after two years of intense research at the Goodyear Innovation Centre in Luxembourg.
Jean-Pierre Jeusette, the general director of the centre, said one million of the new tyres had been produced and were in stock ready for this month's on sale date.
"The new tyre will replace our EfficientGrip tyre — which was rated CB or BB depending upon size — and will mean a reduction in braking distances of around five per cent depending upon conditions," he said.
"That could easily mean a car stopping two to three metres earlier."
"But as well as the safety features it is the saving in fuel used that we believe will appeal to motorists.
"Tyres account for 20 per cent of a car's fuel consumption. Every time you consume 10 litres of fuel two litres are due to the tyres.
"If you can improve a car's rolling resistance by one grade — say from C to B — you improve the rolling resistance by 10 per cent to 12 per cent, so that would mean you would save 0.2 litres per 100 kilometres. For cars doing a lot of miles or for businesses running a lot vehicles that can be a considerable saving."
Goodyear Dunlop has produced some concept tyres rated AA but they are not yet ready to go on sale.
http://www.goodyear.eu/uk_en/tires/passenger/efficientgrip/index.jsp