Power up and grab discounted tickets fast!
MOTORING fans who wish to take advantage of the early discount ticket offers for this year's Cholmondeley Pageant of Power had better get their skates on!
The popular event takes place from June 14-16 at the Cheshire venue.
It bills itself as the  UK's biggest celebration of power and speed and hosts a series of high-octane, high-decibel attractions and features.
Time is running out to purchase early-bird tickets for the event, however, with discounts of up to 20 per cent only available for those booking before May 16.  Until that date all children's tickets are free of charge.
Adult day tickets are available from just £24 (Friday Preview Day), with a ticket to see all the best action on Saturday or Sunday now just £28 – a 20 per cent reduction compared to buying tickets on the gate.  With under-16s tickets also currently available free of charge, the Pageant of Power promises fun for all the family at highly attractive prices.
Now in its sixth year, the 2013 Pageant will take place on the Cholmondeley Estate in Cheshire from 14 to 16 June, celebrating power and performance in its many forms.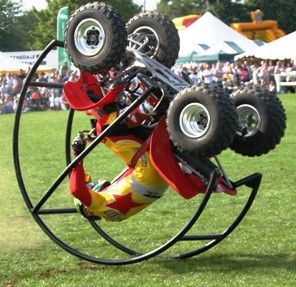 A full event schedule and list of participants will be announced over the coming weeks and the Pageant's organisers are set to reveal some exciting new features for 2013 – including displays from WRC star cars and drivers, time trial attempts from historic F1 cars and a special Aston Martin race class to celebrate the brand's centenary year.
James Hall, event director for the Cholmondeley Pageant of Power, said: "The idea behind the Pageant is simple – to create the UK's most thrilling day out and to ensure admission prices are incredible value for visitors. 
"With some of the world's most famous, most beautiful and loudest cars, from all areas of motorsport, this year's Pageant will be bigger, better and louder, consolidating its reputation as a must-attend event."
To buy tickets or find further information, visit http://www.cpop.co.uk/.