Audi make clean sweep of podium at Spa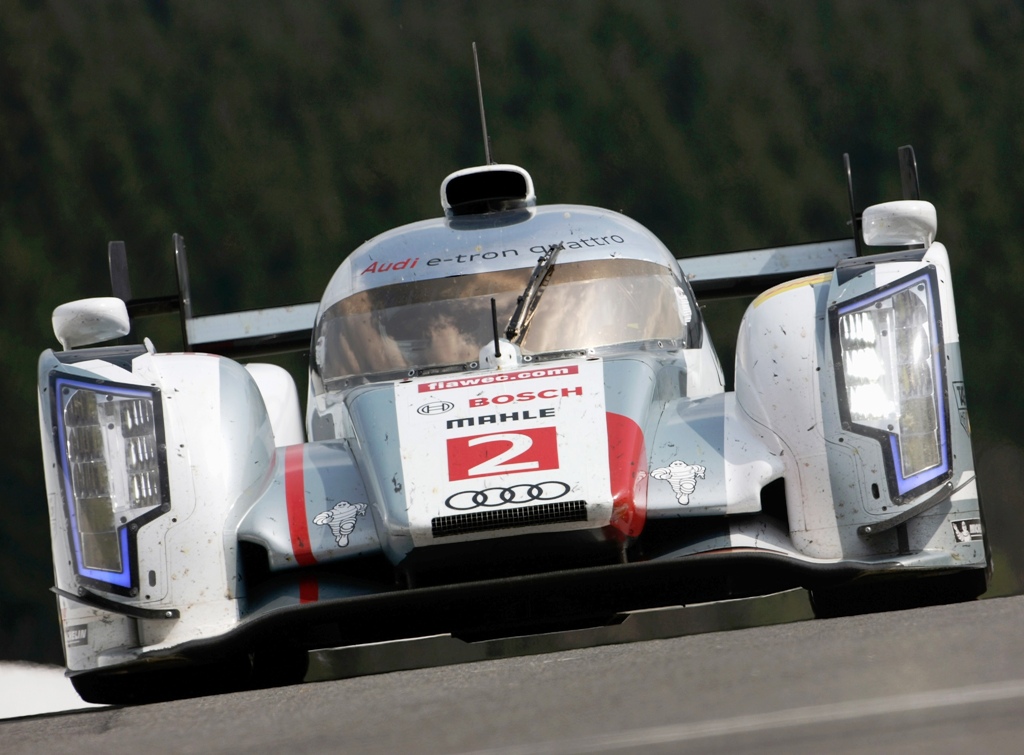 THERE were plenty of smiles all around the Audi Motorsport set-up after the weekend's racing at Spa in Belgium.
The team turned in a flawless performance in the second round of the FIA World Endurance championship (WEC).
Audi cars took the first three places in the six-hour race, filling the podium with their R18 e-tron quattro racing cars. Audi won the Belgian WEC round a year ago as well.
 
With positions one, two and three in qualifying and the race, the three Audi hybrid sports cars dominated the race. In the competition of the hybrid vehicles, Audi celebrated a victory against Toyota for the second time in succession this year. In the season opener at Silverstone, the race cars from Ingolstadt and Neckarsulm managed a one-two win three weeks ago.
 
On the way to their first WEC victory of the season, the world champions Marcel Fässler/André Lotterer/Benoît Treluyer (CH/D/F) delivered a strong performance. The trio crossed the finish line with an advantage of one minute and five seconds after having suffered misfortune on the roller-coaster in the Ardennes at the beginning of the race.
In the second hour of the race, a piece of debris damaged a tire and forced André Lotterer to make an early pit stop. From seventh place Benoît Tréluyer, who had taken over driving duties at the stop, battled to recover. 74 minutes later, car number one was running in front again.
 
The Silverstone winners Loïc Duval/Tom Kristensen/Allan McNish (F/DK/GB) achieved second place. In the standings, the French-Danish-Scottish duo is trailing their fellow drivers in car number 1, who are taking an additional point home for having posted the best qualifying time in Belgium, by only one point.
 
A remarkable performance was achieved by Marc Gené/Lucas di Grassi/Oliver Jarvis (E/BR/GB). They shared the number three car, which crossed the finish line in front of the best Toyota, car number 8.
 
The result in Belgium marked an amazing fourth endurance race victory for the brand this year. The success of the Audi R8 GRAND-AM in the GT class at the Daytona 24 Hours and victory at the Sebring 12 Hours with the Audi R18 e-tron quattro were followed by the two WEC wins.
The next circuit on the calendar will be Le Mans on June 9 when Audi Sport Team Joest is going to prepare for the Le Mans 24 Hours on the official test day. On June 22 and 23, Audi will aim to achieve its 12th victory at the classic endurance race.
POSITIONS
  1 Fässler/Lotterer/Tréluyer (Audi R18 e-tron quattro) 168 laps
  2 Duval/Kristensen/McNish (Audi R18 e-tron quattro) + 1m 05.815s
  3 Gené/di Grassi/Jarvis (Audi R18 e-tron quattro) + 1m 54.992s
  4 Buemi/Davidson/Sarrazin (Toyota) –1 lap
  5 Heidfeld/Jani/Prost (Lola-Toyota) –3 laps
  6 Beche/Belicchi/Cheng (Lola-Toyota) –3 laps
  7 Kane/Leventis/Watts (HPD-Honda) –7 laps
  8 Kaffer/Perez Companc/Minassian (Oreca-Nissan) –11 laps
  9 Brundle/Heinemeier-Hansson/Pla (Morgan-Nissan) –11 laps
10 Dolan/Luhr/Turvey (Zytek-Nissan) –11 laps