Guy and Conor bid for Isle Of Man TT glory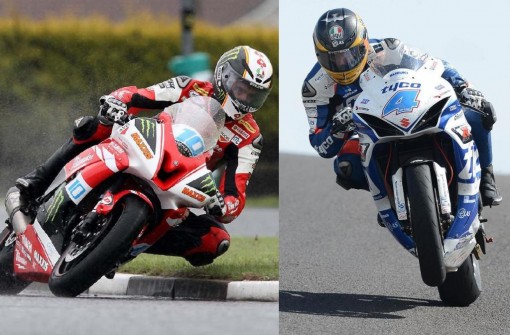 WILL this be the year when Kirmington TT legend Guy Martin finally gets his first victory?
The rider, who has become something of a celebrity with his TV and film appearances, has had numerous podium positions, but a win just seems to elude him. 2013 could see the end of that hoodoo.
Practice is already underway, but the races proper begin on Saturday (June 1).
Thousands and thousands of road racing fans will make their annual pilgrimage to the Isle of Man to watch their heroes in action in the world-famous races.
Meanwhile Dainese supported riders will take part in the historic event. Still yet to claim a TT victory, though not through lack of trying, is Guy Martin who will again have his sights set on that elusive win. Martin has been sponsored by Dainese for many years and has helped develop the D-air Racing system while competing at the TT. Racing again for Tyco Suzuki, Martin has racked up 13 podium finishes over the mountain course, including six second places.
The popular rider said: "We're in good shape this year. The Tyco Suzuki bikes, my Dainese and AGV kit all felt spot on at the North West; it was just a shame the weather was so bad and we didn't get a good run. I always look forward to the TT, there's nothing like it. I've been nearly there a good few times over the last few years. My team are the boys, they want the win as much as me — she'll come! Rome wasn't built in a day…"
Hot on Martin's heels will be Manxman and fellow Dainese supported Conor Cummins, this year riding for Milwaukee Yamaha. Following a disappointing 2012 that saw Cummins carry an injury to the TT from the North West 200 races and then the Senior TT race being cancelled due to bad weather, the Manxman is fit and ready for this year's challenge.
The rider said: "I'm really looking forward to this one. I'm fit, have a great new bike and I'm with Dainese and AGV for the second year. It's all spot-on and I can't wait to go down Bray Hill on the first practice evening. I'll be meeting fans at the Dainese shop at the back of the Grandstand which will be good — its such an amazing event I just can't wait for all the talking to stop and the racing to start. Bring it on!"
New additions to Dainese's rider line-up include James Hillier and Cheung Wai On. Hillier will be looking for a similar success of that in 2012 when he achieved his first TT podium with second place in the SuperTwin race. This year will be Wai On's first appearance at the Isle of Man TT races with the British-based Splitlath Redmond team.
Dainese has also continued its partnership with the TT races renewing a new two-year contract to continue as the event's Official Safety Partner. The Dainese Superbike race will take place on Saturday 1 June at 12pm.
Dainese will again have its temporary TT shop at the back of the grandstand, where supported riders will be holding signing sessions and talking to fans over the TT fortnight.
The Isle of Man TT races will be highlighted daily on ITV4 and ITV.com.
For more information visit www.dainese.com