Motorcycle riders, here's your chance to shine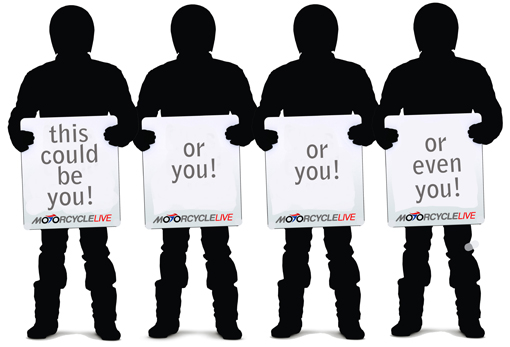 YOU know what it can be like sometimes… you are gliding along those country lanes and sweeping around the bends and feeling like a movie star!
Well, how about being a star for real?
Bikers once again have the opportunity to star in magazines and a promotional film thanks to Motorcycle Live.
Aiming to repeat the success gained last year, organisers of the event, the UK's biggest bike show, are once again looking for real people to represent the length and breadth of the British biking community in the 2013 advertising campaign.
Motorcyclists of all genres, shapes and sizes are welcome to apply, with 15 successful candidates being invited to a special photo and film shoot. The photographs and footage will form the print and online advertisements for Motorcycle Live 2013, which will take place at The NEC, Birmingham from 23 November to 1 December.
Hopeful entrants can apply via the Motorcycle Live Facebook page by demonstrating their passion for all things two-wheeled. They must submit one photo that best represents their love of motorcycling and up to 100 words explaining why they should be chosen.
The lucky winners will also receive a Motorcycle Live goody bag worth up to £250 containing show tickets, weekend passes for British Superbikes at Brands Hatch and loads of motorcycling gear.
"Last year's search for stars proved so popular and we had so many entries that we wanted to give people another chance to take part," explains Finlay McAllan, Managing Director of event organisers, MCI Exhibitions.
"We'll once again be looking for people to represent the show's audience, which in the broadest terms is motorcycle enthusiasts. They may ride a sports bike or a scooter, they may collect classics or build custom machines — whatever their two-wheeled interest, Motorcycle Live is aimed at them and we want real people to represent that in our ads."