Drayson chases world speed record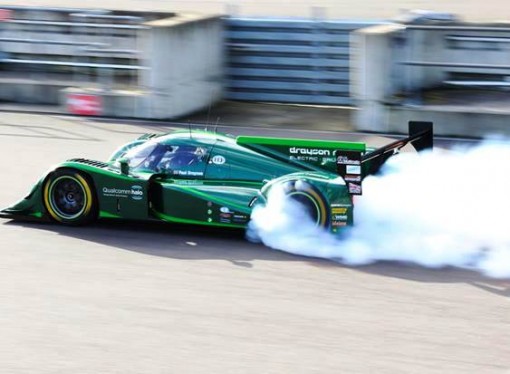 A LEADING British technology company has sparked a race for a world speed record for electric vehicles.
In the latest challenge facing pioneering electric motorsport firm Drayson Racing Technologies, it today announced that it will bid to break the FIA World Electric Land Speed Record at RAF Elvington, in Yorkshire, on June 25.
The firm has been at the forefront of electric vehicle racing since 2007 and was the first team to sign up for the new FIA Formula E championship.
The attempt will be made in the sub-1000kg class by entrepreneur, racing driver and former UK science minister Lord Drayson who will drive a low-drag version of the Drayson B12 69/EV electric Le-Mans Prototype flat-out along Elvington's 1.86-mile runway.
Lord Drayson will aim to better the current record of 175mph set by Battery Box General Electric in the United States and which has stood since 1974. This record has held firm for nearly 40 years due to the immense technical challenge of running an electric vehicle consistently and reliably at such speeds when weighing less than 1000kg.
Lord Drayson, CEO and co-founder of Drayson Racing Technologies, commented: "It is not the outright speed that is impressive about this record attempt, but the engineering challenge of accelerating a 1000kg electric vehicle to such a high speed and sustaining that speed over a measured mile, before stopping safely all within a relatively short distance then turning round and doing it again within an hour. It's a tremendous technical challenge but we believe it's about time someone moved this record on to demonstrate just how far EV technology has come."
Drayson Racing Technologies is a research and development business, pioneering the development of sustainable technologies in the challenging environment of motorsport. With the electric land speed record it intends to showcase what is possible with an electric drivetrain and underscore Britain's leadership position in the burgeoning EV industry.
The Drayson B12 69/EV was not originally conceived as a land speed car. Having raced the Lola chassis in sports car championships around the world powered by a second generation bio-fuelled Judd V10 engine, Drayson Racing Technologies took the decision to explore the potential of the electric drivetrain and use the familiar Lola chassis as a starting point. This provided the team with a considerably tougher engineering challenge than starting from a ground-up design — particularly in packaging the drivetrain to maintain the rigidity and crash safety of the original car.
In its current iteration, the Drayson B12 69/EV represents the pinnacle of what a bona fide electric racing car can achieve in terms of performance. To challenge for the record some changes have been made to the set-up of the car and drivetrain that are consistent with racing at a low downforce circuit. This will give the B12 69/EV the traction to achieve maximum acceleration in the short distance available, sustain maximum speed over a measured mile and stop safely.
Lord Drayson: "The reason we are doing this is to showcase the maximum level of EV performance at the moment — and in a real racing car rather than a teardrop-shaped land speed record car. We are also demonstrating the future potential of technologies like wireless charging in speeding the adoption of high performance EVs. It's a great way to build up to the Formula E championship that we are competing in from 2014 and will demonstrate that Britain is at the forefront of this vital technology, which I believe represents the future of the automobile."