Shark adds new graphics for Vancore
THE Vancore urban bike helmet from Shark has had another two sets of graphics to choose from.
Now, apart from the range of matt and gloss colours at launch date, the French brand has added a touch more style.
The two new designs, called Wipeout and RYU, are now available in UK dealers.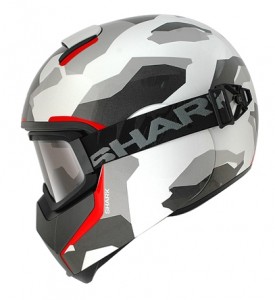 Wipeout (pictured right) is a white-based helmet with a grey and black camouflage design across the shell and flashes of orange in the vents and across the goggle-mask area.
The RYU is a bold design on a black base with a red sun motif on the left side and a silver dragon graphic on the right.
Although attitude comes as standard with the Vancore, each helmet can be individually customised with different coloured lenses and goggles* to give it extra punch.
Both the Wipeout and RYU are available with an RRP of £239.99.
* Coloured lenses and goggles will be available in dealers from September.
For more information or to find your nearest dealer visit www.nevis.uk.com or call 01425 478936.