Vango Stelvio 200 tent is perfect for touring on a motorcycle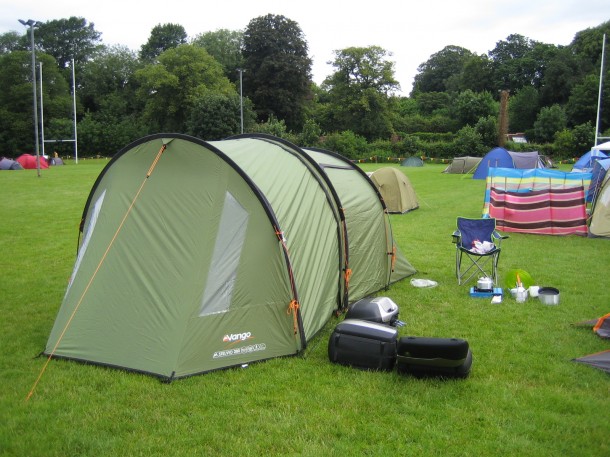 Camping on a motorcycle raises its own unique set of challenges, but DAVID HOOPER discovered help was at hand from Vango's range of outdoor equipment and accessories.
TOURING on a motorcycle raises a fairly unique set of challenges – especially, if like me, you're not very good at travelling light!
With only three boxes and a back seat however, it does tend to focus your mind on what is actually essential for a long weekend away, and the Suzuki luggage set on my V-Strom is surprisingly capacious if you pack carefully and use every last bit of space.
The largest pannier will take a single ring stove, a couple of gas canisters for it and even a camping pan set, with the remaining space being filled by food items. The other pannier takes more food, spare shoes (unless you want to spend all weekend in your biking boots) and bits of clothing, while the top box takes more clothing, toiletries and the electrical gubbins we can't live without these days.
All that leaves the back seat for your tent and sleeping bag, which means the bike is quite heavily laden. As well as the usual oil and water checks, you also need to check your tyre pressures, the handbook for the machine will tell you what to put them up to, but I used the figure for a pillion, because with three heavy boxes, plus tent and sleeping bag, it's probably not far off a similar weight, so my rear tyre pressure went from its normal 36psi up to 41psi.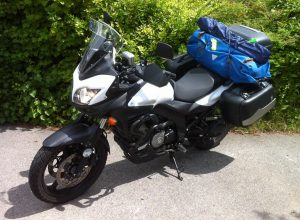 With space, and weight at a premium, many small to medium tents will fit the bill, but Vango offer something a bit different. A tent with a sleeping compartment for you, and a full height drive-in "garage" at the front which is big enough to take a touring motorcycle and all your kit. In some ways it may seem a bit unnecessary, or excessive, but on my first excursion with a lesser tent in the Lakes, a stormy night did leave me worrying about the bike being blown over in the wind, or sinking into the grass, even though it was on its centre stand.
Parking your bike in your tent overnight, also means it's protected from the weather and as many bikers don't like their machines getting unnecessarily wet, this could be another big attraction. The Vango Stelvio 200 is easy to assemble, once you work out where everything goes, and 20 minutes saw the tent up. There are three collapsible poles which form the shape of the tent, and the inner sleeping area simply clips into place. As with most tents, it's much quicker and easier when you've put it up a couple of times. The only downside is the weight, which at 6.6kg is a bit on the heavy side, but the pack itself isn't too large. On the plus side, you can stand upright inside the tent, which does make getting in and out of your biking gear that bit easier, rather than squirming around on the floor, or frightening your fellow campers with your underwear! The Stelvio 200 has a RRP of £300.
Vango do a full range of camping and outdoor equipment, so I also opted for one of their latest sleeping bags, the mummy-style Wilderness 350, which costs £32.50. It was more spacious than I expected and being a three-season bag is suitable to use most of the year. The bags include handy internal pockets for storing valuable items and zip guards that prevent snagging the zip.
Another excellent piece of kit from the Vango range is the waterproof duffle bag. On my first trip to the Lakes, I got away with just strapping the tent, sleeping bag and ground mat to the bike with bungee straps, but I did get a bit damp on the way home, which didn't really matter, but had it been on the way there…
So for £50, this tough, Vango Dry Barrel 60 waterproof bag is a worthwhile addition to your kit. It comes with some useful grab handles, plus some straps which allow you to wear it like a rucksack. This is the larger 60 litre size, but a smaller 30-litre Dry Barrel as well as a 30-litre Dry Holdall and other dry bags are also available.
For more information on the Vango range of products, have a look at www.vango.co.uk