New Honda CB500F is one of three bikes with same engine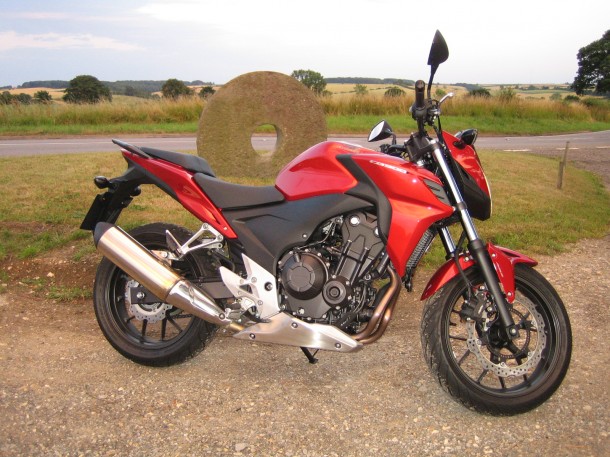 The same 500cc engine, but a choice of three styles of bike – and all can be ridden on an A2 licence. DAVID HOOPER reviews the Honda CB500F.
A HONDA motorcycle with the letters "CB" on its tank, needs little introduction to anyone in the biking world.
This Honda CB500F is new for the 2013 season and is one of three bikes which share the trusty 500cc engine, but look very different.
The CB500F I've been riding is the least expensive, and starts from £4,799, while the Adventure-style CB500X starts from £5,099, as does the Supersports-style CBR500R which also starts from £5,099.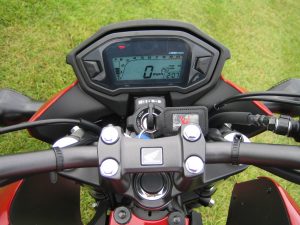 All can be ridden by A2 licence holders, which makes them a nice step up from learner bikes. They all have something else in common too – economy. During my few days riding this bike on the full remit of roads and in most weather conditions, it returned an impressive 67.8mpg.
Weighing in at 192kg, it's definitely in the light to middleweight category, and it is much easier to handle and manoeuvre on the drive, or in the office car park than some of the bigger machines I've been testing recently. It doesn't feel as though it will pull you over – or land on your toes, if you have a momentary lapse in concentration.
It's a smart looking bike, with this lovely deep red paintwork, black finished wheels and plenty of shiny bits to catch your eye, there's lots to like in the styling department.
Lacking the screen of the CB500X, this bike definitely falls into the commuter class of machine, but that said, at motorway speeds it wasn't too bad, and noticeably better than the Hornet I tested recently, but the wind blast was definitely less tiring at around 60mph.
It's a delight to whip around town on, easy to thread through traffic or filter between two rows of stationary cars. The mirrors are big enough to give a reasonable view of what's going on behind, but I did find myself doing chicken impressions at times and tucking my elbows in. Of course, you could extend the mirror arms, but that would make negotiating busy traffic that bit tighter.
The controls are fairly standard, but I liked the two trip metres, the instant and average miles per gallon read-out and the digital fuel gauge, but there was no gear position indicator on the display which can be a handy aid.
With only 500cc at your disposal, the CB500F is never going to be the fastest two-wheeler on the road, after all, the focus with this machine is firmly on economy, yet it still has enough performance to be fun for most riders.
Its two-cylinder soundtrack is reminiscent of earlier CB500s, some of which I've been riding quite recently, The engine lacks a bit of low-end torque, but keep the revs in the sweet spot and it's a willing performer. The rev counter on this bike is a digital bar across the top of the instrument dial – extend it towards its upper end and the CB500 pulls well and gathers speed quickly.
It handles nicely and feels composed as you turn into sweeping bends, all the while with the knowledge that should you need to stop in a hurry, you have the back-up of Honda's latest ABS system to call upon.
The impressive fuel economy of this machine will obviously be an attraction for those who want to use the bike for commuting without braking the budget and 70mpg at 70mph made quite remarkable reading for someone like me who is far more used to the mpg figures associated with four-wheel transport. A refreshing change indeed.
What style of bike you like is clearly a personal choice, and although the weights will differ slightly, they all share this proven little engine, so you can pick your machine with the confidence of knowing that whichever style you choose, you will be guaranteed good economy.
Rating: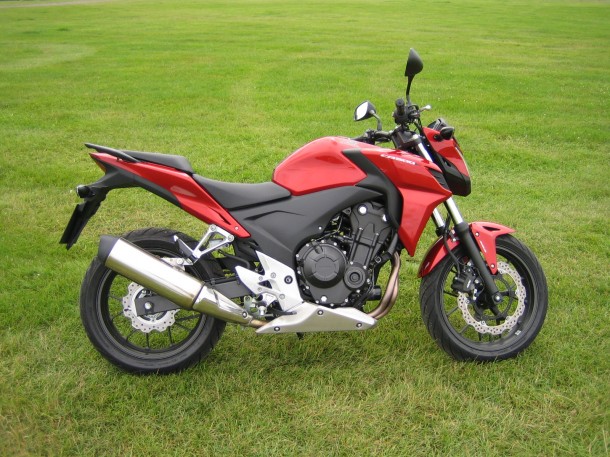 THE VITAL STATISTICS
Model: Honda CB500F.
Engine: 471cc twin cylinder.
Max Power output: 35KW
Max Torque: 43Nm@7,000rpm
Transmission: 6-speed manual.
Kerb weight: 192kg.
Seat height: 790mm.
Fuel tank: 15.7 litres.
Price: £4,799 on the road.
More info: http://www.honda.co.uk/motorcycles/naked/#!/cb500f/