Caterham loses two wheels with new venture!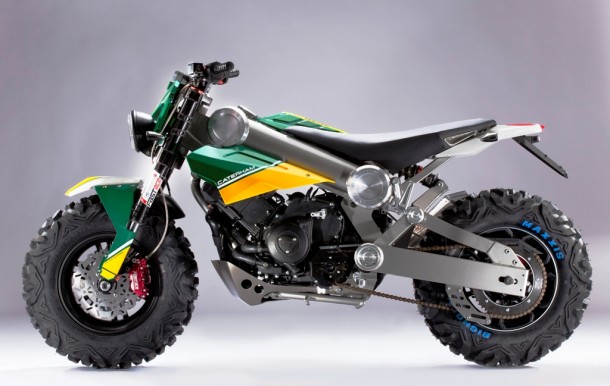 FIRST they produced truly exciting four-wheeled machines which set the adrenaline flowing.
And today, the Caterham Group launched its motorcycle division – Caterham Bikes – at the International Motorcycle Exhibition (EICMA) in Milan.
They put three prototypes on their stand – the Brutus 750 (dubbed the 'SUV of motorcycles'), Classic E-Bike (an all-electric, bike with retro styling) and the Carbon E-Bike (a premium electric bike inspired by F1 technology).
All three are scheduled to reach the market next year through partnerships with others.
The arrival of Caterham Bikes is a natural extension to the expanding Caterham Group since the purchase of the historic Caterham Cars brand in April 2011 by Tony Fernandes and Dato' Kamarudin Meranun.
The two-wheeled division joins Caterham F1 Team, Caterham Racing (GP2), Caterham Technology & Innovation, Caterham Composites and the latest arm, Caterham Moto Racing Team, in the rapidly growing Caterham family.
Carrying Caterham's DNA of British heritage, performance and intuitive handling characteristics, the new products will also adhere to the brand's ethos of delivering 'accessible fun'.
The management team includes chief designer Alessandro Tartarini, chief engineer Zeno Panarari, both known for their entrepreneurial spirit and product development prowess, along with businessman and ex-MotoGP racer Andreas Leuthe who will head up the distribution and sales function.
Production of the three launch bikes – all priced affordably – will begin as early as Spring 2014, with the Brutus 750 the first to be built, followed by the two electric bikes later in the year.
"We are realistic and honest enough to know that we're not in the business of rivalling the establishment; we're here to offer an alternative that befits the spirit of Caterham," said CEO Al-Ishsal Ishak.
"Just as the Caterham Seven is a motoring icon because of its unique design and engineering credibility, Caterham Bikes' products will be aimed at a niche audience seeking exceptional quality, bespoke design flare and bikes easy enough for anyone to ride."
The three launch machines are:
Brutus 750 – described as the "SUV of motorcycles", menacing in stance but surprisingly nimble to ride, the Brutus 750 can operate as a street bike, off-road machine or even a snowmobile (conversion in less than four hours). It is the first motorcycle with an automatic transmission and the first ever two-wheel SUV.
Classic E-Bike – carrying uniquely retro styling for the rider with a penchant for a design harking back to the golden age of British motorcycling, this bike has a range of 40-80km and does not require the rider to have a licence in the EU.
Carbon E-Bike – a premium bike with modern styling inspired by F1 technology; a limited edition version featuring exclusive F1 input and materials is currently being explored.