Honda VFR1200F DCT road test – Automatic bike, silky smooth ride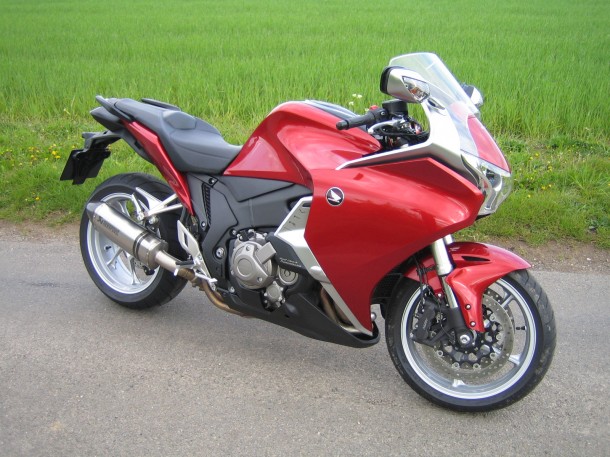 Honda VFR1200F DCT road test: A sports tourer motorcycle with an automatic gearbox. DAVID HOOPER, editor of wheelworldreviews.co.uk, soon gets over his initial scepticism and enjoys a the silky smooth ride!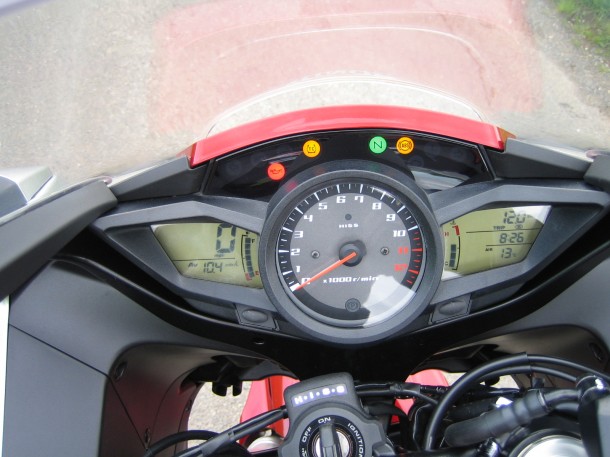 AUTOMATIC cars are nothing new – but automatic motorbikes? For many, I suspect, it will be one of those Marmite things, you will either love them or hate them, but after a couple of weeks riding one, I have to say I'm a convert.
Honda's latest VFR1200F comes as standard with a traditional six-speed gearbox, but the model I've been testing came with the DCT gearbox, or Dual Clutch Transmission.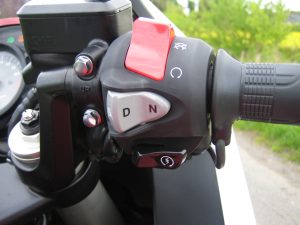 These systems have been available in cars for several years now and work in the same way as an automatic as far as the driver is concerned. For those with a bit more technical savvy, the Dual Clutch system works on alternate gears, so the next gear is always selected, which means that when the next change is made, it's instant and is actually more fuel efficient than a traditional automatic with its belts and torque converters.
DCT transmissions change faster than the quickest human and there is no loss of power, or drive, as the changes are made. It's all clever stuff.
When I picked up the Honda for the first time though, it did feel really strange not having a clutch lever and for the first mile or two I kept stretching my fingers out in a vain bid to find it, but on this bike it is simply not needed.
Once the engine is running, all you do is press a rocker switch on the right-hand handlebar to select D for Drive, twist the throttle gently, and away you go. It can be as simple as that.
The bike detects how much throttle is applied and changes gear accordingly. So move off gently, and it just clicks up through the gears, almost imperceptibly, making dealing with busy town or city traffic simplicity itself.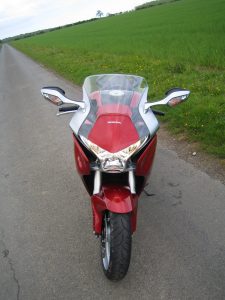 At a standstill, the bike doesn't creep, as some would think it might, that's another advantage of a DCT gearbox, but the lack of a traditional clutch, does make slow speed manoeuvring that little bit more tricky, when you're trying to park the bike and have both feet down – and that is really the only drawback. On the left bar, is a lever which operates as a handbrake if you need to park the bike on a hill, and in the same way as a traditional handbrake, you press a button to release it.
On the open road, the VFR DCT comes into its own, and is just as much fun to ride as a "normal" bike. The rider can choose to keep it in automatic mode, or by flicking a switch on the right bar, select manual operation, and control the gear changes by using plus and minus switches on the left bar.
Once you get the hang of it, it's quite intuitive to use and I soon felt very much at home. It's a really smooth ride, with no lurching every time you change gear. Even with the bike in full auto mode, the rider can still flick the downshift buttons a couple times to drop a gear or two to bring in more engine braking on the approach to a corner, but in this mode, if you don't accelerate within a few seconds, the bike will change up again.
Then there is one more option – the Sport mode, which engages a much livelier character. The gearshifts are later when accelerating, and earlier when slowing down, and the whole machine feels much more, well, sporty! The Akrapovic exhaust sounded great, too.
Ridden steadily, I was achieving around 46 miles per gallon, according to its trip computer, which for a bike with this kind of performance, is quite respectable, and with a 18.5-litre fuel tank, the bike has range of around 180 miles between fill-ups – unless you're in sport mode, when the fuel consumption is noticeably heavier.
I'm sure the DCT gearbox won't be everyone's cup of tea, but I really liked it, and I heard a story about one biker who had an age-related problem with their left hand and found operating a clutch lever difficult, so this bike was the answer to their prayers.
If you haven't tried one, don't judge it until you have. I think you will be pleasantly surprised, like I was. I think these types of machine will become more and more common in the next year or two.
It's also safe and comes with ABS and traction control as standard.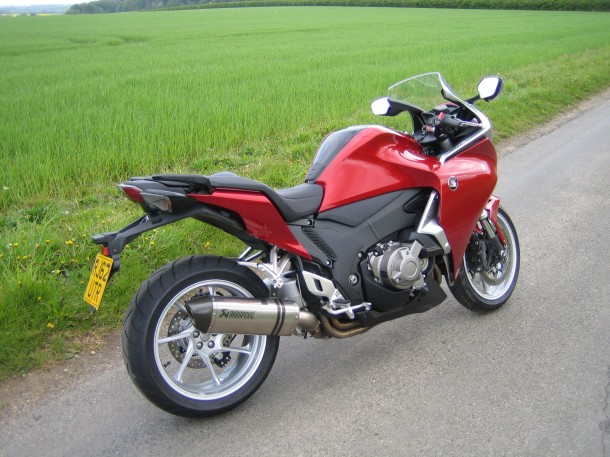 Rating:






THE VITAL STATISTICS
Model: Honda VFR 1200F DCT.
Engine: 1237cc V4 liquid-cooled.
Transmission: Six-speed dual clutch transmission, shaft drive.
Weight: 277kg.
Seat height: 815mm.
Fuel tank: 18.5 litres.
Insurance: Group 17.
Price: From £12,399.
Website: www.honda.co.uk/motorcycles