Ducati reveal prices for Scrambler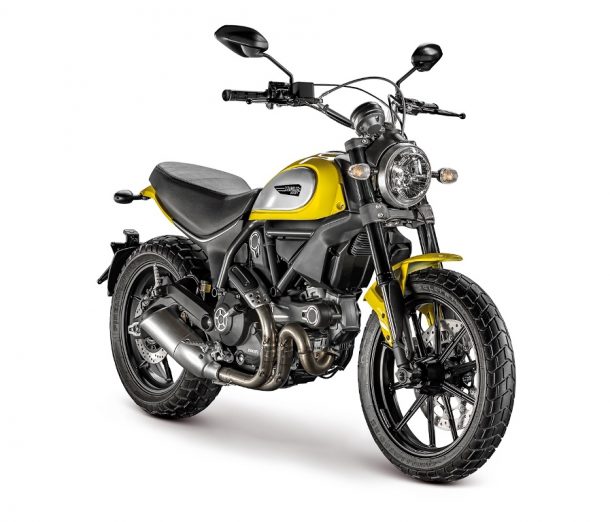 DUCATI has finally unveiled one of the most eagerly awaited new bikes for years — the Ducati Scrambler.
This is more than just a new bike: it's a whole new world for Ducati, one that expresses itself via a range of options and versions that provide a starting point for satisfying the different needs and wants of individual motorcyclists.
The Scrambler is a contemporary bike that expresses the pure essence of motorcycling. Tried and tested materials such as the aluminium of the rear swingarm and engine covers and the steel of the teardrop tank and frame are combined with new-generation components such as front and rear LED lighting and LCD instruments.
Wide handlebars and a long seat provide a comfortable, relaxed riding position and, together with the low weight, low centre of gravity and slightly knobby tyres, ensure pure riding fun whatever the situation.
"Post-heritage" design gives a contemporary take on the iconic bike built by Ducati back in the 60s and 70s. This Ducati Scrambler, though, is no retro bike: it is, rather, intended to be just how the legendaryBologna-built motorcycle would be today if Ducati had never stopped building it.
The Icon version, in yellow and red, is joined by three others – Urban Enduro, Full Throttle and Classic – each offering its own style and performance-related interpretation of the Scrambler spirit. The Urban Enduro, with its "Wild Green" paintjob, is for enduro style enthusiasts and ready to switch from city streets to country backroads in an instant.
The Full Throttle is for riders enthralled by the flat-track racing world who have a penchant for pushing things to the limit. And the Classic is for devotees to details and a 1970s look who want the uncompromising riding pleasure and comfort of a modern-day bike.
The headlamp, together with the tank, forms a key part of the Ducati Scrambler look. Rounded, classically designed yet extremely modern (i.e. post-heritage) it features a glass parabola and an ultra-modern LED light guide around the rim that acts as a side light.
Seat and tank have been carefully designed to give the Ducati Scrambler appealing proportions. A compact bike, the Ducati Scrambler instils confidence from the very moment you set eyes on it. It's been sized to make it accessible to all motorcyclists while the long seat maximises comfort and can also accommodate a passenger comfortably.
An oil and air-cooled L-twin two-valve 803 cc engine powers the Ducati Scrambler; it has an 88 mm bore, a 66 mm stroke and has been redesigned to give smooth acceleration throughout the rev range.
Moreover, thanks to a vast range of apparel and bike accessories, to be presented in November, the Ducati Scrambler offers a virtually unlimited range of exclusive personalisation and lifestyle options.
The Ducati Scrambler name has much in common with the verb to scramble – mixing up, blending, letting the imagination run free, sharing with others. The Ducati Scrambler is the two-wheeled alter ego of those who ride it, a cultural movement in and of itself. It's free-spirited, positive and anti-conformist, open to encounters with other philosophies and styles. Ducati Scrambler isn't just a bike, it's a world.
The Ducati Scrambler will be in Ducati Dealerships starting form the end of January 2015 and the first of the four versions to become available will be the Icon.
Prices: Scrambler Icon (Red), £6895; Icon (Yellow), £6995; Full Throttle, Urban Enduro and Classic all £7995.
For further information on the Ducati Scrambler world go to http://www.scramblerducati.com