Perfect gadget – the self-healing iPhone case!
IF you are a little on the clumsy side, Nissan may have the perfect solution for you – an iPhone case that heals itself of any scratches.
The Nissan Scratch Shield iPhone case features the company's self-healing paint technology which was developed in 2005 and has featured on a number of Nissan and Infiniti models. Now this technology has been applied to a product that's prone to scratches through everyday use – the smartphone – with Nissan's new Scratch Shield case meaning iPhone-lovers can keep their phone looking at its best for longer.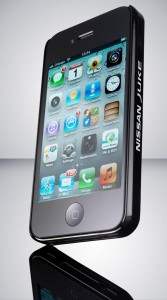 Developed by Nissan in collaboration with University of Tokyo and Advanced Softmaterials Inc., the unique Scratch Shield paint finish was initially designed for automotive use and is available on the Nissan Murano, 370Z and X-Trail along with the Infiniti range of products.  Now this technology is being trialled for the first time on a non-automotive product in Europe, with the Nissan Scratch Shield iPhone case.
The Nissan Scratch Shield iPhone case has been designed using several automotive engineering innovations to deliver a more durable and long-lasting paint coat, and closely fitting, tight case. The case has three key benefits: the highly flexible and elastic properties of Scratch Shield paint technology allows fine scratches to quickly mend themselves; its tactile gel-like rather than glossy surface is more scratch-resistant than conventional paint and provides better grip; and the case itself is made of ABS plastic – a high grade substance widely used in the automotive industry which is more rigid and robust than other plastics.
The outer 'paint' is made from polyrotaxane, which means that when damage occurs to the coating in the form of a fine scratch, the chemical structure is able to react to change back to its original shape and fill the gap – 'healing' the blemish.
An initial batch of prototypes of the innovative Scratch Shield iPhone cases has been produced by Nissan for testing with selected customers, but if demand proves strong, it will look to put the cases on general sale later this year.