HandiRack review: We test an inflatable roof rack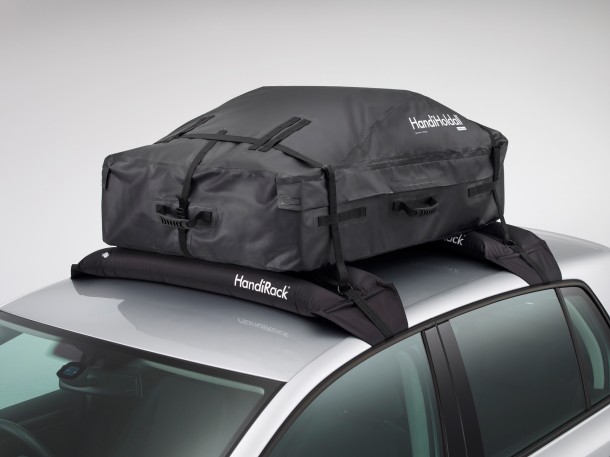 A blow-up roof rack? Surely not! DAVID HOOPER reviews the inflatable HandiRack from HandiWorld.
ROOF racks are all well and good, but they can be difficult to store and cumbersome to use – but on the odd occasions that you may need to stick stuff on your roof, help is now at hand from this ingenious load carrier.
HandiWorld's products do what they say on the tin – or box in this case. The HandiRack is unique, can be put to various uses and is quick and simple to use, making it ideal for holidays or days out.
Designed to be a temporary solution for transporting leisure equipment and luggage, or even getting your new flat pack furniture home, it's brilliantly clever and cost effective, because it can be used on any number of vehicles, unlike traditional luggage systems which are car or brand specific.
The HandiRack can also be used with the HandiHoldall which we have also reviewed.
When you finished with the HandiRack it is simply deflated and stored in its bag which is closed with a drawstrings put away until the next time you need it.
The HandiRack is simply placed on the car roof and the straps pass through the car doors to hold it in place. It is then inflated using the HandiPump which is included with the kit and is quick and easy to use.  Two straps are also included in the kit so you can secure loads to the D ring anchor points located on each HandiRack.
The HandiRack can carry up to 80kg, depending on your vehicle, but I would suggest you make sure the paintwork is clean before you use the HandiRack to avoid scratching your car.
The HandiRack is a clever idea which makes light work of transporting those awkward items which won't easily fit inside the car.
The HandiRack can be ordered on line from HandiWorld and costs £54.99.
For more information, and to see the full HandiWorld range, visit http://www.handiworld.com/