F1 driver rivalry whips up storm of controversy
ROUND TWO: F1 MALAYSIAN GP Race Report
The tropical weather in Malaysia was nothing compared to the fireworks on track. DAVID HOOPER reports on a grand prix that whipped up a storm of controversy.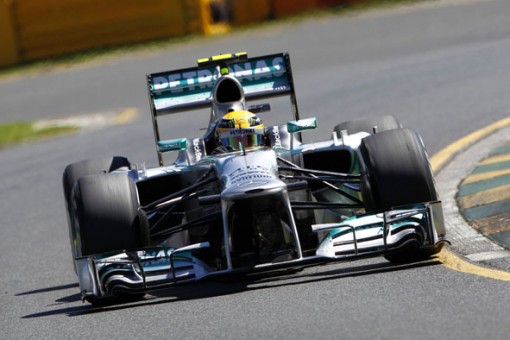 AS the cars lined up on the grid for the start of the Malaysian Grand Prix, Kimi Raikkonen was even grumpier than usual, having been demoted three places on the grid as a penalty for blocking Nico Rosberg's Mercedes in qualifying.
Felipe Massa was on the front row of the grid for the first time in a couple of years, out-qualifying his team-mate Alonso in the other Ferrari.
But it was Vettel who was again on pole, with Alonso in third place, next to Lewis Hamilton. Behind them were Mark Webber and Nico Rosberg ahead of Adrian Sutil, who was just ahead of Paul di Resta in the second Force India.
More wet weather meant the cars started on intermediate tyres, and as the lights went out, they all got off to a good start, but as Alonso and Vettel battled for the lead, Alonso tagged the back of the Red Bull, breaking his front wing.
Alonso chose not to pit for a new nose, and at the end of the long straight, the front wing detached itself and wedged under the car. Without any steering, Alonso went straight off into the gravel trap ending his afternoon. As he trudged back to the pits, he could only reflect on just how costly that might be at the end of the season.
Kimi was going backwards in his Lotus and on lap 5 was 21 seconds off the lead. Vettel came in for slick tyres on lap 6 as the dry line started to appear, but he was struggling to find the grip in his Red Bull.
Webber stayed out on team orders as the track was deemed to be too wet, but most of the remaining runners streamed into the pits.
Sutil's pit stop went wrong when a wheel gun failed, which also held up di Resta who had to wait behind until his team-mate could exit the box.
Hamilton came in a lap later and went into the McLaren pit, as the mechanics waved him through, rather embarrassingly, as his girlfriend Nicole Scherzinger watched open-mouthed in the Mercedes garage.
As the race settled down, Webber was leading the pack, with Vettel close behind, but Hamilton was closing in at the rate of a second a lap on lap 12.
Raikkonen and Perez in the other McLaren were having a battle of their own, but Kimi could not find a route past.
Maldonado took a trip across the grass after touch a damp kerb, breaking his front wing in half which meant he needed an extra pit stop for his Williams.
Raikkonen finally got past Perez as his team-mate Grosjean was setting the fastest lap of the race.
Race leader Mark Webber came in for some new tyres on lap 20, after a fairly short stint. That handed Vettel the race lead, with Hamilton and Rosberg promoted to second and third positions.
A problem with di Resta's front wheels of his Force India ruined his afternoon after an extended pit stop dropped him back down the field after he'd been making some good progress.
The next round of stops saw Vettel change his tyres, but he rejoined behind his team-mate Mark Webber, but it was Lewis Hamilton's Mercedes that was now setting fastest laps. Force India's pit problems continued, this time with Adrian Sutil, as his front wheels would not reseat properly eventually leading to the retirement of both cars.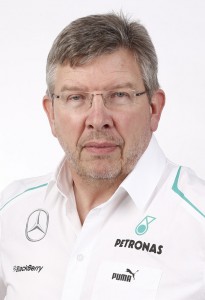 Hamilton was closing in rapidly on Vettel in second place, who in turn was beginning to hassle race leader Webber, but despite his DRS, Vettel could not get past Webber as the leaders started to catch the backmarkers.
Hamilton came into the pits from third place, prompting a response from Red Bull, who brought Webber in from the lead, who was followed by Rosberg in the second Mercedes. Vettel stayed out, having called for Red Bull to get a slow Webber "out of the way".
Vettel came in a lap later, but Hamilton was going for it and put in the fastest lap of the race, jumping the Red Bull on track. Vettel rejoined just in front of Rosberg, but managed to hold off his countryman, while Jenson Button led a grand prix for the first time this season.
Webber was all over Button's McLaren, the two diced for position, but Webber made the move stick. Button came in for tyres on the next lap, but the front right didn't get bolted on properly and as Button left his pit box, he was told to stop as the mechanics went sprinting down the pit lane to recover the stricken McLaren, but Button's afternoon was ruined.
Vettel got past Hamilton to take second place, but Lewis had been told to save fuel. There was a titanic battle going on between Raikkonen and Hulkenberg, but at the front it was the two Red Bulls followed by the two Mercedes filling the top four places.
As Webber left the pits he rejoined just ahead of Vettel's car. The German driver tried to get the overtake, but Mark was having none of it and I held my breath as the pair diced through the first five or six corners.
Rosberg and Hamilton were also trading places, but the drama at the front was about to reach new heights as Vettel fought Webber for the race lead in a thrilling battle, which Vettel eventually won, having ignored team orders to hold his position.
Raikkonen caught and passed Perez's McLaren, as Massa went round the outside of the McLaren and homed in on the Lotus of Raikkonen.
Rosberg wanted to pass Hamilton, but was told by Ross Brawn to stay put. Massa was again driving well and made easy work of Grosjean's Lotus, but on lap 55, Button drove into the pits and straight into his garage and retirement, as Perez came in for a very late tyre change.
Hamilton was saving fuel and Mercedes would not let a clearly much quicker Rosberg overtake him, ordering him to stay put, meaning Rosberg missed out on a podium in favour of Hamilton which raises questions about the pecking order at Mercedes.
Vettel won the race, but had some explaining to do for ignoring a team order over his battle with Mark, while Rosberg looked far from happy as he got out of his car, but was notably thanked by Ross Brawn for doing as he was told.
Hamilton, in third place on the podium, thanked Rosberg, but the split between the two Red Bull drivers seems to have become a gaping wound. There will be some harsh words behind Red Bull's closed doors and I'd love to be a fly on the wall, but I wouldn't like to be in Vettel's shoes.