Malaysian GP preview: Will tropics cause a storm?
ROUND TWO: F1 Malaysian GP Preview
After plenty of rain in Australia, will Malaysia give us more of the same? DAVID HOOPER previews the Malaysian GP in Sepang.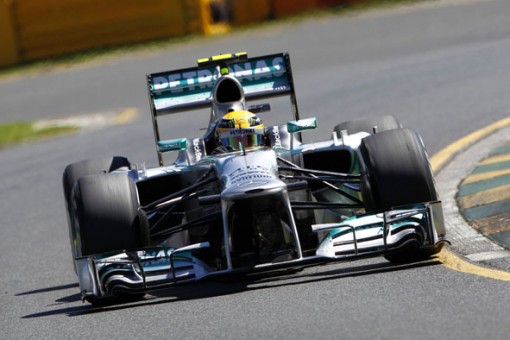 HOT on the heels of Australia, the Formula 1 circus has pitched up in Malaysia for Round 2 of the 2013 championship, ready for another fast, flowing race on the Sepang circuit.
With a mix of fast corners, and long straights there are plenty of good overtaking opportunities, especially if the attacking driver can get into the DRS zones at the right time.
A wet and difficult Melbourne caused a bit of qualifying chaos, but in the race, on a dry circuit, we finally got to see the true pace of the field.
The McLaren machine will no doubt have swing into overtime in a bid to play catch-up, to right the wrongs that are hurting their car in terms of outright pace.
Ex-Silver Arrows driver Lewis Hamilton and his new team-mate Nico Rosberg will again be vying for team supremacy this time out, after Hamilton won the first qualifying battle, but make no mistake, Rosberg is very quick and will certainly keep Hamilton honest.
The Mercedes cars performed well in Australia, but they still need to find a bit more pace to make it to the top of the grid in qualifying.
As usual, those honours went to Red Bull, although in the race, the best they could manage was third on the podium for Vettel. His team-mate will be desperate to solve his get-away problems, which again blighted his first race, something that was a bit of a theme last year.
Lotus, with Kimi Raikkonen and Ferrari with Fernando Alonso and and in-form Felipe Massa are the guys to watch this weekend.
If they can repeat their heroics of last weekend, it will only convince me of my initial predictions that one of them will win the title this year after their valiant efforts last season in underperforming cars.
Rain could also be a running theme, if you pardon the pun, with tropical storms adding to the possible mix and giving the teams something else to think about in terms of car set-up. Do they go for a dry set-up, or should they hedge their bets? It's a gamble either way.
Whichever way they go, one thing is certain – it will be another exciting weekend, and if we get a dry weekend, we should have a much better idea of just quick, or not, each of the teams really are.
Qualifying is always compulsive viewing, but this weekend, even more so!