Kimi wins in Australia, but three champs on podium
Australian GP race report: Following a rain-affected qualifying session, DAVID HOOPER reports on all the action from the Australian Grand Prix in Melbourne's Albert Park.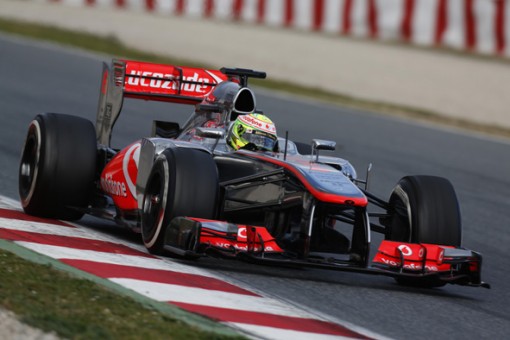 AFTER rain stopped play in the first qualifying session of the 2013 Formula 1 season in Melbourne's Albert Park, qualifying on the street circuit had to be completed on race day in Australia.
This year's F1 grid boasts five world champions and five rookies, but it was a Red Bull lock-out at the front with reigning champ Vettel on pole with Webber just behind. Hamilton and Massa were on the second row, with Alonso and Rosberg a row further back. Raikonnen and Grosjean in their Lotus's were next with Paul di Resta and Jenson Button completing the top 10.
As the lights went out, Vettel got off the line well, but Webber repeated his poor start of last year with some excessive wheelspin and was swamped by Massa's Ferrari, the Mercedes of Hamilton and Alonso, who got away well and tried to get past Massa, but the Brazilian held him off.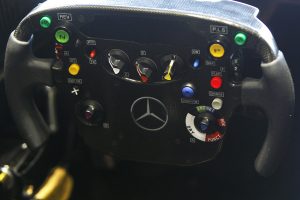 Hamilton was ahead of Kimi Raikonnen in his Lotus, but was coming under all sorts of pressure from fast Finn, who went round the outside of the Mercedes in turn 13.
As the race began to settle on lap three, it was pretty much a case of normal service resumed after last year, with Vettel out in front in his Red Bull, followed by the two Ferraris of Massa and Alonso, Massa seemingly having kept his form from the latter part of last season. The next pair of cars were the Mercedes' of Hamilton and Rosberg, while Sauber's  Nico Hulkenberg didn't start the race because of a fuel problem which couldn't be fixed in time.
Button came in on lap four for a fresh set of boots after a tough qualifying session took its toll on his tyres, and the two Force India cars with the returning Adrian Sutil following his team-mate di Resta in eighth and ninth places.
Mark Webber was next into the pits for new tyres, and a slow stop didn't help his cause in making up some of his lost ground.
At the front, Alonso was still following Massa, who in turn was keeping  Vettel honest, while Kimi Raikkonen's Lotus was closing down the lead group.
Vettel came into the pits on lap 7, which handed Massa's Ferrari the race lead.
Hamilton was running in fourth, the McLaren appearing to be lacking a bit outright pace in race trim.
Button's new team-mate Sergio Perez got a good start after a bad tyre choice cost him dearly in qualifying, putting down in 15th place on the grid, and had made up several places.
Alonso, struggling for rear grip, came into the pits on lap nine, followed by Kimi, and they rejoined in the same order.
Both Mercedes cars were still running on the same tyres they started the race with, while on lap 11, Button and Webber were battling over 10th and 11th position, while the Ferrari pair were despatching Perez up front, again highlighting the McLaren's lack of race pace.
Hamilton came into the pits at the end of lap 13, and went onto a hard tyre and was looking good for a two-stop race, while most of the other teams were looking at three or even four stops.
Rosberg added more front wing at his stop on lap 14, and came out just in front of Button and Webber and managed to hold the place, putting Button under more pressure from Webber.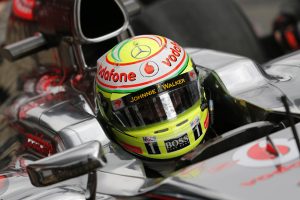 By lap 16, Adrian Sutil in his Force India was now leading the race, holding up Vettel who didn't seem to have the race pace he would have liked. The two Ferraris were in close company behind, and Hamilton was starting to close in on Raikkonen who was running in fourth in his promising looking Lotus.
Max Chilton, the new Brit in the pack, was running down at the back in 20th position.
Webber pitted on lap 19 for the second time, for his second set of tyres, which suggested he might have trouble with tyre wear issues later in the race.
Sutil, still leading the race, was frustrating the other faster front runners, but Alonso pitted for new tyres, to avoid wasting any more time playing follow the leader, hoping an early tyre stop would pay dividends in the later stages.
Mark Webber set purple sector times in on his new set of tyres, and Vettel opted for a new set of boots too, but as Vettel rejoined, Alonso's Ferrari rejoined in fifth, leaving Massa out in front with some clean air to see what he could do. Raikkonen was now up to second place and looking strong.
Massa pitted on the next lap, but that gave Alonso the jump on Massa. Vettel dived down the inside of Sutil's Force India under braking, crucially getting ahead of the only car between him and the Ferrari of Alonso.
Maldonado in his Williams went flying off at the first corner, getting beached in the gravel after touching the grass under braking and putting his car into a spin, as the weather forecasters were predicting a light shower of rain while yellow flags controlled the race pace while the stricken Williams was removed.
On lap 27, Rosberg suddenly pulled off the track and retired following a mechanical failure, suggesting the Mercedes team have not solved the reliability issues that hampered them last season.
By lap 31, Alonso was right on the back of Hamilton's Mercedes, and was trying to find a way past, but Hamilton wasn't about to make it easy, but eventually Alonso got a run on him, Hamilton tried to make up the difference under braking, but lost too much momentum, leaving him defenceless when Alonso came back at him out of the corner.
Hamilton then pitted for tyres, making life much easier for Vettel who was next in line behind him, than he had for Alonso.
Kimi Raikkonen pitted on lap 35 for a fresh set of tyres, which should have made it a two-stop race for Lotus, putting them in a very strong position.
Vettel stopped for tyres on lap 38 and rejoined behind Hamilton. Button also pitted for new tyres, followed by Grosjean in the second Lotus.
It was now clear that tyre wear was going to have a major impact on the result with the driver best able to manage his tyre wear in with a good chance of taking the big points at the chequered flag.
Webber rejoined in eighth place behind Paul di Resta after his third tyre stop, while Vettel easily found his way past Hamilton's Mercedes with the help of DRS, while Massa was the next to try his luck against the new boy at Merc, who eventually just let Massa go.
On lap 43, Kimi Raikkonen got a run on Sutil out of the high-speed chicane to take the race lead. Kimi is looking very good this year – and he's in a car which looks like it could give him a good run at the  title, after finishing third in the drivers' standings last year.
In the closing stages, Hamilton was trying to find a way past Sutil as Webber closed the two of them down. Sutil had to give way, losing momentum, almost allowing Webber through, but Webber's patience soon paid off as Webber took sixth place.
The race finished with Raikkonen taking the chequered flag, more than 10 seconds ahead of the Ferrari of Alonso, with Vettel in his Red Bull in third place, followed by Massa, with Hamilton in fifth, Webber, Sutil with his team mate di Resta in close proximity with Button and Grosjean completing the top 10 – Button breaking the 1,000 points barrier in his F1 career.
British new boy Max Chilton brought his Marussia home in 17th place, a respectable effort for his first outing.
With three world champions standing on the first podium of the 2013 season,  it's business as usual for most of the top teams, but the majority of them seem to have issues with tyre wear which needs looking at, with McLaren seemingly having more work to do than the others to be competitive – but they, more than most teams, are more than capable of playing catch-up.
Click here next race and the full race calendar