Can Alonso spice up F1's weekend in India?
Will Vettel claim another easy victory at the Indian Grand Prix in New Delhi, or will Ferrari and Fernando Alonso stage a fight back?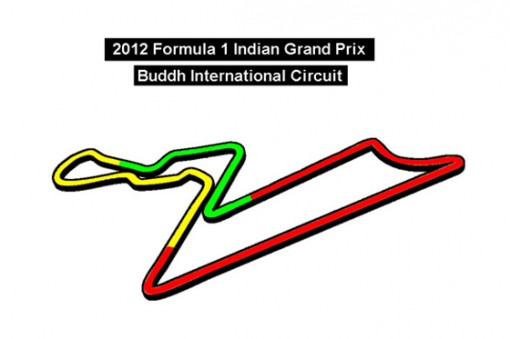 The Indian Grand Prix this weekend is Round 17 of the 2012 Formula 1 season which is nearing its end, but will this weekend's race add to the excitement of the Championship, or will Sebastian Vettel drive away with another easy Victory?
After a rather processional race last time out in Korea, Formula 1 heads to New Delhi, in India, for the 2012 Indian Grand Prix.  With just three races left after this weekend, the battle for the Championship is now between just Sebastian Vettel  and Fernando Alonso. Lewis Hamilton's poor race two weeks ago means he is realistically out of the hunt. The Mercedes-destined driver has had a poor season and will be hoping for a good result this weekend.
The circuit is a favourite among both drivers and fans. A fast and flowing layout provides plenty of action and is a real challenge. There are some very technical sections to the track, it's fast and very tricky in areas. It's a difficult job finding the perfect set up here, high speed and good mechanical grip are the key to quick lap times. The track was very dusty last year and made it difficult in terms of grip. I wonder if this year will be any better, but I doubt it. However this is part of the challenge of this circuit. The attendance here last year was strong, although Narain Karthikeyan, the only Indian driver racing this season, has no real chance performing well in front of his home crowd.
This Week's News:
The Force India team will want to continue their strong performances here at the home race. The team have shown good form both on and off the track this season, something they will want to carry with them to the last race in Brazil. Nico Hulkenberg has announced that he won't be racing for the Indian outfit next season as he joins Sauber for 2013. His teammate next season at Sauber is thought to be young GP2 driver Esteban Gutierrez. I believe this will be the case, he finished third in this season's GP2 championship and is a promising and positive prospect for Sauber in the future. I think it's likely to see the young Mexican racing in the last race or two this season, as an experience for next year in place of Kobayashi who, despite his podium in Japan, hasn't produced the goods.
• Romain Grosjean's future looks more positive after Team Lotus boss Eric Boullier defended the young Frenchman after a number of first lap mistakes and a race ban. He said it's time for everyone to move on and let him get on with racing. I personally believe that Romain is a good driver who was just unlucky. He shouldn't have made those mistakes, but his start at the Korean GP shows that he is learning and improving. Lotus Technical Director James Allison says he is pleased with the performance of the new Coanda exhaust which they debuted in Korea. The system generates more downforce, but lowers power of the engine. This was tested along with a new front wing which Allison was also satisfied with.
• Felipe Massa remains at Ferrari for 2013 with a one-year extension to his contract. Ferrari have been linked with Vettel for 2014, many rumours suggest the young German will be at the Scuderia in 2014. Both Ferrari and Vettel deny this, but we will have to see what happens in the future. For now though, Ferrari must concentrate on performance. The team have been falling back in the past few races much to Red Bull's advantage. With just four races remaining they must produce if Alonso is to be crowned champion.
• You can read the full race report right here at wheelworldreview.co.uk. Follow me on Twitter @TomWilkinsonF1 #TWF1 for live commentary and the latest news throughout the weekend. You can now Like my new Formula 1 Facebook page TomWilkinsonF1 for the latest news stories and paddock gossip. Photos and interactive features all included. Take a look and enjoy the 2012 Formula 1 Indian Grand Prix.