Zafira Tourer adds to Vauxhall's MPV line-up
ROAD TEST REPORT AND REVIEW: Vauxhall Zafira Tourer
Complementing, not replacing, the existing Zafira model, KEITH WARD has a look at the new Tourer from Vauxhall.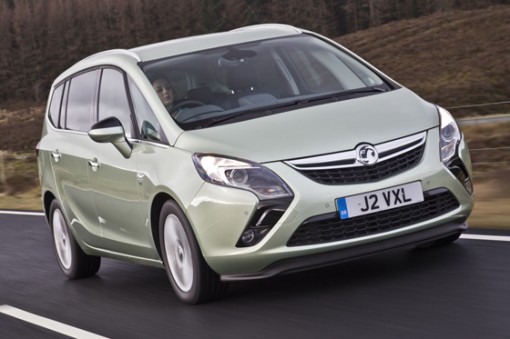 HERE'S another kind of hybrid: a combination of a weekday smart repmobile for the business user and a weekend family leisure buggy.  So Vauxhall trumpet their new Zafira Tourer.
It will sit alongside, not replace, the current Zafira – itself number one in its MPV sector – but is longer, taller and roomier, with boomerang-shaped front light units. In all, more in the way of a stylish estate. Slimmer screen pillars and larger quarter lights improve driver vision. It has just won a 5-star Euro NCAP rating for crash protection.
A dizzying permutation of seats and around 30 storage spaces are family-friendly.
Replacing the current model's middle-row bench seat are three versatile, comfy, individual chairs.  Each can be slid, tilted or folded flat at the tug of a strap. Forsaking one of these to give more room to the other two is not new – witness the first-generation Ford C-Max. But in the new Zafira the the centre seat can be folded up to cleverly form an armrest between the outer two, themselves slid inwards for increased elbow room.  "Executive lounge seating" Vauxhall call this feature, "unique" in this class.
The rearmost pair of individual seats can be dropped down equally easily. A nice extra design touch is an underfloor trough to store neatly out of sight the cross-car cartridge holding the pull-out fabric luggage cover – usually an encumbrance.
With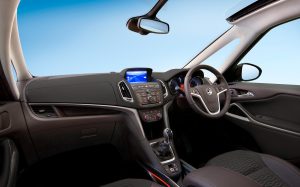 all seats in use, the boot floor measures a meagre 400 mm long according to our tape. However, as each row of seats is folded, that extends to 950, then 1,660 mm, or around six feet of flat cargo deck, a generous 1,060 mm wide. Cargo volume balloons to 1,860 litres, 40 more than in the current model.
The current Zafira is being reduced from 30-plus versions to just 11, starting at £18,560. The new Tourer, replenishing the range, spans £21,000 to £28,465, taking in five trim levels from base ES to top Elite. An optional panoramic windscreen, first offered on the Astra GTC back in 2006, extends up and back to above the front seats.  A long glass sunroof on certain models stretches to the rear. Fancy optional extras include an updated anti-collision front camera system, advanced parking assist, a side blind-spot alert and an elaborate, fold-out, rear carrier to take up to four bikes, yet tiltable to allow access to the boot – thoughtful.
There's a choice of five engines – three diesel and two petrol. Chief tax-beater is a 130PS diesel ecoFlex giving an official combined figure of 62.8 mpg and emitting 119 g/km CO2 to keep the annual VED disc to just £30.
We tried on roads around Barnsley the 1.4-litre, 140PS turbo petrol in SE trim. A notable difference to the European left-hand-drive versions we tried in Germany three months ago is in the electric power steering.  This has been re-mapped and sharpened by Vauxhall to give UK drivers on Britain's careworn roads less kick-back, more weight at high speed and greater precision all round.  It contributes to an all-round pleasurable driving experience.
This Zafira Tourer impresses as does its new-era Vauxhall stablemate, the Cheshire-built Astra Sports Tourer – a winning combination of good looks and practicality – flair and function.
Rating: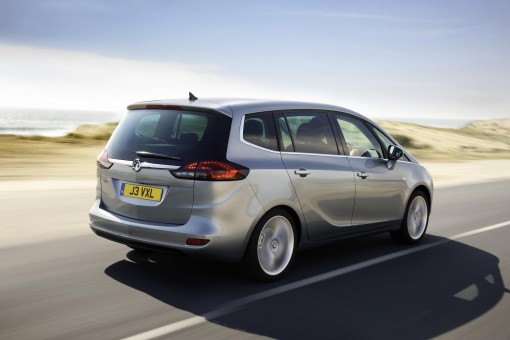 THE VITAL STATISTICS
Model: Zafira Tourer SE 1.4 Turbo
Body: Larger five-door; seven-seat estate to accompany current Zafira
Engine: Petrol; 1,364 cc; 140 PS; 200 Nm torque; Stop/Start
Pace: 126 mph; 0-62 in 9.9 secs
MPG: On test 32.0 mpg; official combined 44.8 mpg
CO2: 148 g/km; band F; annual tax disc £130
Insurance: Group 15E
Warranty: "Lifetime 100,000 miles"
PRICE: £24,005; as tested with optional extras £25,590; range £21,000 to £28,465
On sale: Now