We are among the first to drive Honda's new CR-V
ROAD TEST REPORT AND REVIEW: New Honda CR-V
Against a back-drop of lochs and glens, KEITH WARD is among the first to drive Honda's all-new CR-V
WITH more than 5-million global sales behind it in 17 years, Honda's CR-V enters its fourth generation with an all-new body, revised engines, a cheaper front-drive option to the hitherto standard 4WD and a mission to help continue the revival of the company's UK plant.
The Swindon factory is self-sufficient in engines and car bodies. But it is gradually recovering after last year's Japanese tsunami, then floods in Thailand, starved it of vital electronic parts, eventually forcing a complete factory shut-down for five months until February 2012.
With the backing of a recently announced £267m investment programme, its 3,500-strong workforce will build this year 185,000 cars (compared to a peak of 240,000 in the boom year of 2007), about equally split between the Jazz, new Civic and new CR-V.
Around 40 per cent will have found UK customers, the rest being valuable exports.  In 2013 Honda's UK sales target is 75,000, up by about 20 per cent.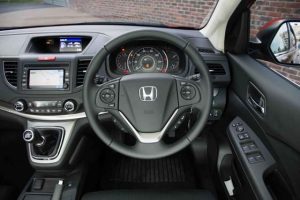 The new CR-V's bullish-looking SUV body, sporting a new three-bar front grille, is a tad shorter and 30 mm lower than before, but still sits high and does not stint on interior space. With the front seat of our test car set for an average-height driver, the passenger behind was left with a good seven inches' kneeroom. And rear seats are set 38 mm lower than before anyway, say Honda, so headroom is not compromised.
In a generally comfortable and quieter cabin, there is generous storage including a triple cup-holder in the big console between the front seats. All versions come with dual zone climate, cruise control, hill start assist, stop-start, UB/iPod aux input and four-speaker audio. Top EX trim runs to leather seats (electric for the driver), power tailgate, a panoramic glass roof with electric screen and integrated sat-nav with touch-screen or toggle controls.
The boot with all seats in use takes 589 litres of luggage, so claiming in this respect to beat such rivals as the VW Tiguan, Toyota RAV4, Volvo XC60 and Mazda CX-5.
In a feature new to the CR-V but found elsewhere, the split rear seats can be neatly folded flat with one tug of a lever or strap, so extending the boot floor to an impressive 1.6 metres, by our tape.
An 18-strong range offers a choice of just two engines – a 2.0-litre, 155 PS petrol or a 2.2, 150 PS turbo diesel, which is expected to account for the bulk of sales, as is the top EX of the four trim levels (the typical CR-V buyer is pretty well off, seven out of 10 of them spending their own, as distinct from a company's, money). Gearboxes are a slick six-speed manual, harnessed to a stop-start facility, or five-speed automatic. The 4WD system is now electrically instead of mechanically activated, said to be quicker when called upon and more efficient. All-round, CO2 emissions are 12 per cent lower, so saving the owner on taxes, as well as reducing pollution.
An eco button on the dash gives the option of even more efficient mapping of the throttle. A green symbol on the dash nags you to change gear and instrument lighting changes accordingly from white (bad) to green (good).
Prices start at £21,395 for the 2WD 2.0i petrol, peaking at £32,650 for the top-trim diesel automatic.
Our preview drives in Scotland took in the bonnie banks of Loch Lomond and the Clyde Sea Lochs Trail. The diesel returned 44-plus mpg; the petrol less than 33 mpg. A quick but narrow and switchback skirting of Loch Long stood testament to the CR-V's revised and supple suspension.  Other vehicles had left scrape marks in the lee of sudden bumps.  The Honda remained serene. It confirmed its reputation as a driver's car, as well as practical and – as repeated consumer surveys find – reliable family transport.
Rating:





THE VITAL STATISTICS
Model: CR-V 2.2 i-DTEC EX 4WD Manual
Body: Five-door, five-seat, high stance SUV
Engine: Diesel turbo; 2,199 cc; permanent 4WD; 6-speed manual; stop-start
Power: 150 PS @ 4,000 rpm; max torque 350 Nm @ 2,000 rpm
Performance: 118 mph; 0-62 in 9.7 secs
MPG: On test 44.3; official combined 48.7 mpg; tank 58 litres
CO2: 154 g/km; tax band G; tax disc £170
PRICE: £30,995