VW up! review goes backwards to basics
ROAD TEST REPORT AND REVIEW: VW Take up! 1.0 60PS 5-door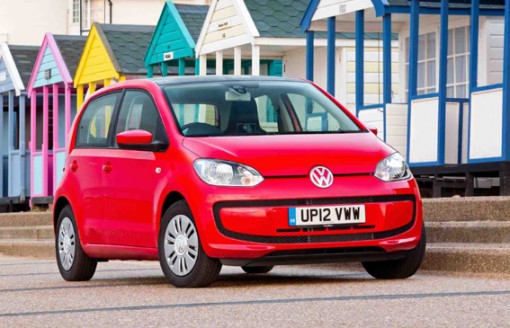 Going back to basics, KEITH WARD road tests the entry-level version of the VW up!
WARNING: This is the absolutely basic, stripped-out, entry-level version of the up!, VW's admired and award-winning city car.
To keep the price down, many of the features further up the range are missing.
The folding rear seat is one-piece rather than divided and there's no upper level insert to the boot floor to make it level when extended.
No height adjustment for the driver's seat will be a miss for the shorter user, including many of the women who will be turning up! to VW showrooms. Similarly, they are precluded from even the option of an automatic gearbox.
No central locking, either remote or manual, is frankly a pain. The key works only the driver's door.  So you have to go round setting or releasing the handles of the others. Neglect that when parking and you leave your car prone to thieves.
The windows wind up and down and the mirrors have to be manually set.
Are these merely the whingeings of a spoilt brat?
Let it be said that in the far-off days of my first car, even a simple heater and an elementary radio were extra-cost options. That was more or less meekly accepted by drivers of the day.  So I served my time in automotive austerity.
But over the years expectations – and prices – have risen. This basic, so-called Take up! version of the VW baby comes in at just a fiver under £8,000 or, in the five-door form we tested, at £8,360.
There.  Having said all that, the up! remains an appealing little car to drive. In town, its natural habitat,  the smooth 999cc, three-cylinder petrol engine is sprightly enough to allow you to nip in and out of traffic queues.  Light steering and a tight turning circle make it easy to slot into tight parking spots.
On the open road, it can soon run out of steam on hills but will bowl along a level motorway at 70 mph in fifth gear, pulling its optimum 3,000 rpm, without fuss or undue noise.
In a week's mixed motoring it returned 54.5 mpg, and is clean enough to qualify for a £20 annual tax disc, after a free first year.
The cute and compact hatchback body at just over three and a half metres contains four seats with just about enough legroom for four average-height adults. Behind them is a short boot, more of a deep trough really, into which you must lift your shopping over a high rear sill – 780 mm or a good 30 inches above ground. The stiff boot lid hinges vertically to allow access.
So, as it stands the basic up!, spartan though it is, might yet make a generous gift to a young offspring. Its audio is connectable to an iPod or MP3 player. There is the reassurance of safety items such as front and side airbags, a maximum five-star crash protection rating and ABS, though ESP electronic stability is an extra £150.
If you are not into wearing hair shirts, what to do?
The up! is one of near-identical triplets from the VW Group. You gain nothing in terms of kit from entry versions of the Skoda Citigo and Seat Mii, but prices start lower at £7,630 and £7,925 respectively against the VW's £7,995.
Next level in the up! trim is the Move up! version at £9,080.  That gains you some of those missing creature comforts such as manual air con, electric front windows, remote central locking, height adjustable driver's seat and split-fold rear seats.
Baulk at the £1,000-plus price hike and instead for  £350 I would at least opt for a "Comfort Pack" of remote central locking, electric front windows and height adjustable driver's seat.
What was fitted to the test car as a contrasting touch of modernity was VW's "Maps & More" detachable navigation and info device atop the dash at £290.  It also sported a "Driver's Assistance" pack (£400) with laser-activated, automatic city emergency braking if you should be running at low speed into the car in front. The up! is the first in its class to offer this facility.
Without at least some of these extras, it's hard to imagine many who will take up the Take up!
Rating: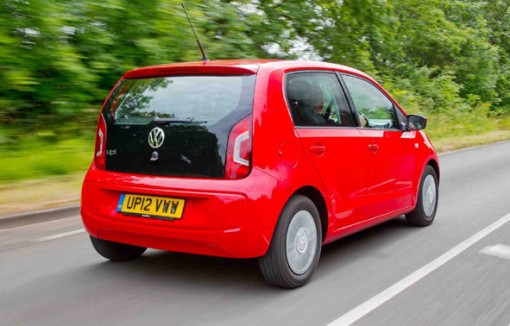 CLICK HERE and "Like" our Facebook page for regular updates and follow us on Twitter
THE VITAL STATISTICS
Model: VW Take up! 1.0 60PS 5-door
Engine: Petrol; 999 cc; 3-cyl; 12 valves; 5-speed manual
Power: 60 PS @5,000-6000 rpm; max torque 70 lbs ft @3,000-4300 rpm
Performance: 99 mph; 0-62 in 14.4 secs
MPG:  On test 54.5; official combined 62.8 mpg; tank 35 litres
CO2: 105 g/km; VED band B; tax disc nil 1st year, then £20 annually.
Insurance: Group 1E
Warranty: 3 years/60,000 miles incl paint; 12 yrs anti-corrosion; 12 mths breakdown Europe-wide.
PRICE: £8,360
WEBSITE: www.volkswagen.co.uk
• All data correct at time of publication.
CLICK HERE and "Like" our Facebook page for regular updates and follow us on Twitter
Normal
0
false
false
false
EN-GB
X-NONE
X-NONE
/* Style Definitions */
table.MsoNormalTable
{mso-style-name:"Table Normal";
mso-tstyle-rowband-size:0;
mso-tstyle-colband-size:0;
mso-style-noshow:yes;
mso-style-priority:99;
mso-style-qformat:yes;
mso-style-parent:"";
mso-padding-alt:0cm 5.4pt 0cm 5.4pt;
mso-para-margin:0cm;
mso-para-margin-bottom:.0001pt;
text-align:justify;
line-height:50%;
mso-pagination:widow-orphan;
font-size:11.0pt;
font-family:"Calibri","sans-serif";
mso-ascii-font-family:Calibri;
mso-ascii-theme-font:minor-latin;
mso-fareast-font-family:"Times New Roman";
mso-fareast-theme-font:minor-fareast;
mso-hansi-font-family:Calibri;
mso-hansi-theme-font:minor-latin;}