VW Golf 1.6 SE TDI road test and review: What price quality?
ROAD TEST REPORT AND REVIEW: VW Golf 1.6 SE TDI: What price do you put on quality? DAVID HOOPER drives the new VW Golf 1.6 SE TDI and is reminded just how good today's VWs are.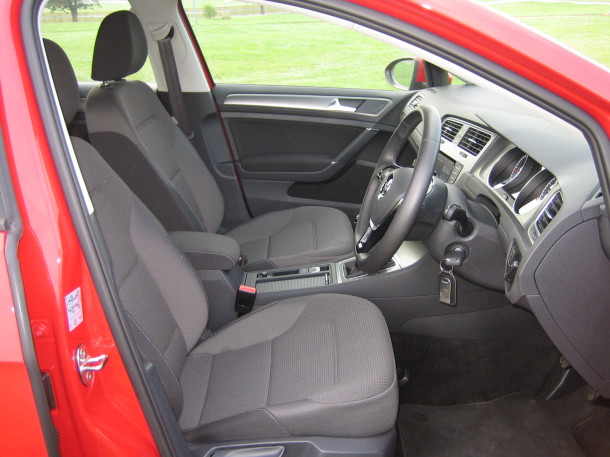 I HAVEN'T driven anything Volkswagen for a few months, but my re-acquaintance with the brand quickly reminded me of the in-depth quality of these cars.
Make no mistake, its rivals are very good these days, indeed, several of them have used Volkswagen as the benchmark they have judged themselves against, and the standard to which they aspire. While most have upped their game markedly, VW – and in particular the new Golf – stand out from the crowd in terms of quality.
From the tactile qualities of the materials used, to the overall fit and finish, VW today is second to none. Sit in the new Golf and you immediately feel that you are in a car manufactured to the highest quality standards. Even if I was blindfolded, I reckon I would be able to guess that it was upmarket, probably German, and if I was allowed to touch some of the switchgear, I might even guess correctly that it is, in fact, a Golf.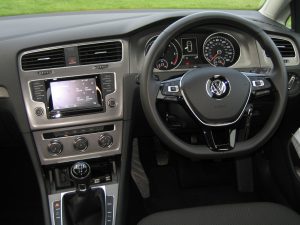 The styling hasn't changed radically, just gently evolved, but I'm quite an advocate of "if it ain't broke, don't fix it".
This is the mid-range SE trim and the standard kit includes four electric windows, electric mirrors, remote central locking, air condition, although not climate control, automatic headlights, wipers and so on. My test car featured the 16in Perth alloy wheels, which are a no-cost option, but give the car a classier look than the standard rims.
It also includes the 5.8in colour display screen which houses the radio, Bluetooth telephone system, trip computer screens and numerous other displays. Many of the functions can be controlled via the multi-function steering wheel, which now also houses the cruise control buttons.
This model featured one of the latest radar cruise systems as standard equipment, and once again, Volkswagen has almost perfected its system while others are still trying. The idea is that you set your desired cruising speed, and let the car do the work. If you catch up with another vehicle, the car will automatically react, slowing your vehicle down before returning to its preset speed when the hazard has moved aside.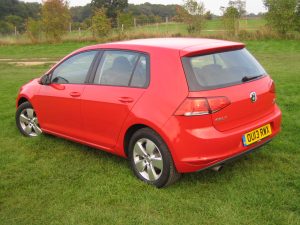 On this Golf it worked smoothly and predictably, with none of the jolting and sharp braking I've come across in other brands, even on models costing more than double the price of this car. The distance between you and the vehicle in front can be adjusted by a press or three of a button, and the preset speed can also be adjusted in 5mph increments.
A City Emergency Braking system and a driver alert system to help prevent accidents feature too.
The new Golf cruises quietly at motorway speeds with little or no wind noise, its slippery profile and small panel gaps helping it to achieve such impressive miles per gallon figures. I regularly achieved 58mpg on a mix of A road and motorway driving, but overall during my week with the car, it returned 51.4mpg, which in these days of rising fuel prices is to be welcomed.
Its 105bhp diesel engine, combined with a nice spread of ratios in its five-speed gearbox, means this model will get from rest to 62mph in 10.7 seconds and it has a potential top speed of 119mph. However, its low C02 emissions figure of just 99g/km means you won't have to pay any road tax.
Never has the old adage "you get what you pay for" been so apt. Quality costs. Yes, cheaper Golf models are available, as are less expensive cars from alternative brands.
So, before you make your mind up, just remember, nothing sounds quite like a Golf, few cars have the same quality feel, and even fewer have such a deep lustre to their paintwork.
In my opinion, the seventh generation of the Golf remains what its predecessors always has been – the benchmark by which all others should be judged.
CLICK HERE and "Like" our Facebook page for regular updates and follow us on Twitter
Rating: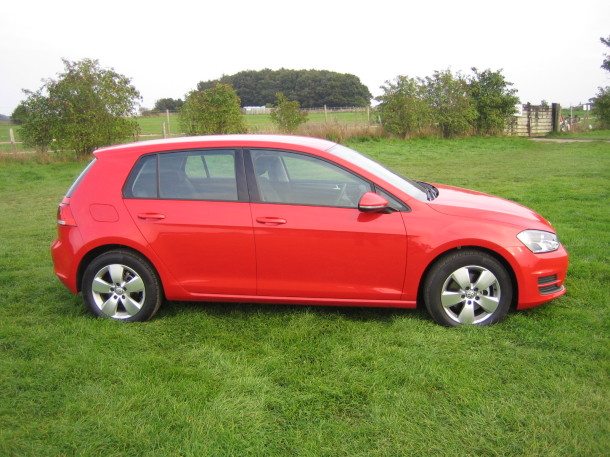 THE VITAL STATISTICS
MODEL: VW Golf 1.6 SE TDI.
VW GOLF RANGE: From S 1.2 TSI 85 3dr (£16,775) to R 2.0 TSI 300 5dr DSG (£31,970).
ENGINE: 1598cc, 105PS four-cylinder diesel engine, driving front wheels through 5-speed manual gearbox.
PERFORMANCE: Top speed 119mph. 0-62mph in 10.7 secs.
ECONOMY: City: 61.4mpg.
Country: 85.6mpg.
Combined: 74.3mpg.
Fuel tank: 50 litres.
CO2 EMISSIONS: 99g/km.
INSURANCE: Group 13.
PRICE: £20,990.
WARRANTY: 3 years/60,000 miles.
WEBSITE: www.volkswagen.co.uk
• All data correct at time of publication.