Updated Mazda 3 is now much more refined
ROAD TEST REPORT AND REVIEW: Mazda3 TS2 1.6 Diesel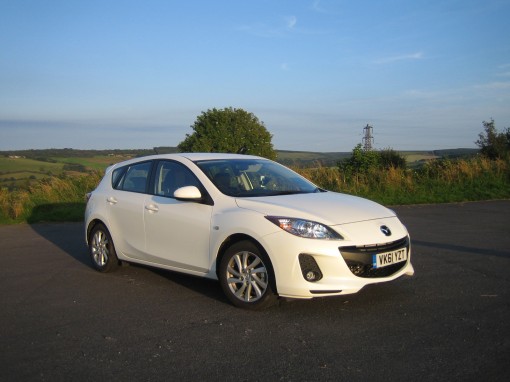 Changes to the Mazda3 may be subtle, but DAVID HOOPER says the differences are clear to see!
ON the face of it, the Mazda 3 isn't the newest of models, but earlier this year it underwent a mid-life nip and tuck – but you will need to be an expert at "spot the difference" competitions to find the changes.
To help you out a bit, a restyled front bumper has made it more aerodynamic and the design of the alloy wheels has been changed to feature an eye-catching new look with slightly twisted spokes.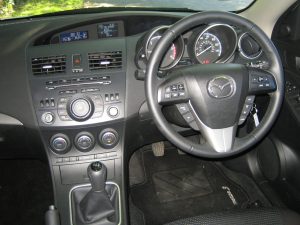 The rear bumper has also been changed, while the clear lenses on the rear lights reveal attractive designs to the different elements which make up the units.
Inside the car, the quality of its interior fixtures and fittings has been improved and some work has been done on the sound insulation, although I think more could be done in this area after spending a week with the car.
Driving it on a stretch of concrete motorway, the noise was quite imposing, to the point where we had to raise our voices to talk over it, but finding the perfect balance between reduced weight and adequate refinement is a battle which is ongoing for several manufacturers.
The equipment levels are good, with the entry level S model now coming with air conditioning and electric windows, while the TS trim grade includes dual-zone climate control, which has to be the preferred option.
The TS2 model I've been driving includes a heated windscreen, which is great in the winter for clearing frost. It's a feature Ford has used on its models for years and I'm surprised other manufacturers have taken so long to adopt it on their vehicles.
The Ford version does have some disadvantages, in that on dark wet nights, it can make the windscreen appear a bit blurry, especially when there are oncoming headlights from other vehicles.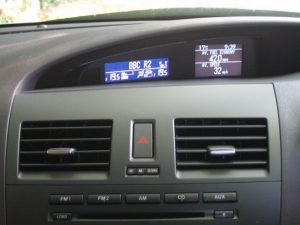 Bluetooth is also added to inventory on the TS models, which is a real boon for anyone with a smart phone, making talking and driving both easy and legal, even if it should be avoided wherever possible!
The Sport versions get larger wheels (17in) and a Bose sound system, while as its name suggests, the range-topping Sport Nav models get a sat nav system.
There is a good mix of petrol or diesel engines, but this week's test car came with the 1.6-litre diesel. With only 115PS, it's not the quickest thing on the road, but it will cruise happily at motorway speeds and return up to 65mpg, but during my week with the car, which included a good mix of driving, it returned 45.7mpg overall, which is about what I would have expected, but a long way short of the official combined figure of 65.7mpg.
The car provides comfortable accommodation for up to five people, with an arm rest, complete with a couple of cup holders dividing the rear seat if you only have two passengers.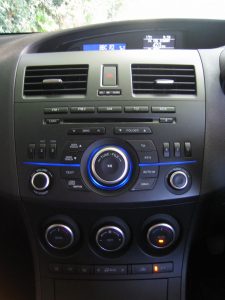 The boot is also a decent size, and the rear seats can be folded down to enlarge it if required.
Up front, the driver has plenty of buttons to get to grips with on the centre console, while the steering wheel is equipped with a myriad of controls for everything from the cruise control, to the phone, trip computer, radio and so on.
As you would expect from Mazda, the car drives very well, the alterations to the steering and suspension clearly paying dividends.
The steering still feels very light to the touch, but does weight up quite nicely at speed, giving the driver a reasonable amount of feedback. The ride quality is good, and it handles competently, even when driven reasonably hard.
Prices for the latest Mazda3 range start from £14,995.
Mazda has launched a special edition of the Mazda3 and Mazda5, called the Venture Edition, priced from £17,495 on the road.
For the extra money you get a sports styling kit and gun metal finish alloy wheels, a Sanyo TomTom navigation system, integrated Bluetooth® and cruise control as standard. Buyers have a choice of colours including the unique Dolphin Grey Mica and a choice of petrol or diesel engines.
CLICK HERE and "Like" our Facebook page for regular updates and follow us on Twitter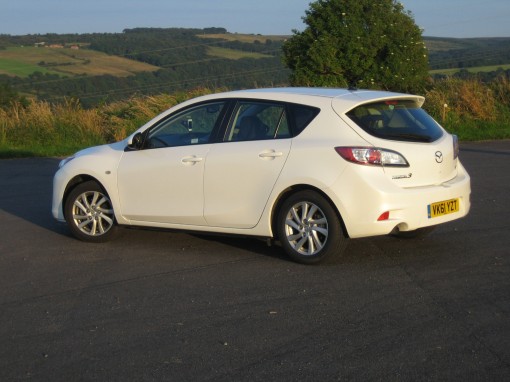 Rating:





THE VITAL STATISTICS
MODEL: Mazda3 TS2 1.6 Diesel.
MAZDA3 RANGE
From 1.6 S 5dr (£14,995) to 2.2 Sport Diesel (185ps) 5dr (£21,495).
ENGINE
1560cc, 115PS four-cylinder engine, driving front wheels through 6-speed manual gearbox.
PERFORMANCE
Top speed 116mph.
0-62mph in 11 secs.
ECONOMY
City: 65.3mpg.
Country: 74.3mpg.
Combined: 65.7mpg.
Fuel tank: 55 litres.
CO2 EMISSIONS
115g/km.
INSURANCE
Group 18.
PRICE
£18,495.
WARRANTY
3 years/60,000 miles.
WEBSITE
www.mazda.co.uk
• All data correct at time of publication.