Does Citroen's latest DS compare to the originals?
ROAD TEST REPORT AND REVIEW: Citroen DS4 D Sport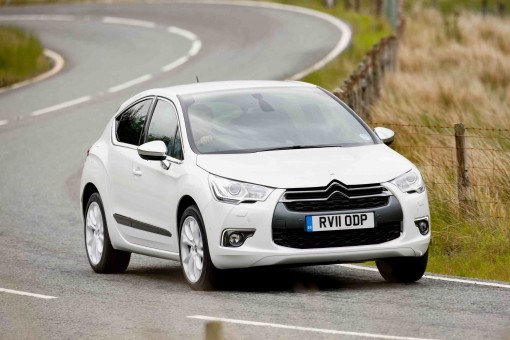 Bringing back the iconic DS name from history has not been universally popular among enthusiasts. KEITH WARD roadtests Citroen's latest DS4 model.
IN a corner of a foreign field I know, no fewer than six examples of the fabulous original Citroen DS (1955-75) stand neglected and forlorn, with grass and brambles growing around and through the faded grace of those classic bodyshells.
They mark the passion of an English car collector for a symbol of Gallic elegance to go with his French countryside abode. He bought one, then another for spares to keep it going, a third because it was just too good to miss…  and so it went on. None has moved a wheel for years.
The DS, pronounced day-ess or "de-esse", meaning goddess in its native tongue, was an icon. Its unique features included a float-along, self-levelling hydropneumatic suspension which inflated when you switched on and could be raised high enough to change a wheel, or carry on post-puncture to the next garage.
When terrorists attacked the swish DS Pallas of then French president Charles de Gaulle and shot out one tyre, his driver beat a hasty escape on three wheels.
The brake pedal in the DS was round, more like an old floor-button dip-switch, and dabbing it in the first example I drove nearly shot me through the windscreen. In a pioneering venture, the headlights turned with the steering.
Recently, not with the wholesale approval of enthusiasts, Citroen have revived the DS name for a series of styled, sit-high, upmarket versions of their existing C3, C4 and C5 models.
So the DS4 tested here stands 31mm taller than a C4, but shorter and narrower. It's a five-door posing as a coupe with those vertical rear door handles concealed within the door frame. It looks good, but there are practical drawbacks.
A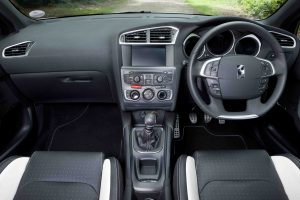 ccess to the rear seats is restricted by the narrow doors and protruding wheel arches. The rear windows are non-opening. Dropping forward the rear seatbacks onto the fixed rear bench extends the boot but creates a step in the floor.
Aiming to take on, across a broad front, the Mini Countryman, Nissan Qashqai, Alfa Giulietta and VW Golf, among others, the DS4 shows opulent touches. They include a chrome waistline, tinted windows, "premium" cabin materials, a race-style sawn-off steering wheel, drilled aluminium pedals and leather seats. A panoramic windscreen sweeps up and over the heads of front occupants.
You can change not only the brightness but the background colour of the instruments.  With shades of the original DS, if you indicate or turn the steering wheel at night to an angle greater than 60 degrees, an extra headlight beam shoots out to glance sideways.
Prices are enhanced, too, starting £2,400 above the C4.  The DS4 range from £18,150 to £23,950 takes in two diesel engines, three petrol units (co-developed with BMW and shared by the MINI), and three trim levels.
We tried the most powerful, 199 bhp petrol engine, also seen in Peugeot's RCZ, allied to the top DSport trim. Citroen say they have paid special attention to sound deadening, and it shows. For a high performer (146 mph capability, 0-62 in 8.5 seconds) it is remarkably quiet, to a degree not all sporty-minded drivers may enjoy. At 70 mph in sixth, pulling 2,500 rpm, there's a low, remote burble. It returned more than 40 mpg in our hands. Emissions are relatively low at 149 g/km.
A stiff and long-travel clutch detracted from driver comfort as did the hard ride on large 19-inch alloys.  What enhanced the experience was the sporty handling on an uprated suspension, borne of Citroen's sporting achievements. And creature comforts that come with the DSport:  special leather, some extra chrome exterior bits, heated front seats, progressive parking sensors all round, useful blind spot monitoring. They add to features from down the range including dual zone digital air con, six-speaker audio, automatic lights and wipers, six airbags, cruise control, under-seat storage drawers and "dynamic" front seats with electric lumbar adjustment and massage function.  But at yet extra cost would be a sat-nav pack and hi-fi.
One curiosity: On engaging reverse, the driver's door mirror, instead of customarily tilting down to check for people or obstructions at the back of the car, tilted up. Blue sky thinking?
Rating:





THE VITAL STATISTICS
Model: DS4 DSport THP 200
Type:  Five-door; five-seat; sporty family hatch
Boot:  Length 825 to 1,470 mm; width 960; sill 790; vol 385 to 1,021 litres
Engine: Petrol; 1,598 cc; 4-cyl; multi-point injection; 6-speed manual
Power: 199 bhp @ 5,800 rpm; max torque 203 lb ft @ 1,700 rpm
Pace: 146 mph; 0-62 in 8.5 secs
MPG:  On test 40.8 mpg; official combined 44.1; tank 60 litres
CO2: 149 g/km
Insurance: Group 31E
Warranty: 36 months/60,000 miles
PRICE: £23,650