Suzuki's Kizashi has the makings of a good seller
ROAD TEST REPORT AND REVIEW: Suzuki Kizashi 2.4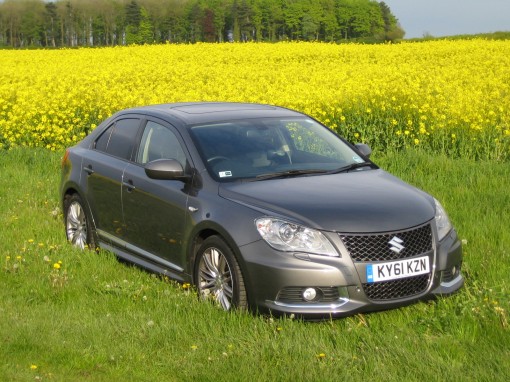 Suzuki's Kizashi has the potential to do well, but wheelworldreviews editor DAVID HOOPER reckons its engine and gearbox combination will prove to be a handicap in the UK.
IT seems Suzuki's Kizashi may be destined to remain something of a rarity on the UK's roads, which is a shame, because I think it could be quite a success for the Japanese carmaker in the UK, as it has been in across the Pond in America.
Only 500 examples of this smart four-door saloon are coming to the UK in 2012, with possibly more to follow in future years.
Having sold well in America – and Scotland – thanks to its switchable four-wheel-drive system, the Kizashi is only going to appeal to a limited market in the UK, mainly due to its 2.4-litre petrol engine, but also in part because of its CVT transmission.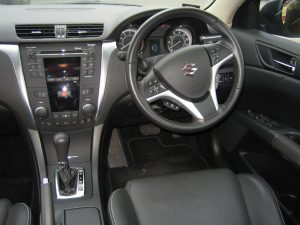 A Suzuki spokesman told me that as much they would like to offer the car with a 2.0-litre diesel engine in the UK, manufacturing constraints in Japan mean that we are unlikely to see one, certainly in the foreseeable future.
So for now, there is just one model to choose from, but that model is well equipped, is available with a Sports aerodynamic package as standard equipment and comes with a full inventory of airbags and other safety systems.
The Kizashi looks very good I think, but then I've always liked saloon cars for their individuality when compared to the rash of hatchbacks which seem to be everywhere these days, but a boot, spacious though it is, is not for everyone.
The interior design will be familiar to aficionados of the Suzuki brand, featuring the traditional clear instrumentation and generous specification, especially when you bear in mind the asking price. There aren't too many cars for this money that come with seven air bags, leather upholstery, electric front seats with three memory positions on the driver's seat, heated front seats, electric glass sunroof, cruise and an eight-speaker hi-fi system.
The seats are very comfortable, even after a long run and there is room for up to four passengers to travel in comfort.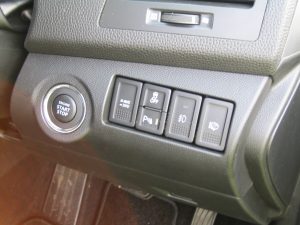 The car drives well enough, and there are no major complaints about its ride and handling, although in two-wheel-drive mode, the rear end did feel a little cumbersome and heavy through the bends on occasions.
It's 2.4-litre engine provides plenty of performance, with the 0-62mph time of 8.8 seconds being quick enough for most, but with a C02 emissions figure of 191g/km it's not going to attract many company car drivers.
Its Continuously Variable Transmission, or CVT, would also put me off. CVT gearboxes have improved massively in recent years, but are still my least favourite type of gearbox. It basically works on a system of belts and pulleys which expand as the engine's revs increase. Electronic "gears" are created to give the impression of a conventional gearbox, but there's no getting away from the screaming engine which makes a lot of unnecessary noise until the belts catch up.
The boffins tell us it's more fuel efficient than a conventional automatic gearbox, but it's far less pleasant. Give me a five or six-speed manual any time, but sadly, that's not an option on the Kizashi.
D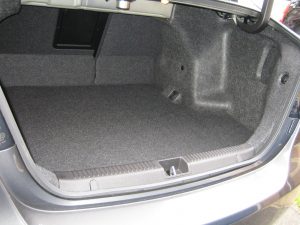 uring my test which I conducted mostly in two-wheel-drive mode, the car returned an average of 33.5mpg, which considering you've got a 2.4-litre engine with almost 180bhp on tap, isn't too bad and probably on a par with many pseudo 4x4s, but it will be too costly to run for some in the current economic climate.
If Suzuki could bring a 2.0-litre diesel with a manual gearbox version of the car to the UK, I think it could potentially do quite well, but it seems that's not likely to happen at the moment.
If you don't want to buy a new one, its large capacity petrol engine may also have a detrimental effect on its residual values, so the bargain hunters among you will do well to keep an eye on the forecourts in the next year or two.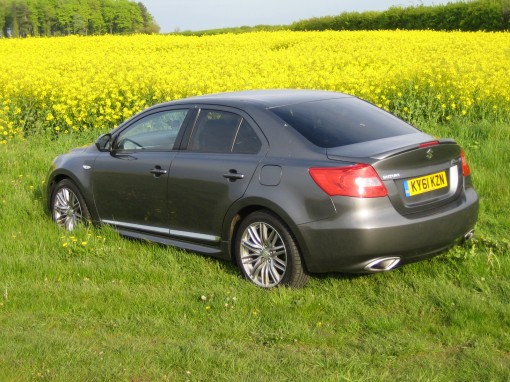 Rating:





THE VITAL STATISTICS
MODEL: Suzuki Kizashi 2.4.
KIZASHI RANGE: One model, £21,995.
ENGINE: 2,393cc, 178PS four-cylinder engine, driving four wheels through 6-speed CVT gearbox.
PERFORMANCE: Top speed 127mph.
0-62mph in 8.8 secs.
ECONOMY: City: 25mpg.
Country: 42.8mpg.
Combined: 34mpg.
Fuel tank: 63 litres.
CO2 EMISSIONS: 191g/km.
INSURANCE: Group 26.
PRICE: £21,995.
WARRANTY: 3 years/60,000 miles.
WEBSITE: www.suzuki.co.uk
• All data correct at time of publication.
CLICK HERE and "Like" our Facebook page for regular updates and follow us on Twitter