Success story continues with latest Toyota Yaris
ROAD TEST REPORT AND REVIEW: Toyota Yaris 1.33 5-door.
Building on the strengths of previous models, wheelworldreviews editor DAVID HOOPER says the new Yaris is an engaging little car.
THE little Toyota Yaris has stood the test of time and proved to be a big seller for the Japanese carmaker. Now, this latest generation, has been designed to build on that success.
After spending a few days at the wheel of one of the new models, which looks very much like a smaller version of the Auris, I have to say I'm most impressed – much more so than I expected to be. It really is a cracking little car, which is compact, easy to live with, but perhaps best of all, surprisingly engaging to drive when it is powered by the 1.33-litre eng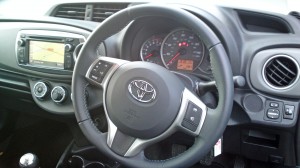 ine this test car came equipped with.
On paper, it wouldn't jump out at you as a hot hatch, with a 0-62mph time just shy of 12 seconds and a maximum speed of 109mph. In all honesty, it's never going to trouble a Golf GTI in a sprint from the traffic lights, but once its rolling, progress can be pleasingly rapid if you make it work a bit, using the upper end of the rev range and regularly stirring the smooth-shifting and precise six-speed gearbox.
The car feels nicely poised on the road too, thanks to well chosen suspension settings which give a nice combination of a comfortable ride and agile handling when called upon, accurate feedback to the driver through the steering wheel and confident roadholding, even on less than perfect road surfaces.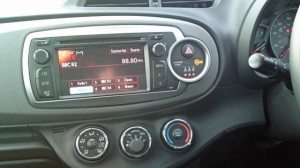 With Toyota's Optimal Drive now standard across the range, for those who prefer to take things at a more leisurely pace, gear shift indicators help you squeeze the most miles you can out of every gallon of fuel, and a display on the centre console shows a graph of the car's economy, which is quite interesting to watch and proved a talking point with my passengers, especially when some of the bars in the chart began touch 75mpg after a period of steady driving. Overall, during my test, this Yaris averaged around 43mpg in mixed road and driving conditions.
It's practical too, with five doors, comfortable seats and a sensibly-sized boot, this new Yaris has a lot to offer, but I was disappointed to find that the rear seats will not tumble forward, which means that on the occasions you need a bit of extra space, the car's load area has a big step in it where the rear seat backs remain  proud of the boot floor.
My other slight gripe would be with the dashboard's plastic topping, which is quite hard to the touch when the car's rivals like the Fiesta and Corsa utilise more tactile materials.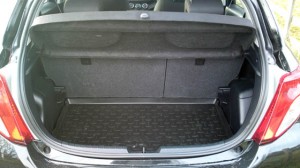 Other than that, the interior is well designed and easy to find your way around. I particularly liked the Touch and Go system, which was an option on this particular car. It combines the radio/CD, Bluetooth, and sat nav systems. The sat nav's display was one of the best I've seen, with plenty of colour and clear graphics making an attractive addition to the car.
There are three or five-door bodystyles and four trim grades to choose from, starting with T2, TR, SR and T Spirit, and a choice of three engines, depending on model, from the 1.0-litre, the 1.33-litre model I've been driving, and a 1.4-litre diesel. These are married to either five or six-speed gearboxes, or a Multidrive S, which is a CVT.
The TR specification has most of the things you would want, and comes with nice 15in alloy wheels, instead of the steel rims on the entry-level T2 grade. You also get air conditioning, six-speakers for the radio system, Bluetooth and a rear-view camera, which I found myself using quite regularly to squeeze into tight parking spaces, or when reversing onto my driveway. It works well even at night, giving a clear view of what is behind, be it people, other cars, or your garage door, and its 6.1in colour display screen is excellent.
The Yaris feels very well built inside and out, and although there is plenty of black plastic adorning the interior, it all feels securely put together and in the car I drove, there were no squeaks or rattles in evidence.
The new Yaris is certainly well-built, fun to drive and easy to live with. I'm a fan.
CLICK HERE and "Like" our Facebook page for regular updates and follow us on Twitter
Rating:





THE VITAL STATISTICS
MODEL: Toyota Yaris TR 1.33.
TOYOTA YARIS RANGE: From T2 1.0 VVT-i 3dr (£11,170) to T Spirit 1.33 VVT-i Multidrive S 5dr (£15,385).
ENGINE: 1329cc, 98bhp four-cylinder engine, driving front wheels through 6-speed manual gearbox.
PERFORMANCE: Top speed 109mph. 0-62mph in 11.7 secs.
ECONOMY: City: 52.3mpg.
Country: 41.5mpg.
Combined: 62.7mpg.
Fuel tank: 42 litres.
CO2 EMISSIONS: 123g/km.
INSURANCE: Group 8.
PRICE: £13,260.
WARRANTY: 5 years/100,000 miles.
WEBSITE: www.toyota.co.uk
• All data correct at time of publication.