Skoda Yeti Black Edition 4×4 2.0 TDI 140PS road test report and review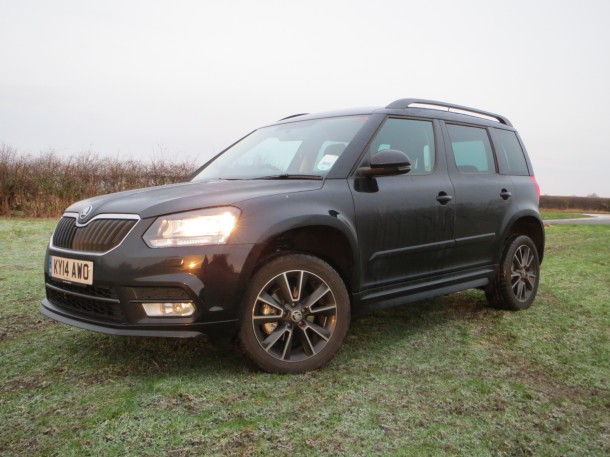 The smart Black Edition of the Skoda Yeti, cuts quite a dash – DAVID HOOPER has been stretching its legs.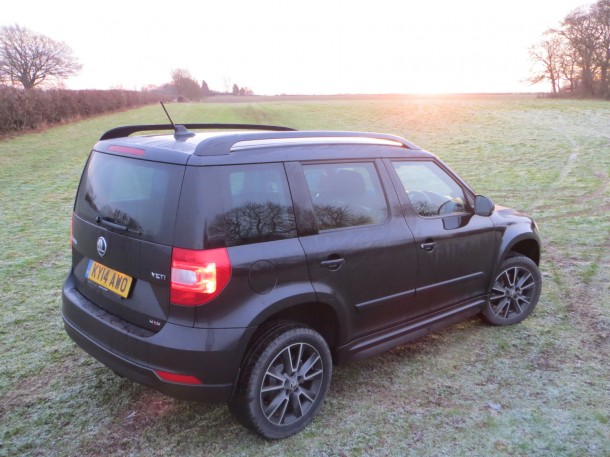 BLACK seems to be the new white, and this rather smart looking Skoda Yeti Black Edition is a rather special extension of the Yeti brood. The recently updated model features new styling front and aft and equipment upgrades, but other than that, Skoda have stuck to the practical, functional, go just about anywhere formula which has proved to be quite a hit for the brand. With its Black Magic paintwork, a £525 option, and smart 17in Matterhorn alloy wheels, the Yeti Black Edition cuts quite a dash and despite its somewhat boxy silhouette, looks very smart.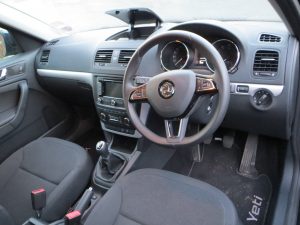 A good sized boot, with useful storage ideas and a couple of bag hooks, perfect for the New Year sales to stop your bargains falling out of their carriers – or your take-away swamping the boot floor on the way home after a hard day's shopping! Dark privacy glass continues the "Black" theme on the rear and side windows behind the B post, while inside, there are three individual rear seats which slide backwards and forwards to adjust the available boot space or rear leg room, depending on requirements, or they can be folded down to extend the car's carrying capacity. Up front, the instrumentation is clear and standard kit levels are good on this model, although there was no USB connection which is useful for charging your phone and playing your music through the car's hi-fi system, although I could still connect it via Bluetooth and charge the phone with a conventional charger via the 12V auxiliary socket. Your telephone can also be controlled by the large sat nav screen in the centre console, which can be operated either by touch, or the manual controls, but the graphics aren't the latest from the VW Group, reflecting Skoda's lower-end positioning in the company.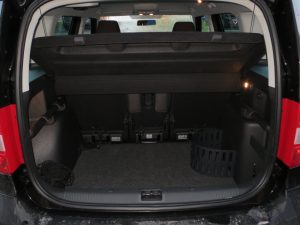 The Yeti, or the Skoda Bigfoot, as I like to call it, is available with two-wheel-drive models only, but this Black Edition model came with the 4×4 system, which is actually quite reassuring as the icy roads return for winter. The car runs in two-wheel drive most of the time, only bringing the 4×4 system into play when the front wheels begin to lose grip. Power comes from the trusty 2.0-litre diesel engine which develops 140PS and 152g/km C02, however, during my test, the car only averaged 42.3mpg, which by the standards of some of today's new cars, isn't that great – but then you do have the extra weight of the 4×4 system to lug around with you, whether you need it or not. My test car came with the six-speed manual gearbox, although a DSG automatic is also available. The Skoda Yeti does drive well and is relatively easy to live with, but having spent a week with this latest model, I'm not a fan of the driving position which I find a bit "awkward". The seat is set quite low, which means I found myself reaching up for the steering wheel. This can be adjusted downwards, and for reach, and I did eventually find an acceptable compromise, but the top of the wheel then obscures the upper portion of the two main dials. From the multi-function steering wheel you can control most of the car's main systems, and it even has cruise control, operated from the left-hand stalk, great for maximising economy on a long trip and taking the stress out of driving. It may look a little van-like, but the Skoda Yeti is practical, spacious and good to drive, making it a strong contender for anyone looking for a versatile family car – and with a name like Yeti, you've just got to love it! Rating:





THE VITAL STATISTICS MODEL: Skoda Yeti Black Edition 4×4 2.0 TDI 140PS. SKODA YETI RANGE: From Skoda Yeti 1.2 TSI S (£16,715) to 2.0 TDI CR 170 4×4 DSG Monte Carlo (£25,690). ENGINE: 1968cc, 140PS four-cylinder diesel engine, driving four wheels through 6-speed manual gearbox. PERFORMANCE: Top speed 118mph. 0-62mph in 9.9 secs. ECONOMY: City: 40.9mpg. Country: 54.3mpg. Combined: 48.7mpg. Wheel World test average: 42.3mpg CO2 EMISSIONS: 152g/km. FUEL TANK: 60 litres. INSURANCE: Group 19. PRICE: £24,515 WARRANTY: 3 Years/60,000 miles WEBSITE: www.skoda.co.uk • All data correct at time of publication.