Range Rover 'Evoques' some strong reactions
ROAD TEST REPORT AND REVIEW: Range Rover Evoque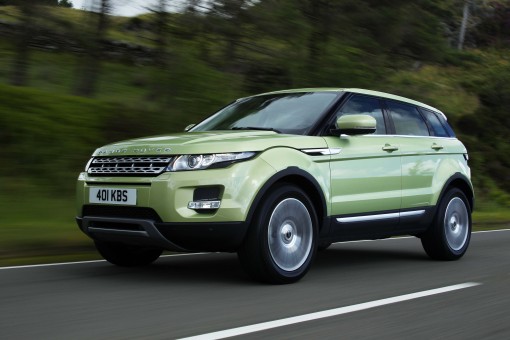 Obviously polarising opinion, IAN LAMMING takes exception to one man's opinion of the Range Rover Evoque.
SORRY, but it's a matter of honour. It doesn't matter that it's not my car; we've bonded.
So when the man walking his dog looked the Range Rover up and down, locked eyes with me and then stuck his fingers down his throat, I'm just not having it.
A quick whizz round the block and I spot the offender and his dog down an alley. Up we creep and because he's listen to music on his iPod he doesn't hear the Evoque approach.
A good firm blip of the throttle has him leaping out of his skin and he looks alarmed; he's cornered down a back alley by a mad hack in a Range Rover with only a small terrier for protection.
"Excuse me," I say, beckoning him over. "What was all that about? It seems rather an extreme reaction. Would you like to explain yourself?"
He stammers, he sweats, he tries to make amends.
"Are you some sort of Range Rover purist?" I've heard some aren't keen on the new modern look.
"No. Never driven one," he admits. "It's just that it looks squashed at the back." He also sneers at the fact that Victoria Beckham had a hand in the interior styling which, it has to be said, is rather posh. Then he actually looks at it and admits: "Actually the interior is quite nice."
Feel free world to hate the Range Rover Evoque but at least have the courage to admit why – you hate it because you are jealous; you can't afford one; or you are stuck on a waiting list and just plain frustrated.
Because the reality of the matters is that there can be no other reason, no real reason for taking against it.
You don't have to look too hard to see the envy in people's eyes – like when you are trying to get out of a junction and fellow drivers won't let you, or on the motorway when people delight in cutting you up. It's not called Evoque for no reason as it does induce strong feelings from all who see it.
Reaction to this particularly is symptomatic of the malaise that corrupts this fine nation. Build them up then delight in knocking them down.
Well not this time Mr Dog Walker; not on my watch. The Evoque is a delight and I don't care who knows it.
It is surely the very best looking SUV by a country mile; it's fantastic, like it has just pulled a shift on moon base Alpha. It is pure concept car but available now. Low roof, high waist and massive wheels; it's a dream.
Yes, it has a low roofline. But is that to the detriment of occupants? No, not one bit, especially if you opt for the panoramic glassroof.
I defy anyone to complain about being inside this masterpiece of design as it is such a glorious place to be. Wonderful seats, tactile materials and the best dash and centre console on the market. If you go for the TV, somehow, on the move, it manages to show the driver the satnav while projecting programmes to the front seat passenger; how clever is that?
So it looks amazing, it's fantastic inside, but is it a Range Rover? Of course it is. This thing will tackle roads, tracks, mud and snow with equal aplomb. It's a proper job, no messing. The 2.2 diesel whops out 190PS, so it has plenty of poke. The technical wizardry under the skin would leave NASA panting and perplexed. Safe to say it all works marvellously.
You can see why I rushed to its defence. It's time this country stood up and applauded superb design and great engineering – its major chassis components are made by some of the country's finest engineers at Newton Aycliffe-based Tallent Automotive for goodness sake. In sum, when it comes to SUVs the Evoque is top dog.
Rating:






THE VITAL STATISTICS
Model: Range Rover Evoque
Engine: 2.2 litre, turbo diesel
Drivetrain: six speed auto
Power: 190bhp
Top speed: 121mph
0-62mph: 8.5 secs
Miles per gallon 43.5 (combined):
CO2 (g/km): 174
Price: £32,095-£39,995