Budget SsangYong models prove off-road talents
ROAD TEST REPORT AND REVIEW: SsangYong Korando SX and Sports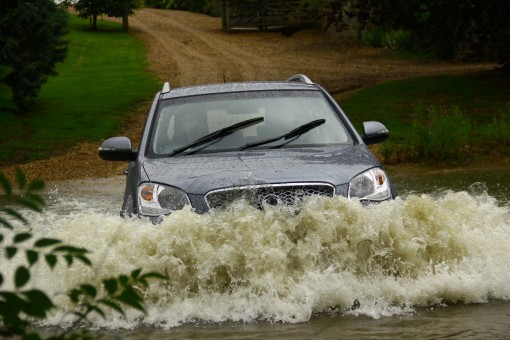 As SsangYong shows off its latest new models, DAVID HOOPER puts the newcomers through their paces on a testing off-road course – and is pleasantly surprised by their abilities.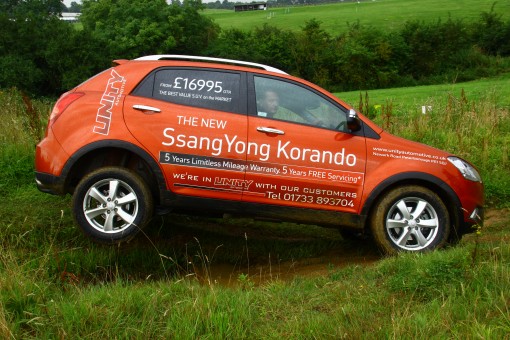 You could be forgiven for thinking that if you want to buy a capable 4×4, you have to spend huge amounts of money.
Well let me tell you – you don't! An afternoon spent driving the new SsangYong Korando SX and Korando Sports around a challenging off-road course proved that beyond any doubt. The cars met every challenge we threw at them, be it traversing grassy banks, climbing up and down steep muddy slopes, wading through lakes – and even ploughing along a water-filled ditch only inches wider than the car itself.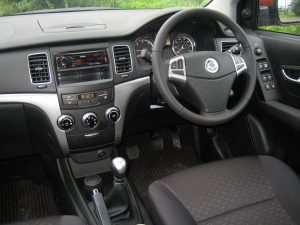 These feats of off-roading prowess were made all the more impressive by the fact that these cars were all, quite literally, straight out of the showroom – one of them that morning – and were completely standard, right down to the tyres.
Of course, being SsangYong, all this comes at a very competitive price, with the new Korando SX costing £18,795 and around £20,000 for the Korando Sports, a large pick-up which unlike the car, comes with a proper high and low range gearbox.
The Korando SX is a striking small SUV in the same vane as the Hyundai ix35 and Nissan Qashqai. It has a clever system which diverts torque to the wheel, or wheels with grip. A simple demonstration proved how effective this was. With three of the four wheels on metal rollers, drive was directed to the one remaining wheel with grip and the car drove off the rollers.
You may have noticed the Korean company's "straight to the point" advertising campaign which makes the point that its nearest rival, the Hyundai ix35, will cost you £2,805 more than the Korando SX. Apparently it's raised a few eyebrows for naming names, but it certainly gets the message across.
So what do you get for your money? Well I think quite a lot in comparison to its rivals like the Hyundai or the Qashqai. The cars are well equipped with even the entry level model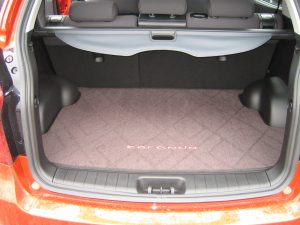 getting a reverse parking camera, air-conditioning and cruise control as standard kit.
It is powered by a 155PS 2.0-litre diesel engine which is built in-house and is reasonably refined, especially once up to cruising speed. It will return around 45mpg, hit 62mph from rest in 9.9 seconds and has a top speed of 116mph, with a C02 figure of 157g/km.
The older generation 2.7-litre Mercedes-based engine which powered previous Korando models is still around in the Rexton, the company's full-size 4×4.
The interior is attractively styled, but the plastics feel a bit cheap, are hard to the touch, but certainly durable and in the cars I drove, rattle free.
The Korando SX also has an impressive towing capacity of up to two tonnes, which matches the comparable Hyundai ix35, for example.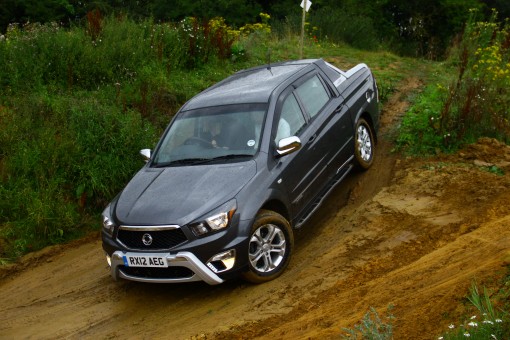 The other new model, the Korando Sports, is a double cab pick-up which can carry up to five people and comes with a large load bay, but what makes this vehicle different from anything else on the market is its rear suspension. Most vehicles of this genre come with leaf springs at the rear, designed to carry a lot of weight, which is fine for working vehicles. A lot of these vehicles, however, are lifestyle choices which means owners have to put up with a bouncy ride for most of the time.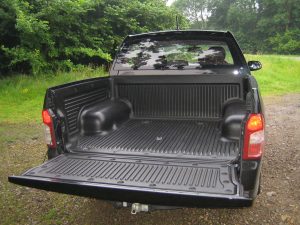 The Korando Sports is different. It has a rear multi-link suspension system which means the ride quality is more comparable to that of a normal car rather than a bouncy pick-up truck. I only had to drive it a few metres to notice the difference, yet it still coped with the challenging off-road course with ease – without shaking the occupants around too much.
The compromise is in the payload, which is 630kg, less than its rivals.
It is powered by a 153bhp 2.0-litre turbodiesel engine with 266lb ft of torque from 1400rpm.
It comes with either a six-speed manual or six-speed auto gearbox and can tow up to 2.3 tonnes.
With a proper low-range transfer box and permanent four wheel drive and it's a go-anywhere, do anything car.
If you want to enclose the huge load area, a large fixed lockable cover is available.
Prices have yet to be confirmed but are expected be around £20,000 on the road when it goes on sale in October. The models I drove were pre-production cars, so the final UK spec and pricing is still to be decided.
More good news is that a five-year unlimited mileage warranty is standard which can be transferred to subsequent owners, which may help residual values.
CLICK HERE and "Like" our Facebook page for regular updates and follow us on Twitter
Rating:





THE VITAL STATISTICS /FIRST DRIVE FACTS
MODEL: SsangYong Korando SX and Sports
BODY STYLES: Five-door hatchback and double cab pick-up.
ENGINES: 2.0-litre turbo diesel
PRICES: £18,795 (SX). Around £20,000 for Korando Sports.
WEBSITE: www.ssangyong.co.uk