Peugeot 508 has rivals looking in rear view mirrors!
ROAD TEST REPORT AND REVIEW: PEUGEOT 508
Peugeot has upped its game with the 508 range and wheelworldreviews editor DAVID HOOPER says the new model is a match for anything in its class.
THEY say you never get a second chance to make a first impression, but driving the saloon version of Peugeot's new 508 range, has reinforced my initial high opinions of this excellent new model.
Make no mistake, this is a superb new car which has been built to such high standards that its premium German rivals should be looking anxiously in their rear view mirrors.
Not only is it well built, it looks fantastic, in saloon and SW guise. It's fresh and it's different and it stands out from the crowd, a feat few new models manage to achieve today.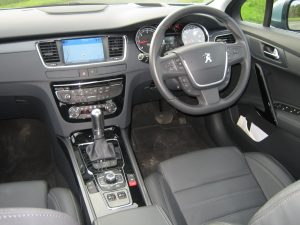 This particular car, the top-of-the-range GT, came with all the bells and whistles, and a few toys which Santa would like to have on his sleigh to make the Christmas deliveries that bit more comfortable. After months of bending over his workbench, a seat which massages your back would be a real treat for him, as would directional headlights which can automatically switch between high and low beam. The excellent, easy to use sat-nav system may also be a useful addition to the big man's sleigh.
Long journeys in this car would be a delight, with its six-speed automatic gearbox, which is among the smoothest I've tested for a while. Progress is virtually seamless, unless you're really pushing on. The ride and handling is superb as you would expect from Peugeot and with in excess of 200bhp on tap, progress can be enjoyably rapid, with the 0-62mph sprint vanishing in just 8.2 seconds and a top speed of 139mph available. Should you feel the need to get more involved in the driving, you can take control of the gear changes by using paddles mounted behind the steering wheel, or by nudging the gear stick. Pressing the sport button just sharpens things up a bit and adds to the enjoyment.
At speed, the sleek 508 is impressively quiet with very little wind or road noise in evidence, adding to the car's luxury ambience.

Despite its potent performance, it can return over 60mpg if driven sympathetically, and during my test, which involved lots of town driving in the festive traffic mayhem, as well as some motorway work, it returned 31mpg overall, while emitting 150g/km of C02, which means the annual road tax will cost £130 at current rates.
The four-door saloon bodystyle makes a change from the five-door hatchback, something Peugeot has avoided historically which begs the question of how much of a handicap that is in the company's battle with the likes of Ford and Vauxhall, whose Mondeo and Insignia models both offer hatchback versions which are hugely popular. Yet, neither Audi nor BMW offer hatchback versions of their A4 or 3 Series models, so there must be some logic there.
Whatever your preferences on saloon or hatchback bodystyles, the 508 offers spacious, comfortable and luxurious accommodation for up to five adults, with lots of space for their luggage or Christmas shopping in the sizeable 473-litre boot.
The GT model I've been testing came with keyless entry and start, which means you never need to take the key out of your pocket or handbag.
Another gadget which may find its way some motorists' wish lists, is the Head Up Display which projects some of the car's key information onto a small screen on the top of the dashboard, directly in front of the driver. With the car's speed right in front of you, there's no need to lower your eyes from the road ahead to check how fast you are going. Other information, like the sat-nav's turn directions and cruise or speed limit settings are also shown. It can take a little while to get used to it, but if you don't want the Head Up display, it can be turned off, and the little screen disappears back into the dashboard. All very clever.
Peugeot customers have a choice of five trim levels, starting with Access and rising through SR, Active, Allure and GT in both bodystyles.
As you've probably gathered, I'm a big fan of the new 508. It looks superb, is a pleasure to drive, is beautifully put together and well priced. If you're changing your car in the next few months, take it from me, a 508 should be on your Christmas wish list.
Rating:





THE VITAL STATISTICS
MODEL: Peugeot 508 GT HDi 200.
PEUGEOT 508 RANGE: From 1.6VTi (£18,450) to 2.2 HDi FAP Automatic (£29,050).
ENGINE: 2,179cc, 204bhp four-cylinder engine, driving front wheels through 6-speed automatic gearbox.
PERFORMANCE: Top speed 139 mph. 0-62mph in 8.2 secs.
ECONOMY: City: 35.3mpg.
Country: 64.1mpg.
Combined: 49.5mpg.
Fuel tank: 72 litres.
CO2 EMISSIONS: 150g/km.
INSURANCE: Group 33.
PRICE: £29,050.
WARRANTY: 3 years/60,000 miles.
WEBSITE: www.peugeot.co.uk
• All data correct at time of publication.