Getting to grips with Audi's Q3 line-up
AUDI Q3 ROAD TEST REPORT AND REVIEW
The Audi Q3 range offers a huge choice of models and specifications. TOM SCANLAN has a closer look at some of the available options.
The two particular versions I tried made for an interesting comparison. The first was the more powerful of two 2.0-litre TDIs on sale, with a seven-speed auto gearbox as standard. The diesel engine has 177 PS and performs typically of such diesels; that's to say, it's pretty refined, smooth and reasonably quiet. Audi expects diesels to make up 50% of all Q3 sales. The other version was the less powerful of the two 2-litre petrol FSI cars, with a six-speed manual gearbox. It has 170 PS, plenty enough, as it proved on some testing ascents and descents that our test route provided.
In the development of the Q3, Audi laid down the basic requirements: including ground clearance, driver assistance systems, varied infotainment selection (to use industry jargon that is perhaps becoming second-nature to new-car customers), 2000kg trailer towing capability, and best-in-class performance and efficiency.
The last is something that only time will (or won't) prove.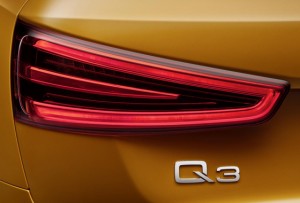 On the road, the diesel car, negotiating Yorkshire moors roads through thick fog, with one or two stops (it has start-stop engine technology) and some faster driving nearer the coast, returned 36.6 mpg, according to the car's own trip recorder.
On a similar route, the FSI got through 27.1 mpg. These results, even given that the cars were new and not completely run in, which may make a small difference, were disappointing, compared with the official combined cycle fuel consumption figures (54.3 in the diesel's case, 38 mpg for the petrol engine).
As far as general performance and road manners were concerned, both cars were impeccable, even if it may have just been possible to detect when the transfer of power to the rear wheels took place in certain slippery conditions. Of course, we're talking Quattro here in both models.
In spite of the diesel's prowess, the petrol-engined car was definitely my choice at the end of the drive. In the UK, with fuel prices slightly in favour of petrol cars (diesel is currently seven or eight per cent more expensive at the moment), you may still, on this test's evidence, get around a third fewer miles to the gallon, so still be spending more on fuel;  however, the feel of the car, for me, was appreciably more pleasant and refined. It was brisk enough for any situation, with zero to 62 mph in 7.9 seconds, a little faster than the diesel. It's a case of buying more refinement.
On the road, both cars, with their different front-end weights, provided a very good ride. In the cabin, the diesel engine was discernible not only when pressed; on the other hand, the petrol car's transmission was discernible; in neither case, though, was this irksome.
Outward visibility is very good, thanks in part to a nice high driving position. Interior space is good, with two adults very comfortably fitting into the rear and even a third perhaps not feeling too squashed, thanks to the transmission tunnel being less bulky than some. There's very good luggage space in the boot.
Handling and braking were exemplary: given that these cars are not cheap (£32,000 and £31,000 respectively for the two as tested with their optional extras), you should expect nothing less. Useful engine-braking downhill was a particularly noticeable feature in the diesel auto.
The Q3 range will start at £24,500 with the front-wheel-drive model. As usual, it's very unlikely that anyone will pay just this; so many features and options are available to varying specifications that few cars will sell for less than £30,000.
Buyers will no doubt feel that they have bought well: Audi claims impressive onboard technology and outstandingly-low running costs; latest technology start-stop; free-wheeling when the system detects that the engine is not needed, and other leading edge technology are available, depending on the model.
Weight-saving aluminium used in the body helps reduce fuel-usage, too, without compromising strength.
Insurance ratings are very competitive, compared with its competitors. If owners are like me, they may not feel particularly inspired by the Q3, but should certainly find it to be a practical all-rounder, able to take on any driving situation with assurance and, according to Audi, with cheaper running costs than competitors.