Skoda Rapid road tests as historic name returns
NEW SKODA RAPID ROAD TEST REPORT AND REVIEW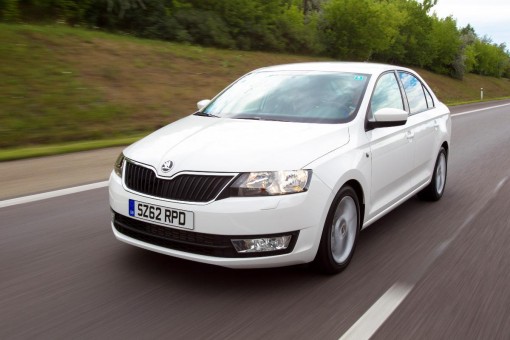 Squeezing into the Skoda range is this new Rapid model. DAVID HOOPER explains why, and drives two versions of the new car.
The new Skoda Rapid, the seventh model line in the Czech company's expanding range, revives another name from the past – and there was a lovely, fully restored original 1934 model to admire at the launch.
The name was revived in the early 1980s for quicker versions of the rear-engined 130 models.
The new car, featuring Skoda's classy new design language, slots into the range between the Fabia and the Octavia, which at first may seem a bit like overkill, until you understand Skoda's intentions for the new Octavia, which goes on sale next year.
With a move upmarket in terms of quality and specification, the new Octavia is going to be a larger and more expensive car than the current model and will therefore create room for the new Rapid, which Skoda claims isn't that much smaller than the current Octavia model, although to me, it felt so.
That said, it's still spacious enough, and certainly bigger inside than the Fabia. Even with a tall driver, there is ample leg room for rear seat passengers, and the boot is the largest in its class. The rear seats on all models fold down with a 60/40 split, and a clever touch is the optional reversible boot mat, carpet on one side, and a wipe clean surface on the other.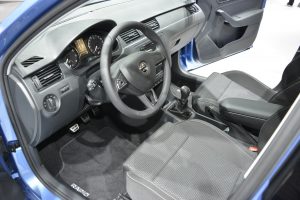 Skoda's product manager, Vicky Magill, said the new model is aimed at customers who want a good car, but don't want to spend lots of money and will probably keep it for three to four years, with around 70 per cent of sales going to private buyers.
The Rapid is a classy looking car with clean, crisp lines. It has a strong shoulder line running the length of the body, and although it looks like a saloon, or sedan, it's actually a generously proportioned hatchback. At the back, there are some interesting triangular shapes in the boot lid and the signature "C" shaped light silhouette.
There are three trim levels, S, SE and Exclusive, mirroring the rest of the range, with good levels of equipment, and a few clever touches, like an ice scraper which lives in the fuel filler flap, so you don't have to open the car door and drop snow all over your seat to find your ice scraper in the winter. It's one of those practical things that makes you wonder why no-one thought of it before, but is a great example of Skoda's Simply Clever philosophy to its design. A safety vest holder under the driver's seat is another.
The Rapid goes on sale with a choice of four petrol engines and one diesel, including a three-cylinder petrol option, but GreenTech models will join the line-up next year and include Stop/start technology, energy recuperation, and low rolling resistance tyres to maximise economy.
During the launch, I took two new Skoda Rapid road test cars out and about around Cheltenham. First up was the 105PS diesel, which pulled nicely through its five gears and cruised quietly at motorway speeds, with very little wind noise. It returned in excess of 55mpg during our tour of the picturesque Cotswolds.
The other model was the 86PS 1.2-litre TSE, again with a five-speed box. It needed to be worked fairly hard to find the power, but was actually quite good fun to drive when I found its sweet spot at the upper end of the rev range. It returned 37.6mpg during our fairly brief  test drive.
None of the Rapid models really live up to their name, but for your money you get a good value, attractively styled car which is spacious and comfortable to live with.
I think it will sell well, and bridge the gap nicely between the Fabia and the forthcoming, more upmarket Octavia.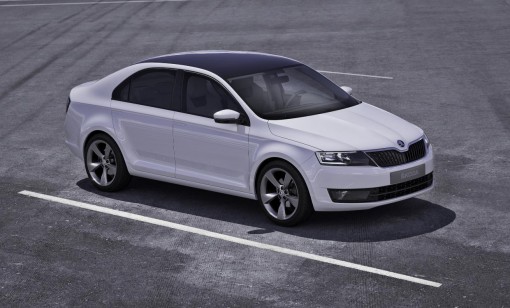 Rating:





THE VITAL STATISTICS
MODEL: Skoda Rapid
BODY STYLES: 5-door hatch
ENGINES: Petrol: 1.2 75PS, 1.2 86PS, 1.2 105PS, 1.4 122PS DSG. Diesel: 1.6 105PS. GreenTech models to follow.
TRIM GRADES: S, SE, Elegance
PRICES: From £12,900 to £17,850
IN THE SHOWROOM: Now
WEBSITE: www.skoda.co.uk
◊ All data correct at time of publishing.
CLICK HERE and "Like" our Facebook page for regular updates and follow us on Twitter