Excellent new i30 is now a rival for best in class
ROAD TEST REPORT AND REVIEW: Hyundai i30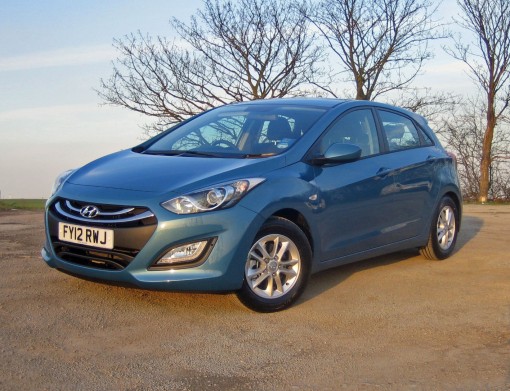 Hyundai is rapidly updating and expanding its range of cars. Wheelworldreviews editor DAVID HOOPER has a look at the new i30 range which goes on sale this week.
TESTING a new car thoroughly to iron out any faults is not uncommon, but when you drive it 350,000 miles, the equivalent of 15 times around the world to get it right, it proves that you're serious.
That was the ordeal Hyundai put its new i30 through before they allowed the first cars into its dealers' showrooms, but the result of their efforts are now available for all to see.
The i30 has been a success for the Korean carmaker, but the new model raises the bar several notches, pitching it in quality terms squarely at the likes of the Ford Focus and Vauxhall Astra, in the most fiercely fought over sector of the new car market.
It has been designed and engineered for the discerning European customer at Hyundai's Technical Centre in Russelsheim, Germany and the company is hoping to build on the success of the original i30 which went on sale in 2008, by attracting younger buyers to the brand.
The new i30 is wider, lower and longer than the outgoing car with the new range comprising of 16 models across four trim levels. It is priced attractively, from £14,495 on the road, to £20,795. The Classic, Active, Style and Style Nav trim levels will be familiar to Hyundai customers, but one of the five colours, Aqua Blue, featured in these pictures, is new and unique to the i30.
Standard equipment levels are generous at this price point, with Bluetooth connectivity and voice recognition, steering wheel audio and phone c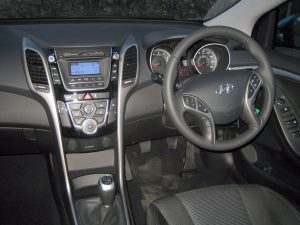 ontrols, air conditioning, electrically heated and adjustable door mirrors, electric front windows and MP3 connectivity.
There are four engines to choose from with five power outputs, with every model getting a six-speed transmission for the first time.
With Hyundai's Blue Drive sub-brand, you can have a 1.6-litre diesel engine with Intelligent Stop & Go, which turns the engine off when in a traffic jam, or waiting at traffic lights. It packs a 128PS punch, but emits just 100g/km of C02, making it an appealing choice for company car drivers.
I think the new i30 looks very good. The designers have done a great job and given us lots of interesting shapes and detailing to admire. The car's front end, which unsurprisingly bears more than a passing resemblance to its larger sister, the recently-launched i40, is very distinctive and the LED daytime running lights are hard to miss. Hyundai has done an excellent job with this car – and it looks even better in real life than in the pictures.
Inside, the i30 has a much more premium feel than its predecessor, thanks in part to the attractively-styled centre console with its silver detailing, a theme which is continued onto the air vents, instrument binnacle and steering wheel.
Thanks to one of the longest wheelbases in its class, the interior space is generously proportioned and it has more luggage space than most of its rivals, 37 litres more than the SEAT Leon, 28 litres more than the Mazda 3 and a huge 62 litres more than the Ford Focus.
Hyundai benchmarked its new car against Volkswagen's ever popular and well respected Golf, and I am impressed with how quiet the interior of the car is. Even at speed, very little exterior noise finds its way inside the cabin.
The driving position is comfortable and I quickly felt at home in the car. The ride quality is excellent – you can tell that Hyundai put a lot of effort into tuning the chassis to suit our roads. In my opinion, those efforts have paid off, striking just the right balance between comfort and very competent handling.
Hyundais are sometimes criticised for their lack of steering feel, but in th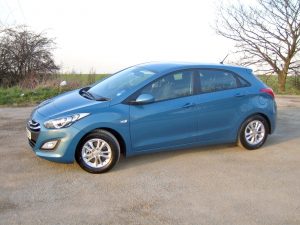 is car, there are three settings to choose from, Comfort, Normal and Sport, so you can decide on your preference. During my drive, I left it mostly in the middle setting which gives plenty of power assistance at low speed, but as the speed increases, the steering weights up nicely giving a firmer feel and accurate feedback to the driver.
The steering wheel itself is packed with remote control buttons for the trip meter, radio, telephone, cruise control and speed limiter functions, something of a rarity for a car at this price level.
The 1.4-litre engine in the car I tested was brand new, so I didn't work it too hard, but after a few miles, I could feel it starting to loosen up as it pulled nicely through the gears.  The six-speed gearchange works smoothly with each of the six positions easy to locate. The top, sixth gear, brings the engine revs down to maximise economy.
I was also impressed with the rear accommodation. With the driver's seat in a comfortable position for me, there was ample leg room in the back. Even the rear headroom seemed more generous than in some similar-sized vehicles.
More good news comes in the form of the new i30's predicted residual values. It is forecast to be 32% better than its predecessor after 3 years or 60,000 miles.
Add to that Hyundai's 5 year Triple Care warranty package, which is transferable to subsequent owners and covers the car for an unlimited number of miles and includes roadside assistance and five years of vehicle health checks, and it's easy to understand why Hyundai's sales are growing steadily at a time when some manufacturers are struggling.
Hyundai's rapidly improving model range is obviously helping the cause – the exciting Veloster, with its three passenger doors, the well-received i40 and now a brand new i30, the Korean carmaker looks certain to continue on its upward path.
Rating:





THE VITAL STATISTICS
MODEL: Hyundai i30 1.4 Active.
HYUNDAI i30 RANGE: From 1.4 Classic (£14,495) to 1.6 CRDI (110ps) Auto (£20,795).
ENGINE: 1.4-litre 100PS four-cylinder engine, driving front wheels through 6-speed manual gearbox.
CO2 EMISSIONS: 139g/km.
INSURANCE: Group 8.
PRICE: £15,595.
WARRANTY: 5 Years, unlimited mileage.