Big Skoda is Superb by name – and nature!
ROAD TEST REPORT AND REVIEW: Skoda Superb Estate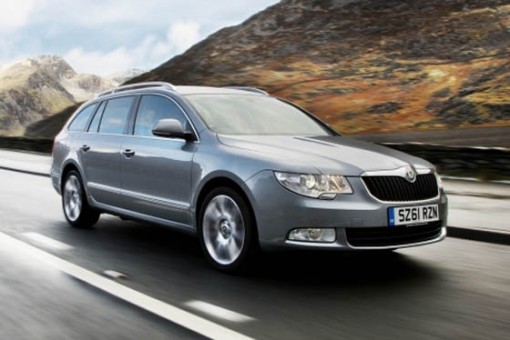 Calling yourself Superb is some boast, but KEITH WARD says this big Skoda can justify that claim.
THIS is an estate so long in the body it overhangs some parking bays, so roomy internally the rear legroom is VIP limo-class and so spacious with the rear seats lowered it could moonlight as a furniture van.
There are nice touches as standard on higher-spec versions, including the Elegance we drove. What Skoda call a "partition and tether system" employs a sliding bar and hooks to keep your luggage stable, although a net is a £90 extra.
One of the three boot lights can be detached and used as a magnetic torch.
The high-opening tailgate can be pre-set not to clash against your garage ceiling – not exclusive to Skoda, but useful. Electrical operation is a £525 extra. Roof rails are chrome. The roll-out luggage cover retracts in two stages at a touch if your hands should be full on return from shopping. The rear sill at 600 mm above ground is conveniently low for loading.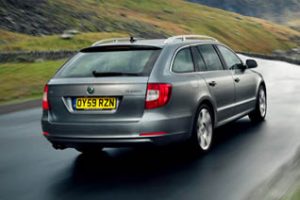 Yet more storage space is discovered in a 440 mm-tall cupboard concealed in one of the rear wings, and underfloor in the unused well for a spare tyre, substituted by an inflator. The air-conditioned glovebox is generous, though not the door pockets, and there's a lidded box between the front seats, doubling as an armrest.
The squabs of the rear seats, divided 2:1, lift and crank upright so the seatbacks can drop forward into a not-quite flat floor
Our sample was an eco-friendly Greenline II version priced at £24,260, with low profile 205/55 tyres of low rolling resistance on lighter and smaller 16-inch alloys. A dashboard light nags you to adopt the optimum gear to be in (ignored some of the time, to enjoy the Skoda's impressive driveability). Ride height is reduced by 15 mm to improve aerodynamics. The 1.6 turbo-diesel engine is tuned to reduce CO2
emissions to a tax-beating level of just £30 a year and to improve mpg – just under 50 mpg in our extensive week's driving. The stop-start system, which switches off the engine at traffic lights can be de-activated, but we found it no hassle.
The Superb Estate comes in a 37-strong range, offering a choice of three petrol and four diesel engines and five trim levels at prices between £18,780 and £33,440.
Included with the Elegance are touch-screen navigation with voice control, full leather, electric and heated front seats and Bi-Xenon side-glance headlights.
To dub yourself Superb is some boast. This Skoda all but justifies it.
Rating:





THE VITAL STATISTICS
Model: Skoda Superb 1.6 Estate Elegance Greenline II
Body: Five-door estate; five seats;
Engine: Diesel; 4 cyl; 1.6 turbo; Greenline II; five-speed manual; stop-start
Power: 105 PS @ 4,400 rpm; max torque 250 Nm @ 1,500 – 2,500 rpm
Performance: 119 mph; 0-62 in 12.6 secs
MPG: On test: 49.1 mpg; official combined 64.2; tank 60 litres
CO2: 114 g/km; band C; VED tax disc Nil first yr, £30 thereafter; BIK 13%
Insurance: Group 15E
Warranty: 36 mths/60,000 miles; 36 mths paint and RAC Europe-wide; 12 yrs anti-rust
PRICE: £24,260