New Ford Fiesta can tame those teenagers | Review
ROAD TEST REPORT: New Ford Fiesta review
With some clever technology to tame those teenagers, KEITH WARD's Ford Fiesta road test of the new range justifies the Blue Oval company's move to replace it's best seller.
TOT up the current credentials of the Fiesta and you wonder why Ford need to replace it with a new version.
Consider: It has just topped the annual UK chart for the fifth year on the run, even increasing its market share and achieving 109,265 sales, a distance ahead of its nearest rival, Vauxhall's Corsa, on 89,434.
In a 36-year span since the Mk I made its debut in 1976, the Fiesta has sold more than 17-million globally, of which 4-million found UK buyers.  And it's patently still going strong.
Yet replaced it is with this new Ford Fiesta, slightly longer, wider and taller than before.  As kids are getting bigger, so are superminis.
Externally, the dominant front feature is a distinct trapezoidal front grille, flanked by doe-eyed headlights with LED daytime running lights. There's a bulge or "power dome" down the centre of the bonnet. Rear lights have been restyled. The image is neat and stylishly rounded – a great contrast to the first, boxy outline of that long-ago MK I.
New colours include Copper Pulse, Hot Mustard and Candy Blue, extending to the bumpers and rear spoiler.
Inside, furnishings are generally subdued, with none of the garish fabrics afflicting the Ka of a couple of years ago, but switches and controls have been shuffled around and a new five-inch colour display fronts the model's first integrated navigation system. Sorting out the array of switches and buttons before you takes time.
Door pockets are slim but there's a roomy glovebox and a deep, lidded cubby between the front seats.
Though there are belts for three across the fixed back bench, the new shell just about sits four adults in comfort. The rear seatbacks do conventionally divide and drop forward to extend the boot from 680 mm to 1,200 mm but leave a 130 mm (five-inch) step in the floor.

The tailgate opens high but you heave your goods over a high 710 mm sill down to a boot floor normally 200 mm below it, but that floor height is adjustable.
And the new Ford Fiesta in its update has been touched by clever new technologies, some  more familiar in bigger models: A voice-activated connectivity system called SYNC on upper versions will access functions such as apps and music from your smartphone and read text messages.
In the event of a crash it automatically alerts emergency services – even if you are unconscious – and pinpoints your location for them to find you.  And it "speaks" in whatever language if you happen to be abroad. The AA have welcomed it.
Claimed to be a first in this segment is Active City Stop to brake the car at low speeds if your attention wanders (perhaps to that smartphone?) and you are in danger of running into the vehicle in front.
And this could be a parent's dream – but will young drivers in the family like it?
Ford are using the new Fiesta to pioneer in the UK an American idea to "tame" the car when noisy and accident-prone offspring are at the wheel.
The so-called MyKey system enables parents to programme one of the keys to the family car to limit its top speed, set a maximum volume of the audio and prevent safety systems from being switched off by thrill-seekers.
A Ford survey of more than 6,000 parents of young drivers across Europe found more than half would be more likely to allow a teenage son or daughter to drive their car so equipped.
What of the new Ford Fiesta range? Initially it is 45-strong, covering bodies of three or five doors, nine engines (six petrol, three diesel) and five levels of trim (basic Style, Zetec, Zetec S, Titanium, Titanium X) at prices from £9,795 to £17,545. That's the same base price as the old model.  Seven of the engines emit less than 100 g/km. Three out of four customers will choose petrol, say Ford.
Standard equipment from base up includes manual air con, electric front windows and heated door mirrors, remote central locking, that MyKey system and USB connection.
On the road, the new Fiesta displays all the aplomb of the old, with sure feet, revised and balanced electronic steering, a comfortable driving position, reasonable ride and easy gearchanges.  It's driver-friendly.
We tried first a 1.5-litre TDCi 75PS four-cylinder diesel at £15,945 in five-door form. Its second-top Titanium trim brings folding mirrors, LED day lights, Sony DAB audio with SYNC, digital air con, automatic headlights and wipers and cruise control.
You could dial up your choice of three "eco-modes" including optimum gearshifting through the easy five-speed manual box or more spirited performance.
With 75 PS performance is not startling – 13.5 seconds to 62 mph – and it was happiest in third to keep it stirred.  You are aware it's a diesel throbbing at times under the bonnet. But CO2 at 98 g/km means it's free of road tax and though well below the official combined mpg figure of 76.3, it still clocked 50.5 mpg on its trip recorder.
Our second drive was in what is expected to be the No 1 seller, at £14,245 a 1.0-litre Zetec with the 100PS EcoBoost petrol engine – the 2012 "International Engine of the Year". Expected to be the choice of three out of 10 Fiesta buyers,  this little three-cylinder unit is smooth and quiet as long as you keep the revs at around 2,000 rpm, but makes you all the more conscious of road noise from the 15-inch alloys. Again, third is the happiest gear.
Performance figures are 112 mph and 0-62 in 11.2 seconds. Against the official combined figure of 65.7, we recorded in a lively drive just 42.7 mpg. With 99 g/km of CO2, this version is again free of annual road tax.
OK. The more you learn about the changes to the Fiesta, the more you appreciate why this new version is entering Ford showrooms. And it does want to maintain that gap ahead of rivals like the VW Polo, Peugeot 208, Vauxhall Corsa, Renault Clio and Kia Rio.
What's next? Look out for a hot little Fiesta ST this Spring, featuring a lightweight aluminium design and an EcoBoost turbocharged version of the 1.6 petrol engine blasting it from rest to 62 mph in 6.9 seconds. Prices from £16,995.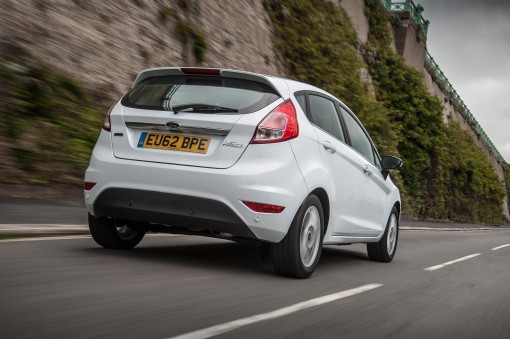 CLICK HERE and "Like" our Facebook page for regular updates and follow us on Twitter

Rating:






THE VITAL STATISTICS
Model: New Ford Fiesta
Type: Small hatchback; 3 or 5 doors; five seats
Size: Length 3,969 mm; width 1,722; height 1,495
Boot: Length 680 ext to 1,200 mm; width 970; volume 276 to 974 litres
Engines: 4 petrol (1.0, 1.0 Turbo, 1.25, 1.6); 3 diesel (1.5, 1.6, 1.6 ECO)
Power: 60 PS (1.25 petrol) to 125 PS (1.0 Turbo petrol)
0-62 mph: 9.4 secs (1.0 Turbo petrol) to 16.9 secs (1.25 petrol)
MPG: Official combined 47.9 (1.25 petrol) to 85.6 (1.6 ECO diesel)
CO2: 87 g/km (1.6 ECO diesel) to 138 g/km (1.6 petrol)
Trim: Style, Zetec, Zetec S, Titanium, Titanium X
Standard: All come with air-con, electric front windows, USB-ready and MyKey
Safety: 7 airbags; top 5-star Euro NCAP crash protection rating; ESP stability
PRICES: £9,795 to £17,545
WEBSITE: www.ford.co.uk
• All data correct at time of publication.