Mitsubishi's ASX provides the best of both worlds
ROAD TEST REPORT AND REVIEW: Mitsubishi ASX 4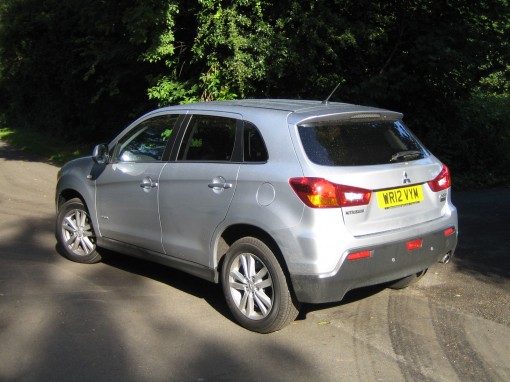 Good to drive and easy to live with, DAVID HOOPER reviews a top-of-the-range Mitsubishi ASX 4.
PEOPLE like SUVs – and the ASX has proved to be a popular choice for Mitsubishi customers since its launch when it filled a gaping hole in the Japanese manufacturer's range.
Sitting higher than in a conventional car, the raised driving position provides a better view of your surroundings which many people like, but the baby 4×4 styling of these cars seems to be the biggest attraction for people who like the idea of driving a 4×4, but don't want to fund the costly running expenses. Those same people will also appreciate the reputation for robustness that Mitsubishi is famous for.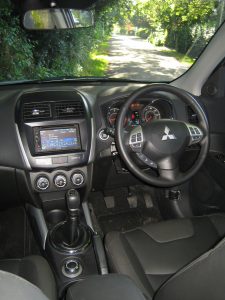 In the case of the ASX, you have the option of two or four-wheel-drive, like this week's test car, which comes with a sensible switchable four-wheel-drive system which really does give you the best of both worlds.
Drive is directed to the front wheels only unless the driver twists a dial on the centre console to select four-wheel-drive. There is also a lock setting if the going gets really sticky.
While most owners may never venture far off road, I know from experience that the cars are surprisingly capable when the terrain becomes a bit more challenging, and even in wet or slippery conditions on public roads, a four-wheel-drive system can be beneficial in terms of improved traction and grip.
There's a lot of choice in this market sector now, Nissan's Qashqai is a big seller and offers a similar package, as does Mazda's new CX-5 which went on sale earlier this year and VW's Touran, which looks classy – in a chunky sort of way.
Buyers have a choice ASX 2, 3 or 4 trim levels, combined with 1.6 petrol or 1.8-litre diesel engines. Standard equipment levels are very good, with keyless entry and start coming as standard across the range. Every model also comes with alloy wheels and air conditioning, as well as Active Stability Control and Traction Control and a full set of airbags, including one to protect the driver's knees.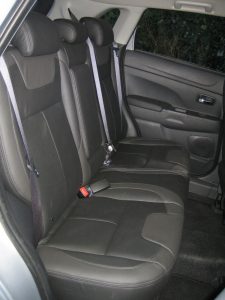 ASX 3 models come with automatic air conditioning, one touch starting, cruise control, heated seats, privacy glass, audio wheel controls and Bluetooth telephone connectivity, as well as automatic lights and wipers which are always useful to have – especially in a showery British summer!
Inside, my top of the range test car featured a plush leather interior, climate control and a smart Kenwood system with a colour display which controls all the radio and telephone functions. It also doubles as a reversing camera, which is always useful to have and becoming far more commonplace today, where once it was only found on vehicles costing multiples of the ASX's asking price. Combined with parking sensors which beep as you get close to objects, it should ensure your bumpers stay as shiny as the day they left the showroom.
The instrumentation is clear and intuitive to use, which can't honestly be said of the Kenwood system, which takes a bit of getting used to.
There are two 12V sockets available, one tucked under the dash, the other in a large central armrest which also has connections for your MP3 player, which when connected can be controlled via the Kenwood system.
In the back, there is ample space for three passengers who can enjoy generous amounts of leg room, while behind them is a sizeable boot.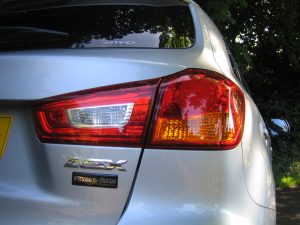 Of course, the rear seats will fold down to increase your boot space considerably if you're moving house or doing a run to the tip.
The car drives very nicely and is comfortable, even after quite a long run.
The 114bhp 1.8-litre diesel engine will propel the ASX from rest to 62mph in 10.6 seconds and return up to 54.3mpg on the official combined cycle, while emitting 138g/km, helped by the use of the latest developments to keep fuel consumption and emissions down. Every car is fitted with low rolling resistance tyres, regenerative brakes, with an on demand electric power steering system, and intelligent power management
During my test, it returned 40.2mpg overall, compared to the official combined figure of 54.3mpg, helped by a gear change indicator which prompts you to pick the most appropriate gear for the conditions.
The ASX is well priced, easy to live with and does what it says on the tin, but is up against some quality competition. That said, it's three-year unlimited mileage warranty may just swing the decision in its favour for high mileage drivers.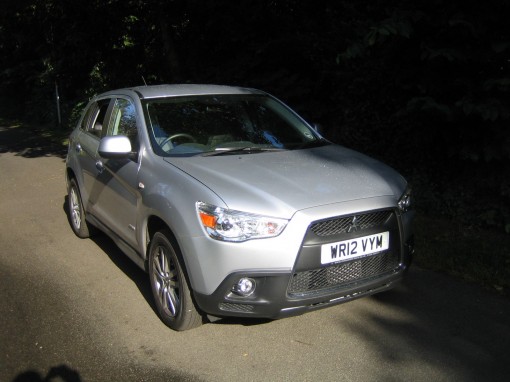 Rating:





THE VITAL STATISTICS
MODEL
Mitsbishi 1.8 DiD ASX 4.
MITSUBISHI ASX RANGE
From 2 1.6 5dr (£16,499) to 4 1.8 Diesel 5dr (£22,745).
ENGINE
1798cc, 114bhp four-cylinder engine, driving front/four wheels through 6-speed manual gearbox.
PERFORMANCE
Top speed 115mph.
0-62mph in 10.6 secs.
ECONOMY
City: 44.1mpg.
Country: 61.4mpg.
Combined: 54.3mpg.
Fuel tank: 60 litres.
CO2 EMISSIONS
136g/km.
INSURANCE
Group 19.
PRICE
£22,749.
WARRANTY
3 years/100,000 miles.
WEBSITE
www.mitsubishi.co.uk
• All data correct at time of publication.