MG EV road test – to Spain and back! Sounds like a crazy challenge, but we were up for it!
Anthony and Sarah Winn like a challenge – so they decided to drive their fully electric MG with a standard range battery to Malaga and back. The trip took a lot of careful planning. Here's how they got on.
BACKGROUND 
We took the EV plunge last year, purchasing our MG ZX EV Standard Range having searched around we felt the hatchback would suit our lifestyle, had good reviews and the range, 199miles seemed reasonable for the price. We absolutely love the car.
In July we sold our Spanish holiday home near Malaga putting into storage some personal belongings, hence this journey to collect, family offered us use of a petrol car but we were determined to prove we could do the journey by EV.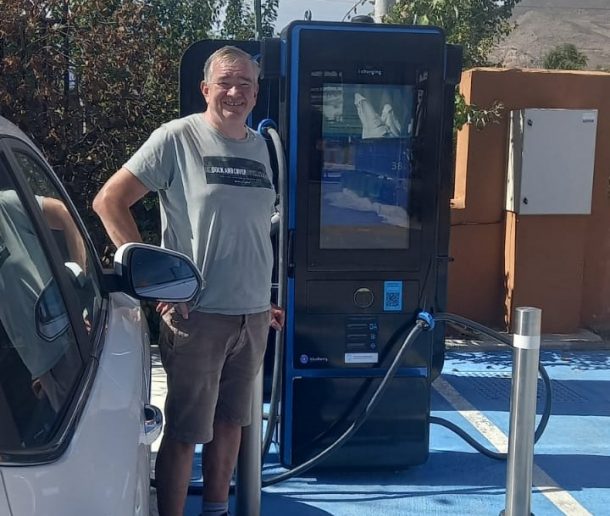 FRANCE
We travelled to Portsmouth, ferry to St Malo and drove to Sarlat in the Dordogne where we stopped for a couple of nights before crossing into Spain. Our first visit to The Dordogne, beautiful region.
France was fine – in remoter areas some chargers are village located  a few miles off route however on motorways the charging stations were at nearly every service area with several available chargers.  We never once had to wait for a charger, nor found any out of service. Absolutely no issues, so then followed a nice journey, mostly avoiding motorways to see The Dordogne and rural France. Fast charger found in a small village en route.
 SPAIN
Day one started badly, Euroski supermarket chargers in San Sebastian were both out of order and looked like they had been for some time, but we found a working Endesa charger in a nearby village.
After three great hot days in San Sebastian onto Toledo, our next two nights stay. On this leg the chargers were plentiful, located at service stations, reliable and several available, we mainly used Ionity as their app was user friendly and they always had numerous chargers at their sites.
As we journeyed south, chargers tended to be located in villages, hotels or restaurant car parks – sometimes quite a few kilometres from the motorway. The further South we got modest 'range anxiety' kicked in – there are large areas of Andalucía without fast chargers awaiting the installation programme.  Also the instructions on some chargers were only in Spanish.
We found only a few machines to be out of order but usefully used the apps to check the latest driver reviews of charging stations before heading to them and ensured we had a back up station nearby just in case. This worked well.
Some reviews pointed out that a station we used in Atarfe (near Granada) was only accessible when the restaurant was open otherwise the car park was chained shut!
Luckily for us we got there when it was open, charged up and had some great food whilst waiting.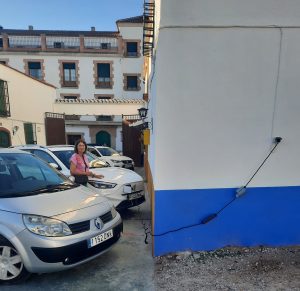 Charger in restaurant car park – Atarfe, Granada province.
In the South we found our new 'hero' charging stations to be 'Wenea' We installed their app and found the chargers to be often a bit off the beaten track but quite reliable and with live reviews of their functionality. All appeared very recently installed.
We picked up our belongings from the storage in Malaga and headed home.
Travelling from our next overnight stay near Nerja we estimated we had plenty of range to get back to Atarfe to charge up and have breakfast but did not factor in significant battery drain from going mountainous into the Sierra Nevada and that we had a weighty car full of furniture, books and pictures.  Did the battery race through charge…ouch !
However, we cut our speed back and drove carefully used KERS setting 3 on the downhill stretches, made some miles up and arrived with a comfortable 23% battery relieved to find the station working and the restaurant serving breakfasts on the terrace.
Onto Manzanares where the hotel manager kindly offered for us to charge in their car park where they had sockets on the walls, hence plugged in our granny charger overnight with EU adapter (purchased online in UK) and woke up to a 100% battery and headed for Burgos for next overnight stay.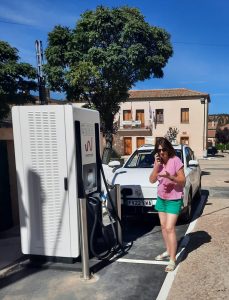 Car park with Granny charger and adaptor in Manzanares
From Manzanares to Burgos we used the Wenea app to locate and use their chargers twice. Chargers again were not in Service Areas but a few km off motorway which sometimes made them difficult to find.  At the 3rd Wenea station the RFID card reader malfunctioned and we were pretty low on range, another nearby station wasn't working either, so slightly panicky, we drove a few km to 'Castillejo de Mesleon' which we found on the Wenea app.
We drove up a dusty track absolutely in the middle of nowhere.  A young bull wandered around the verge and glanced at us as we drove into the tiny village.  Down a narrow one way street villagers sat, blocking the road, on plastic chairs, drinking beer and looking at us as if we had just landed a spaceship in their midst, then, around the corner a new, shiny Wenea charging station (one of many chargers in France and Spain installed with help from  EU grants.)  We breathed a sigh of relief – except this one wasn't working either.
Sarah speaks Spanish and rang the number on the charger and spoke to someone in Madrid who said he would reboot and to ring back if this didn't work – it worked and so we joined the rather bemused locals in the little bar for a drink and some tapas.
Madrid Wenea to the rescue in Castillejo de Mesleon
We made it to Burgos without further incident.  The hotel website had promised electric car charging and delivered, we were met with a row of brand new Iberdrola slow chargers, great !!   therefore, fully charged the next day for our journey to Santander and the ferry back to Plymouth. Success !!
Our top tips for taking your EV abroad –
Do VERY extensive homework before setting off – work out routes with several fast chargers, order as many RFID cards and download as many apps as you can. We had 17 apps & almost as many RFID cards & tags !
Take your home charging cable, but also a granny charging cable with an EU plug adaptor just in case.
Aim for a fast charger on route with at least one alternative within range.
Remember range is a 'guestimate' and varies widely depending on multiple factors, driving style and car mode, weather, load, terrain, aircon etc, we kept car in 'ECO' the whole time.
If you cannot get a station to work be patient, try it a few times and try ringing the number on the station as they might be able to reboot it.
Charge when you can, not when you must. We charged often when down to 50 – 80 miles predicted range.
Allow at least 50% more time on journeys than with a petrol car.
Would we do it again?
Yes we would, ideally with a much longer-range car as we spent so much time charging up, 31  charges in 12 days, albeit we were purposefully over cautious. It was slightly stressful at times due to charger locations, but we were impressed at the investment that has been made and the numbers of charging stations in both France and Spain.
Our journey from Plymouth to East Yorkshire was worse than anything we experienced in France or Spain (but that is another story).
In France we used chargers provided by –
J W Joules – Debit card payment @€0,30 per kWh
Total Energies – Tag payment @ € 0,65 per kWh
Ionity -App payment @ €0.59K per kWh
Mobive  -Virta tag and Chargemap RFID card cost €0,5 per kWh
In Spain we used chargers provided by –
 Ionity – app payment @ €0,59K per kWh
Iberdrola (fast chargers) – payment with Chargemap RFID card @ €0,7 per kWh (slow charge at hotel required app downloading).
Zunder – payment with Chargemap RFID card @ €0,5 per kWh
Wenea – payment with Chargemap RFID card @ €0,78 per kWh
Powerdot – payment with Chargemap RFID card @ €0,6 per kWh
Endesa – payment with Shell card @ €0,38 per kWh
To locate chargers we mainly used our car sat nav, Wenea, Ionity and Chargemap apps
 If you like this, don't miss our story on another of MG's models.
For more information about MG cars, click here