Audi RS 5 road test review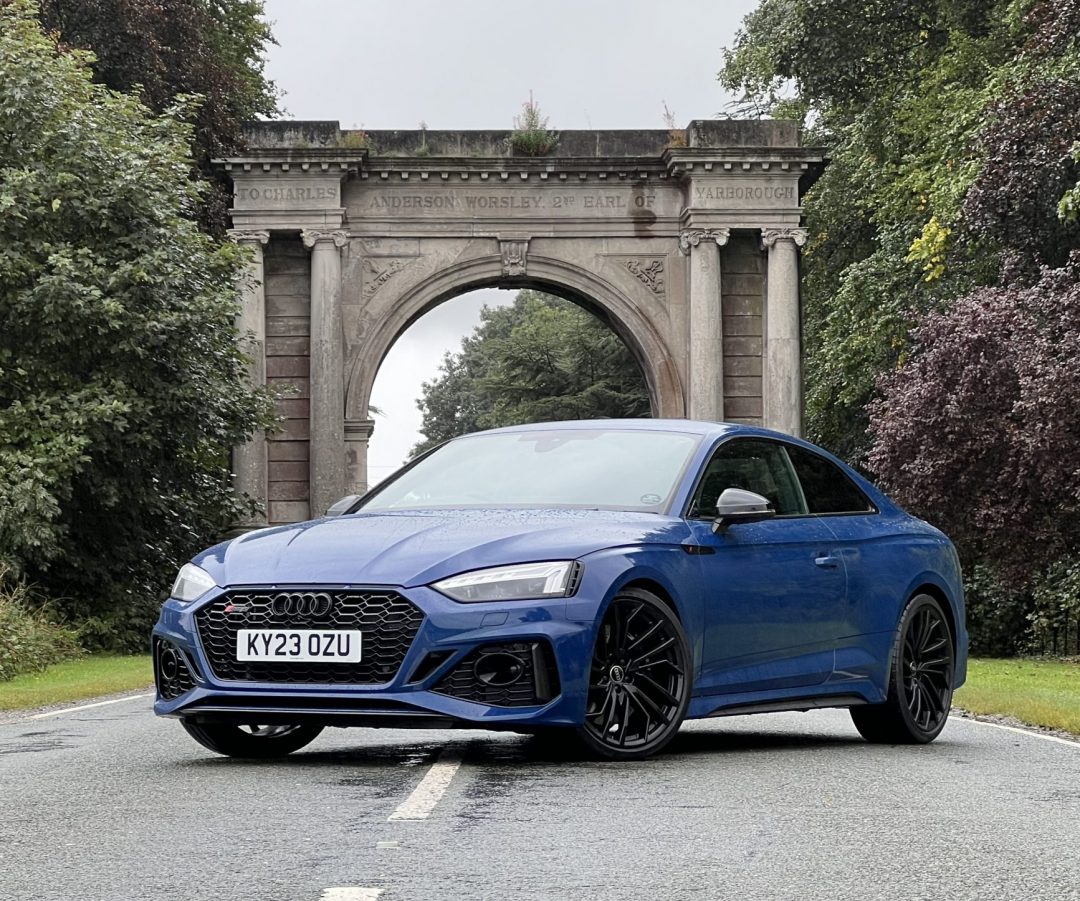 Audi RS 5 V6 road test review: With prodigious power and impressive grip, DAVID HOOPER gets a punch in the back from sheer acceleration!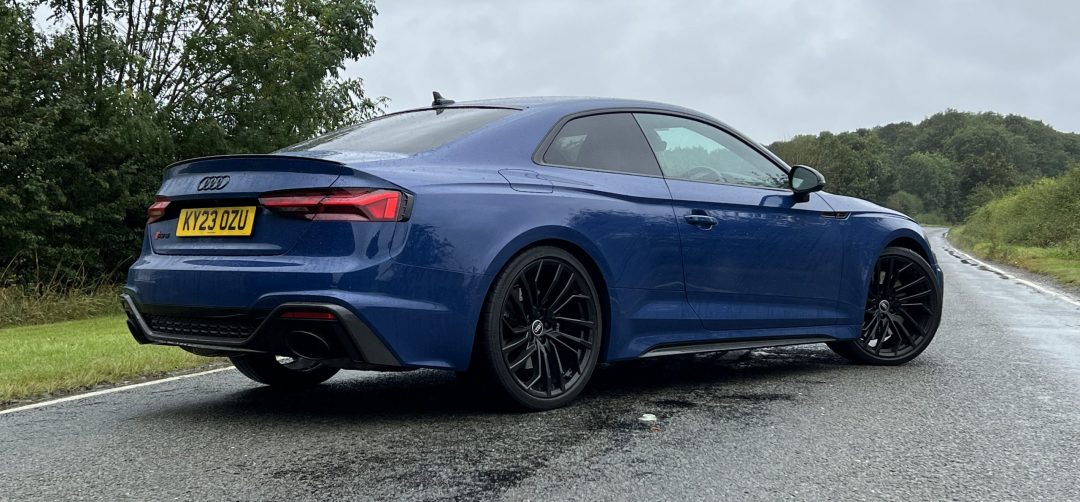 BREATHTAKING – one word, which sums up the Audi RS 5 Coupe. It may not be the newest model in the Audi line-up, but its sleek lines still look fab. Slip behind the wheel, press the start button, engage drive and hit the loud pedal and this RS 5 will give you a punch in the back that I've rarely experienced in any other car as it launches itself from 0 to 62 mph in a whiplash-inducing 3.9 seconds on its way to a limited top speed of 155 mph.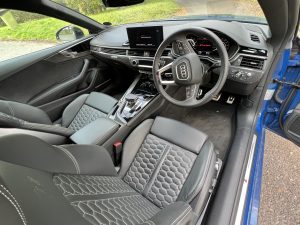 Its prodigious performance is intoxicating, it turns in and corners like it's on rails, sits flat on the road and has levels of adhesion to the tarmac which almost defy the laws of physics – even in the wet – just look at the figures I achieved on the car's onboard G Force meter, but more of that later!
The latest incarnation of this stunning Audi RS 5 is powered by a 2.9-litre V6 TFSI engine which pumps out 450PS and 600Nm of torque – figures which you may think sound a bit bonkers… and trust me, they are!
Finished in the evocatively named Ascari Blue metallic paintwork, the RS 5 sits on 20 inch alloys shod in Continental Sport Contact 6 tyres which give phenomenal levels of traction and grip, ably combined with the car's Quattro system which includes automatically locking differentials to drive maximum power to the wheels with the most grip in any given situation.
Inside, the body-hugging sporty seats are clad in leather with the Audi Sport RS logo embossed into the backrest and it has an attractive quilted pattern on the seat squabs.
The carbon black trim extends from the door card across the dashboard and onto the centre console which looks, and feels great and oozes the quality we've come to expect from the VW Group's halo brand.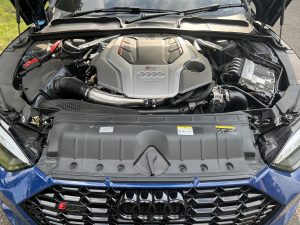 The RS 5 offers a choice of Comfort, Automatic or Dynamic settings for normal road driving, with a couple of specific RS settings for those who enjoy the odd track day on a race circuit, where this car's highly impressive performance can be fully explored. This mode also brings up a lap timer on the head up display on the windscreen.
On the road, the Comfort or Automatic setting was my preferred choice as the Dynamic setting reduces the protection afforded by the electronics! The Comfort setting was, as you might expect, still pretty firm, but the car's underpinnings did a good job of shielding the occupants from the worst excesses of the UK's potholed tracks that we used to call roads!
Let's be honest, you don't buy a car like this for economy, the bills are going to be large for things like fuel, tyres and road tax, but what price such fun!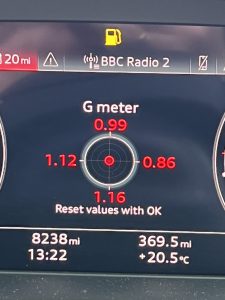 During my test, the RS 5, averaged 24.4 mpg over a distance of 381 miles. Driving it like a saint I achieved up to 33 mpg on a steady commute to the office, but while enjoying the RS 5's more than generous performance, it dropped to 17 or 18 mpg, but the grin factor increased exponentially!
Delve into the menus, and you can find a G-Force meter and graphics which show engine oil temperature, sport differential temperature, gear temperature and even brake temperatures.
However, I was slightly disappointed with the G-Force readings as I managed to achieve 1.2G of acceleration, 1.1G of deceleration and pulled 1.1 G on right hand bends, but only managed 0.9G on left hand bends! Note to self – must try harder next time!
All this performance and ability come at a price though – and like the engine, it's a big one. The recommended on the road price is £84,665. Add to that £4,415 worth of extras including the lovely paintwork, a Comfort and Sound Pack (which includes an amazing Bang and Olufsen hi-fi system with surround sound), the head-up display and an RS Sport exhaust system and you won't have much change from £90,000.
But let me tell you, if I had it, I wouldn't regret spending a penny of it on this RS 5!
Rating:





If you like this, read our review on the Audi e-tron
THE VITAL STATISTICS
MODEL: Audi RS 5
ENGINE: 2,894cc, 331PS V6 petrol engine, driving front wheels through an 8-speed gearbox.
PERFORMANCE: Top speed 155 mph (limited). 0-62mph in 3.9 secs.
ECONOMY: City: 19.0mpg.
Country: 34.0mpg.
Combined: 28.5mpg.
Wheel World test average: 24.4mpg
CO2 EMISSIONS: 219g/km.
FUEL TANK: 58 litres.
PRICE: £84,665
WARRANTY: 3 years/60,000 miles
WEBSITE: www.audi.co.uk
• All data correct at time of publication.