Unruly Mazda3 MPS is full of fun and great value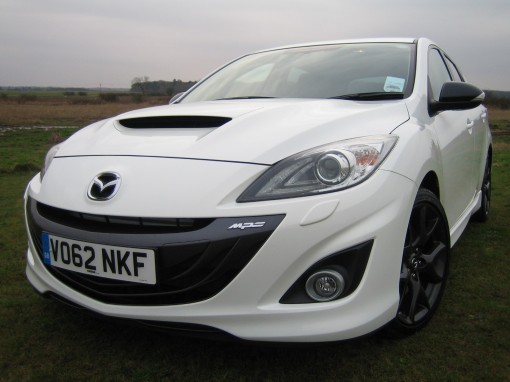 ROAD TEST REPORT AND REVIEW: MAZDA3 MPS
Our Mazda3 MPS road test proves this revised hot hatch is a very quick car, but it has a character all of its own. DAVID HOOPER reviews the Mazda3 MPS.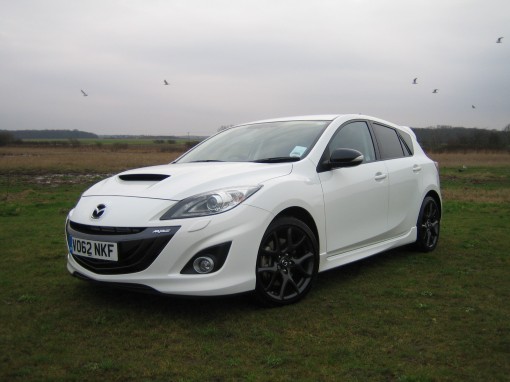 THE Mazda3 MPS first went on sale in 2009, so this handsome looking hot hatch is the latest, recently updated model.
Any fan of hot hatches will feel their pulse rate rise a little when they see this performance-focused Mazda, bedecked in body kit, a gaping air intake on the bonnet and a huge aero-enhancing wing of a rear spoiler bolted on to the top of its tailgate.
T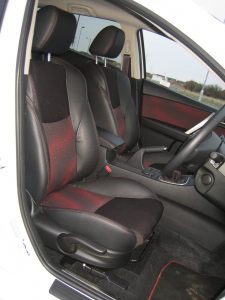 he car sits on lowered sports suspension with uprated springs and dampers, which give a sportingly firm ride, but for me, it was the 18in gunmetal alloy wheels which contrasted so nicely with the Crystal White Pearlescent paintwork which really made this car stand out.
Other nice touches were the gunmetal lower rear bumper trim with the twin exhausts sticking out either side of the car, and the Black Mica door mirrors.
Inside, you get some comfy half leather sports seats and MPS seat trim, sporty aluminium pedals, and a start button for the engine, which complements the keyless entry system.
The Bose sound system makes a wonderful noise, thanks to its 10 speakers and surround functions. There is also a sat nav system integrated into the dash, but it isn't the best on the market, because it is operated from buttons on the steering wheel which are fiddly and the 4.1in screen is too small. I don't think some of the interior plastics do the car any favours either, especially when you look at the quality of the interiors of some of its rivals like the Ford Focus ST, VW Golf GTI and  Renaultsport Megane.
The MPS also has the biggest engine in its class now, having stuck with the proven 2.3-litre four-cylinder unit used in the original MPS. With 260PS and 380Nm of torque it's got massive punch and can get from rest to 62mph in a rapid 6.1 seconds on its way to a top speed of 155mph.
The powerful turbo-charged engine forces huge amounts of power to the two front drivin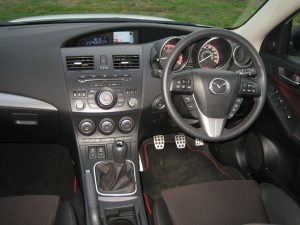 g wheels, but they struggle to cope with it and transfer that power to the road, especially in a low gear at low speeds.
The result is that the wheels try to pull the car in a direction of their choice, rather than the one you intend, and so a bit of a tussle at the steering wheel ensues if you deploy too much power in an enthusiastic stab of the throttle, but it can be rewarding if you feed the power in more delicately as you accelerate out of tighter corners. The car is equipped with a limited slip diff as standard, but even this doesn't seem to help much. The electric power steering could also be improved by having a weightier feel to it in a performance car like this.
Once up and running at a reasonable pace which allows you to get the power down, the acceleration of the MPS is stunning. It's a very fast car, particularly in third and fourth gears, where the torrent of power from the turbo encourages rapid progress and gives you the ability to despatch slower traffic with consummate ease. The gearbox is as slick as they come.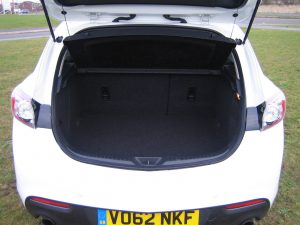 The car handles well enough, but I couldn't explore its limits thanks to the wintry conditions and wet and greasy roads that accompanied my few days with the car.
Running performance cars like this is never going to be cheap, and the MPS has quite a thirst, as do most cars of this genre. Mazda quotes a combined fuel consumption figure of 30.1mpg, which doesn't sound too bad, until you compare it to the new Ford Focus ST's combined figure of 39.2mpg. During my test the MPS returned around 24.5mpg around town, dropping to around 21-22mpg out of it. Its C02 emissions are also quite high, with a figure of 219g/km which means you'll pay £600 road tax in the first year and £270 a year after that.
Expensive to run and somewhat unruly to drive it may be, but with an asking price of £23,995, it is very competitively priced compared to its rivals and comes with all the equipment you could want as standard.
Its driving characteristics give the MPS a character of its own which some will like and some will not, but I doubt many will argue with its looks. In my opinion, it's one of the best looking cars in its class.
CLICK HERE and "Like" our Facebook page for regular updates and follow us on Twitter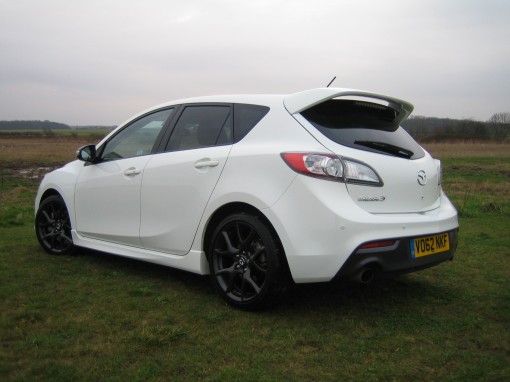 Rating:





THE VITAL STATISTICS
MODEL: Mazda 3 MPS.
ENGINE: 2,261cc, 260PS four-cylinder petrol engine, driving front wheels through 6-speed manual gearbox.
PERFORMANCE: Top speed 155mph. 0-62mph in 6.1 secs.
ECONOMY: City: mpg.
Country: mpg.
Combined: 30.1mpg.
Fuel tank: 60 litres.
CO2 EMISSIONS: 219g/km.
INSURANCE: Group 34.
PRICE: £23,995.
WARRANTY: 3 years/60,000 miles.
WEBSITE: www.mazda.co.uk
• All data correct at time of publication.