Citroen Berlingo Multispace is big on space!
 ROAD TEST REPORT AND REVIEW: Citroen Berlingo Multispace VTR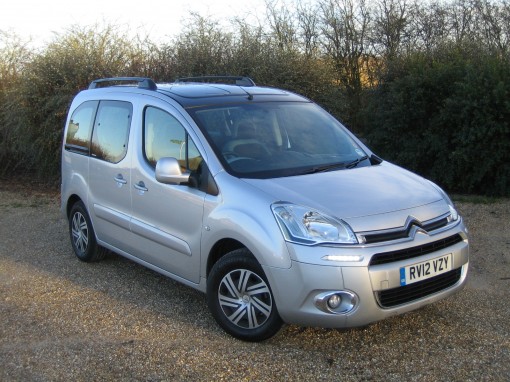 Is space is your final frontier when it comes to family transport? DAVID HOOPER says his Citroen Berlingo road test proved that this car is something of a tardis!
SPACE may be the final frontier for some, but for the Citroen Berlingo, you get a galaxy of it as standard!
Ok, it may be a bit of a tenuous link, but thanks to the four glass panels in the roof which brighten up the interior in the day time, passengers can actually see the stars as they travel along at night.
The Berlingo is not a new car, it has been around for years, but it is still one of the most practical vehicles you can buy at any price, so with a starting point for the range of just below £13,000, I think it offers great value for money.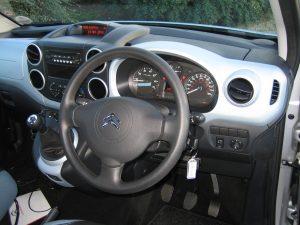 Admittedly, it's not the trendiest car on the road, and you're right, it does look like a van, because it was. Well, not this particular car, but the range is based on a light commercial, which may not do much for sleek styling, but does wonders for practicality with tardis-like amounts of carrying capacity!
The Berlingo comes with five seats as standard, two up front, and three seats at the back, which can be folded, tumbled or removed, in a one-third/two-thirds configuration, but every Berlingo can be ordered with an extra two seats in the back when the Family Pack is specified, to enable the car to transport up to seven people when required.
You can even get a micro-hybrid version of the Berlingo, the e-HDi Airdream, which incorporates the latest Euro 5 HDi 90 diesel engine, which is equipped with Stop & Start technology and costs £15,295 for the VTR or £16,545 for the XTR model.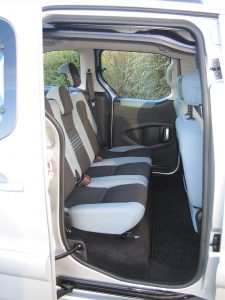 Despite its commercial origins, I really quite like the look of the Berlingo – it's one of those cars that does grow on you – even though its long tailgate did nearly knock my teeth out a couple of times! The LED daytime running lights are attractive and I really like Citroen's double chevron grille.
It's got its own character to drive, and it actually whizzes along quite nicely. With a 0-62mph time on the wrong side of 14 seconds and a top speed which only just gets into three figures, it's never going to set the world on fire, but it will cruise happily and quietly on the motorway and returns reasonable mpg figures. My test car returned an average of 42.8 over 400 miles in real world conditions which included plenty of town driving and the occasional longer trip out. The gearbox is typically Citroen, but the car is perfectly comfortable to travel in, even on longer journeys.
Continuing the practical theme, there are also roof bars which can take a roof rack if yet more space is needed, but with such generous internal proportions I think it would be a rarity to need extra carrying capacity.
With all the seats in place, the boot space is still generously deep and wide (675 litres), but with the seats removed, your car returns to being a van and can swallow 3000 litres of "stuff"!

I also liked the rear sliding doors on both sides of the car which can be locked off from the dashboard by the simple press of a button. They stops the kids from flinging their doors open as the car comes to a halt and banging them into neighbouring vehicles. It also makes getting in and out of the car in a tight spot that bit easier.
Slam the doors on the Berlingo and it sounds a bit tinny, but during my few days with the car nothing broke, or fell off.
Up front, the interior looked quite attractive and there is loads of storage space. A double glove box, large door bins, to call them pockets would be an injustice, and plenty of cup holders.
The materials are mostly hard plastics which can be easily wiped down, and the blue coloured trim complemented the exterior paintwork and look quite attractive.
Thanks to the generous roof height (I could have sat in the car with a top hat on!) there is a roof-mounted central storage tray which runs the length of the car. I didn't put anything up there because I thought I'd forget it was there, but it could be handy for families on the go.

At the back was another roof-mounted storage solution, a large compartment, a bit like those you find in an aircraft, which dropped down when you released its catch. It is a reasonable size and can be accessed from the back seats as well by means of two sliding doors.
The rear seat passengers even get their own heating controls and a 12V socket to plug games or phones into. I wasn't quite so keen on the electric window switches, which were mounted on the centre console and were a bit of a nuisance to find when you instinctively looked on the door panels for them, but if you lived with the Berlingo for any length of time, you'd soon get used to that, I'm sure.
So if you need lots of space for your travels, pop along to your nearest Citroen dealer, ask to drive one and let them "make it so", as Captain Picard would say!
CLICK HERE and "Like" our Facebook page for regular updates and follow us on Twitter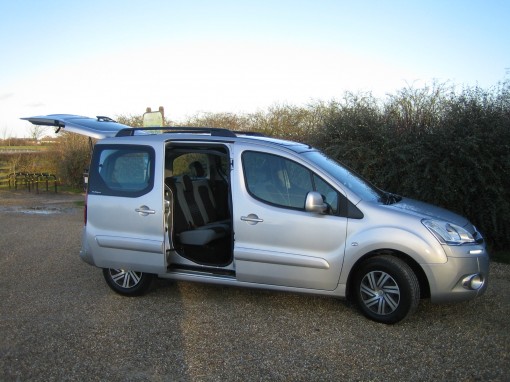 Rating:





THE VITAL STATISTICS
MODEL: Citroen Berlingo Multispace VTR HDi 90 manual.
CITROEN BERLINGO RANGE: From VT 1.6 16v (95) 5-door (£12,795) to XTR 1.6 HDi (115) 5dr (£16,795).
ENGINE: 1560cc, 90bhp four-cylinder diesel engine, driving front wheels through 5-speed manual gearbox.
PERFORMANCE: Top speed 102mph. 0-62mph in 14.3 secs.
ECONOMY: City: 45.6mpg.
Country: 61.4mpg.
Combined: 54.3mpg.
Fuel tank: 60 litres.
CO2 EMISSIONS: 135g/km.
INSURANCE: Group 7.
PRICE: £14,395.
WARRANTY: 3 years/60,000 miles.
WEBSITE: www.citroen.co.uk
• All data correct at time of publication.