Land Rover Discovery Sport HSE TD4 Diesel road test review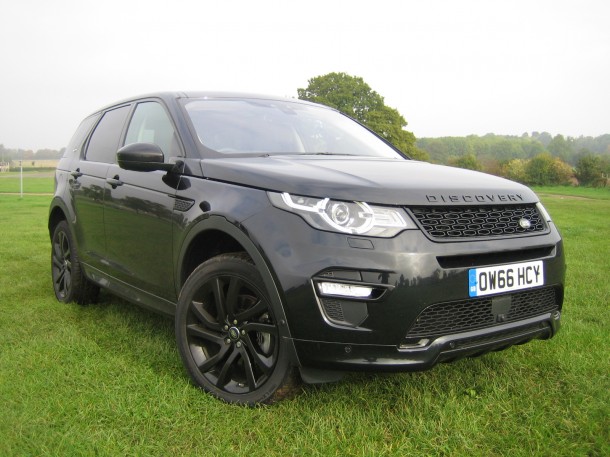 The Land Rover Discovery Sport is a popular model in the expanding Landy stable, and it's not hard to see why. DAVID HOOPER discovers it's an excellent all-rounder.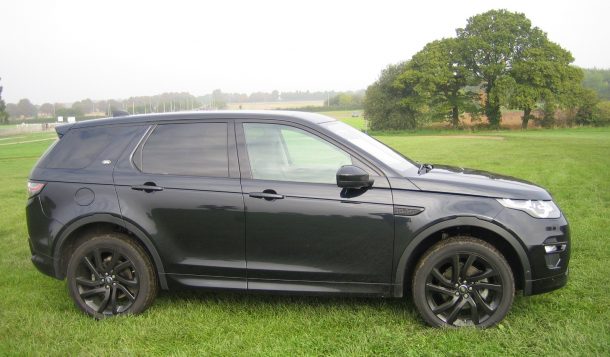 LOOKING like a stealth car from a movie thriller, our Land Rover Discovery Sport turned out to be a bit of an unexpected head turner!
Our HSE Luxury Dynamic example finished in the evocatively named Santorini Black paintwork looked superb, especially when it was clean, with the only other obvious colours evident on its dark bodywork being the iconic green Land Rover badge and a red Sport badge on its tailgate.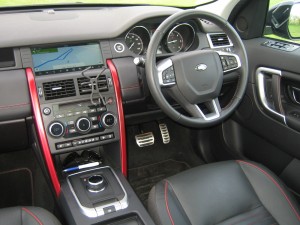 Inside the smart Windsor leather seats boasting red piping and detail stitching provided classy accommodation – and then there were the red trim strips on the centre console which tied it all together.
The Discovery Sport has become a big hit for Land Rover, having sold 275,500 cars globally since its launch, with 56,000 of those finding homes in the UK. This year alone, it has totted up 16,000 sales in the UK to the end of August, and 83,000 worldwide.
Our test car was equipped with a host of optional extras, which pushed the price up from £46,510 to a whopping £57,855, but added clever touches like adaptive dynamics at £820, adaptive xenon headlamps, adaptive cruise control and queue assist which was brilliant at £1,220 The smart 20in Aeroviper Black wheels and privacy glass were no cost options, but the most expensive addition was the family-pleasing entertainment pack which gives you TV screens built into the rear headrests and comes complete with individual stereo headphones, but at an eye-watering cost of £4,140 – you could buy a decent second car with that much cash!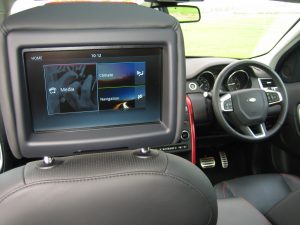 One of the other excellent options, which is really a must-have for many Land Rover owners, was the deployable towbar at £1,345, which descends elegantly from beneath the rear bumper at the touch of a button – and I liked the test mode which goes through a procedure to make all the lights work in sequence so you can stand back and check the lighting is as it should be when a trailer is attached.
One of my other favourite features was the large panoramic glass roof which stretches most of the length of the car and gives rear seat passages a lovely window on the world.
Speaking of rear seats, our discovery sport came with seven seats, two up front, three in the middle, and a further two which fold flat into the boot, but they are only really useful for small children. I tried to sit in the back but couldn't get the middle row seats to lock back into position.
Our test car was equipped with many of the latest automotive toys including adaptive cruise control which allows you to adjust the distance between you and the car in front, with your vehicle speeding up and slowing down with the ebb and flow of the traffic, but this Discovery Sport takes the concept a stage further with something called Queue Assist, which will automatically stop the car in traffic, crawl along in the queue, and then accelerate away, back up to its preset cruising speed. All very clever, and it worked too, so much so, that I actually started to trust it after a day or two, which can't be said for all similar systems from other manufacturers!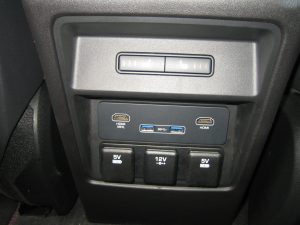 The Discovery Sport has a nine-speed automatic gearbox which works well, but can be caught out occasionally and snatch slightly. The gearbox features a Sport mode and the gearchanges can be controlled by flappy-paddles on the back of the steering wheel.
Land Rover's now famous Terrain Response system comes as standard and at the press of a button, the car will prepare itself for any terrain you may encounter, everything from a dynamic driving mode on tarmac to muddy ruts and even slippery sand.
The host of buttons on the steering wheel includes one which will heat the steering wheel for you, a rare treat on any car, but appreciated now the clocks have gone back and the mornings are getting chillier!
The 2.0-litre TD4 diesel engine provides 180bhp which is probably best described as adequate, but doesn't really reinforce the Sport badging in performance terms. Despite that, the 0-60mph sprint time of 8.4 seconds is quite respectable, but it's in the mid-range where the Discovery Sport lacks punch for overtaking. Select Dynamic mode though, and the instrumentation does turn red!
Fuel consumption can also be an issue and with a small 54-litre fuel tank (less than 12 gallons) and a real world fuel consumption average of 33.6mpg achieved during my test, you can only realistically expect around 300 miles between visits to the petrol station.
The Land Rover Discovery Sport is an excellent all-rounder, and a comfortable car in which to travel long distances. It eats up the miles, and although it requires regular stops for fuel on a long trip, at least it ensures you take a break every two to three hours as we found when we used my friends Discovery Sport for a ski trip to France earlier this year.
The Discovery Sport is not a cheaper car, and ticks many of the boxes on the order form and it can become quite an expensive one, but it is an excellent driving companion and a versatile all-rounder which is a pleasure to live with.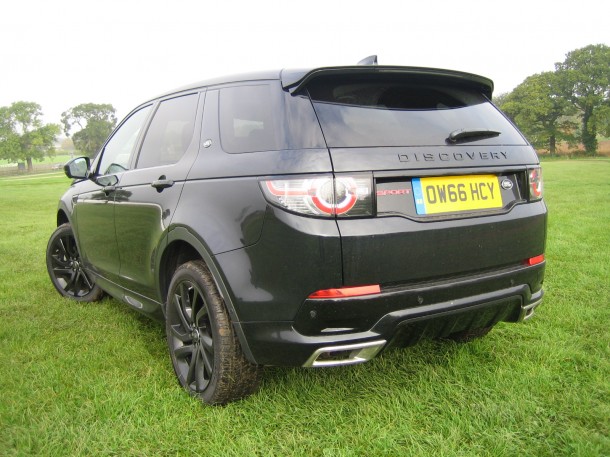 Rating:






FACTS AT A GLANCE
MODEL: Land Rover Discovery Sport HSE Luxury Dynamic TD4 Diesel
ENGINE: 1996cc, 180bhp four-cylinder diesel engine, driving four wheels through 9-speed automatic gearbox.
PERFORMANCE: Top speed 117mph. 0-62mph in 8.4 secs.
ECONOMY: City: 44.8mpg.
Country: 60.1mpg.
Combined: 53.3mpg.
Wheel World test average: 36.3mpg
CO2 EMISSIONS: 139g/km.
FUEL TANK: 54 litres.
INSURANCE: Group 38.
PRICE: £46,510 (£57,855 as tested).
WARRANTY: 3 years/100,000 miles
WEBSITE: www.landrover.co.uk