It's a wrap for rapid little Volvo C30 T5 Polestar
ROAD TEST REPORT AND REVIEW: Volvo C30 T5 Polestar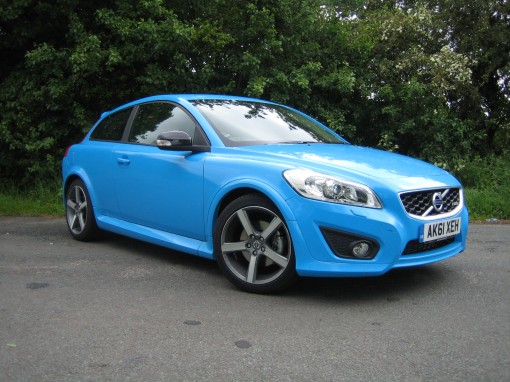 Like all good presents, it's what's beneath the wrapping that makes Volvo's C30 Polestar special. DAVID HOOPER gets under the skin of this very special little car.
TALK about body wraps and most people would conjure up images of health farms and expensive treatments to soothe away the worries of the world.
Well, here's something a bit different – it's still an expensive treatment, but its health benefits would be harder to, err, unwrap – especially where the wallet is concerned.
Body wraps for cars have become quite a trendy accessory of late – you may well have spotted various company-owned cars running around bedecked with that business's logo, or message emblazoned over the bodywork.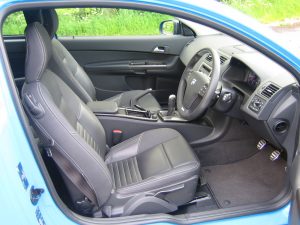 With this special edition Volvo however, there is no such marketing gimmick, just a brightly coloured car in an attractive colour – so long as you don't look too closely.
Underneath what appears to be the blue paintwork, the car is actually Ice White in colour, as a closer inspection of the exterior will reveal.
The wrap on this C30 cost a whopping £2,300, but did include the door shuts which made it more costly.
It's an interesting idea, and if you want to promote a business or event, then I can see the point, but on this car, the wrap was beginning to come away in places revealing more of its true colour underneath. There were white gaps peeping through where all the joins were, and although the wrap had been professionally fitted, I wasn't particularly impressed with the finish and all the white bits you could see, which reminded me of the red patches that appear when you miss bits with your suncream!
I did love the bright blue colour though – now if you could order a car with that paint finis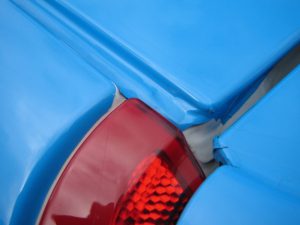 h, that would be a different matter altogether. In fact, for the price of the wrap, you could buy a white car and have it resprayed!
Underneath all the wrapping and the paintwork lurked one of my favourite engines – Volvo's famous T5. The weapon of choice of police forces up and down the country in their V70 estate police cars, it's a proven piece of kit. Pack this 230PS powerhouse into a tiny C30 hatchback however, and you've got one very quick little car.
Sitting discreetly on the back of this particular car, however, is a little badge which says Polestar. Polestar is Volvo's racing team and the two firms have created a Polestar Performance upgrade. It is available for various engines, including some which are no longer in production, through Volvo's dealer network. Unlike "chips", it doesn't affect Volvo warranties and it complies with EU emission regulations.
T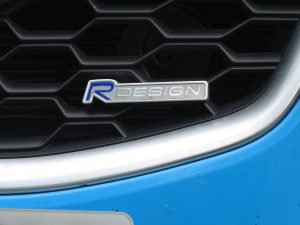 he Polestar performance upgrade costs £660 and boosts torque from 320Nm to 370Nm, and power is up from 230bhp to 250bhp. The standard 2.5-litre T5 engine will do 0-62mph in just 6.2 seconds and it has a top speed of almost 150mph. My test car felt slightly quicker than that off the line, but it's in between these figures where the biggest difference is found, in the mid-range grunt, which almost has to be experienced to be believed – it's a very rapid tremendous fun.
It pulls strongly in third and fourth gears thanks to the improved spread of torque and the five-cylinder engine is hugely flexible, so gear changes can be kept to a minimum. Stir its sportingly stubby gear lever, and the reward is instant as the turbo whistles audibly as it propels the car along at an engaging rate of knots which demands your full attention. It's not quite warp drive, but it's not far off. Suffice to say, despatching slower A road traffic is rarely an issue and can be accomplished safely in the smallest of gaps.

During my test, the car returned around 28.5mpg – but in its defence, I did enjoy it and a lighter right foot would improve matters markedly.
The base car featured the plush R-Design trim, which adds leather seats and various styling tweaks, but the car was packed with extras, which took its total price up to a rather hefty £28,120 for what is still only a four seater.
I did like the hard load cover for the boot, which at £55, is a vast improvement on the annoying material cover on the other C30 I tested recently.
In fact, the two models could hardly be more opposite in character, the DRIVe model is the clean-living environmentally friendly good cop, while the T5 is the fire-breathing, traffic-eating bad cop hot hatch with attitude.
Superbly comfortably and with all the extras, beautifully equipped, the car drives very well, but I did notice quite a bit of chatter from the suspension over broken road surfaces, which take some of the shine off what is otherwise a premium product.
Whether bodywraps are your thing or not, the Volvo C30, particularly with a T5 engine packed under its bonnet, represents a different take on the hot-hatch market – the more mature, discerning driver's GTI, perhaps.
Rating: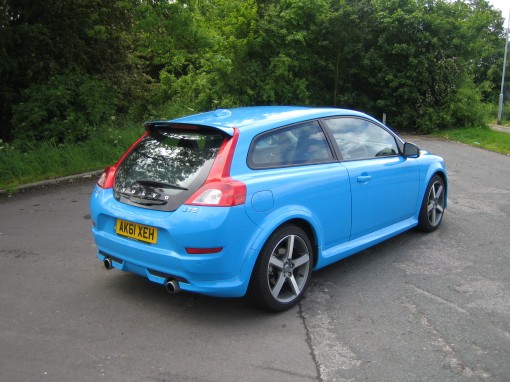 CLICK HERE and "Like" our Facebook page for regular updates and follow us on Twitter
THE VITAL STATISTICS
MODEL: VOLVO C30 T5 Polestar.
VOLVO C30 RANGE: From 2.0 ES 3dr (£15,295) to T5 R-DESIGN Geartronic 3dr (£25,955).
ENGINE: 2521cc, 230PS five-cylinder engine, driving front wheels through 6-speed manual gearbox.
PERFORMANCE
Top speed: 149mph.
0-62mph in 6.2 secs.
ECONOMY
City: 22.8mpg.
Country: 44.1mpg.
Combined: 32.5mpg.
Fuel tank: 62 litres.
CO2 EMISSIONS
203g/km.
INSURANCE
Group 33.
PRICE
£22,125.
WARRANTY
3 years/60,000 miles.
WEBSITE
www.volvocars.com
• All data correct at time of publication.